The movies, TV shows, and documentaries that attempt to capture aspects of the COVID-19 pandemic while we're in the middle of the pandemic often face something of a Catch-22. Try to include everything about the biggest global health crisis in generations and it becomes unwieldy—not to mention the never-ending news cycle will immediately render it obsolete. Keep your focus too small and it comes off as being out-of-touch.
76 Days
RELEASE DATE:
Dec. 4, 2020
DIRECTORS:
Hao Wu, Weixi Chen, and Anonymous
RELEASE:
Virtual Cinema
Filmed during Wuhan, China's 76-day lockdown, '76 Days' is an eye-opening look at the earliest days of the COVID-19 pandemic that showcases the best of humanity within the walls of several Wuhan hospitals.
But 76 Days, a new documentary from Hao Wu, Weixi Chen, and a third director only credited as "Anonymous," eschews a lot of those thorny issues. While a tad unfocused, it captures the raw emotion that unfolds over a 76-day lockdown in Wuhan, China.
If you're looking for a more critical examination of how the Chinese government handled its response to COVID-19 in those early days, you won't really find it in 76 Days—which wasn't sanctioned by the Chinese government. (You might be interested in Ai Weiwei's Coronation, which delves into Wuhan's lockdown from a far more political perspective, and Alex Gibney's Totally Under Control examines the many failures of the U.S.'s response to COVID-19.) Mainly filmed in four hospitals within Wuhan—one of the earliest epicenters of the pandemic—between Jan. 23 and April 8, 76 Days keeps its focus on the healthcare workers and first responders.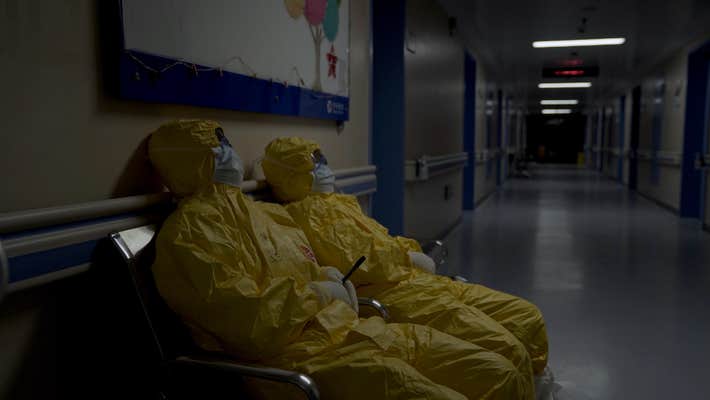 In a scene that feels like it came straight out of a George Romero zombie movie, sick patients attempt to get themselves admitted, threatening to push through as healthcare workers dressed from head to toe in PPE tell them that aren't enough beds for everyone; at one point, a door handle shakes as someone tries to open a locked door on the other side—and that's before the banging on the door begins.
A lone siren wailing as an ambulance drives across an empty bridge. A city with a population of over 11 million people—a population that's larger than New York City—is rendered into a ghost town by an invisible virus as residents stay inside. A hospital employee, who likely knows the risk of being near someone with COVID-19, is nearly inconsolable after her colleagues hold her back from seeing her father one last time. Her colleagues try to comfort her while reminding her that there was still much more to be done; one woman tells her that "you must control yourself."
"We don't want to see you in distress or pain," another colleague, this time a man, tells her. "What will we do if you fall sick? We all have work to do in the afternoon."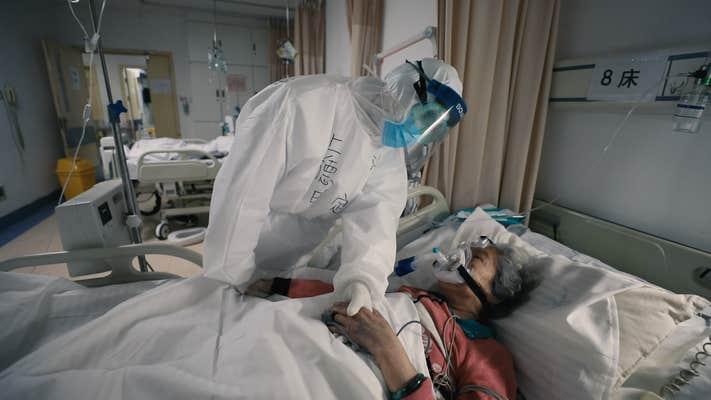 It's horrifying and heartbreaking to watch, and the footage, which is shot by Chen and the anonymous journalist who was granted access to these hospitals during the lockdown, does not shy away from those horrors as COVID-19 works its way through Wuhan. But amid the upsetting images—later in the documentary, one doctor comments on a patient's deteriorating condition by noting that she can't hold his hand anymore—and the heartbreak, there are brighter moments, especially as more patients are able to go home.
Over the course of 76 Days, we become familiar with several of the patients in the hospitals and the relationships the doctors and nurses treating them form. We meet an elderly man with dementia, who wants nothing more than to go home; a pregnant mother who tested positive prior to getting a C-section—and then has to wait several weeks in quarantine to finally meet her daughter; and an elderly couple who are located in different rooms. The doctors and nurses affectionately call some of them them "Grandma" and "Grandpa" while nicknaming the infant born during the lockdown "Little Penguin." "Your family is not here, so we are your family now," one medical worker said to a patient.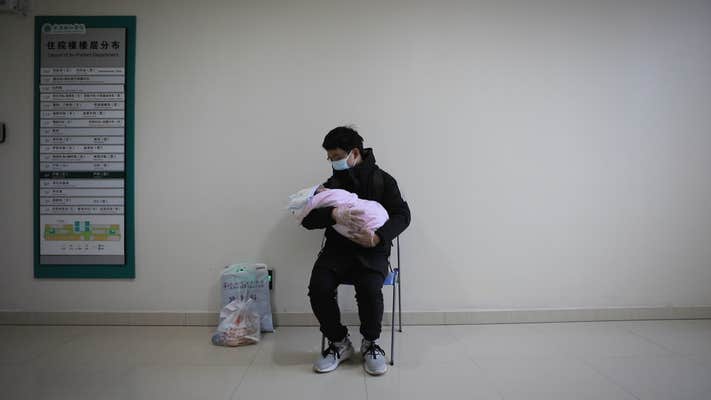 76 Days is devoid of talking heads or experts or a larger context outside of the walls of the hospitals, but instead, it puts most of the spotlight on the doctors, nurses, and hospital staff who've risked their lives. The doctors are afraid but know they're being confronted with something historical. A nurse goes out of her way to ensure that the family members of patients who've died are able to get their belongings, a thankless task with an emotional toll. More than a few patients call their doctors heroes and fearless soldiers. But so many of them don't see much of a difference.
The snapshots that 76 Days relays are both fleeting and revealing, a frantic and chaotic look at a crisis we're still in the middle of nearly a year after Wuhan went into lockdown. And for a brief moment, we're given a view into the best of what we can do.
76 Days debuted in theaters on Dec. 4. You can find a virtual cinema screening it here.