No matter what Amy Sherman-Palladino did next, she was going to have to contend with high expectations. Not only was Gilmore Girls one of the most beloved television shows of all time, but her Netflix resurrection of the series, A Year in the Life, became a mini-phenomenon, proving a thinkpiece generator and hot take machine unto itself. Luckily for Sherman-Palladino, her Amazon Prime followup, The Marvelous Mrs. Maisel, lives up to its name.
Set in the New York comedy scene of the late '50s, the show's titular character, Miriam "Midge" Maisel (Rachel Brosnahan), is your typical Upper West Side housewife. She has two kids, a husband who's a junior executive and amateur comedian, and parents who live in the same apartment building as her. Midge is a doting mother and wife, whose handy around the kitchen and never fails to keep up her appearance. Despite being whip-smart with a quick Jewish wit, she's content with her life as it is when we meet her. This is Mad Men-era New York after all when even college-educated women were expected to do little more than find a mate and raise a family.
Then one day, everything changes. Midge finds out that not only has her husband, Joel (Michael Zegen) been stealing his jokes from established comics, he's also been cheating on her with his secretary. In one instant, her whole life falls apart. But when she shows up to the Gaslight Cafe where Joel sometimes performs later that night and gets onstage herself, she discovers that she's the real comedian in her family.

The rest of the season finds Midge taking her first steps into the legendary Greenwich Village comedy scene while navigating what it means to be a newly single woman in a time when that was looked on as a curse. The Mad Men parallels are apparent, if not in tone then in the setting. The show also evokes Woody Allen in its focus on the intersection of New York jews and comedy. Make no mistake though, this is a Sherman-Palladino product through and through. The references may be period specific but they still come a mile a minute, as does all of the rapid-fire dialog and quips that Gilmore Girls is so known and loved for. It's interesting to see Palladino shift her sensibility to a different place and time. This ain't Gilmore Girls, but it does have all the humanity and humor one would expect from a show created by Sherman-Palladino and co-produced by her husband/longtime collaborator, Daniel.
Luckily, they have a fantastic cast to help them in their latest endeavor. Brosnahan, who previously stole scenes on House of Cards and a string of other movies and TV shows over the past few years, is a revelation in the lead role. Not only because is she a fantastic actress who brings a sense of pathos to everything she does, but because she's so damn funny. It might've seemed like a risk to cast Brosnahan, who heretofore has been primarily known for her work as a dramatic actress, as the plucky hero in an upbeat, hourlong comedy. But she stakes her claim here as both a comedic talent and future star on the rise, demonstrating the kind of range that legendary careers are built on.
The rest of the cast isn't too shabby either. Coming off other notable appearances in shows like Boardwalk Empire and movies like Frances Ha, Zegen is a schmuck as the unilaterally disappointing Joel. However, he brings so much nervous energy and raw vulnerability to the character that it's easy to see why Miriam fell in love with him. Joel and Midge's parents, meanwhile, are comprised of a murderer's row of talented character actors, including Tony Shalhoub, Marin Hinkle, Caroline Aaron, and Kevin Pollack. Then there's Luke Kirby as real-life comedy legend Lenny Bruce. His easy good looks don't detract from his big, tortured performance as the famed comic.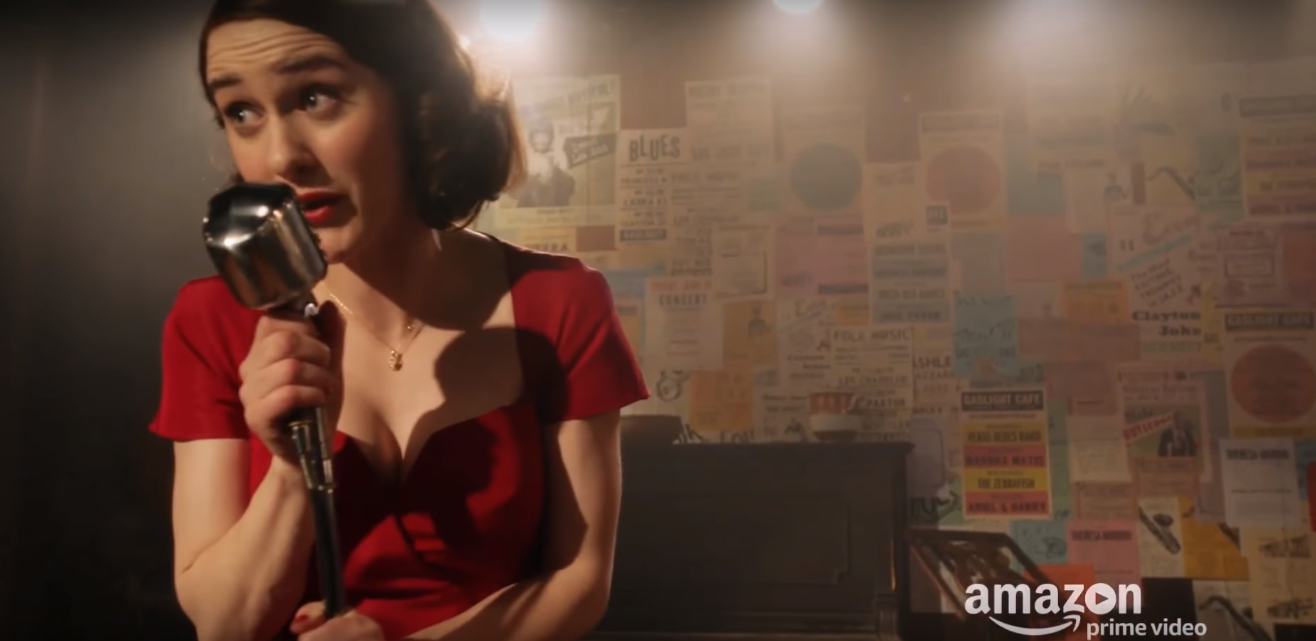 The final piece of the puzzle, which both the show and Mrs. Maisel's burgeoning standup career would not work without is Alex Borstein as Susie Meyerson, the wry assistant manager at the Gaslight who takes Miriam under her wing. Borstein, who previously worked with Sherman-Palladino on Gilmore Girls (she was the original Sookie) and Daniel Palladino on Family Guy, always goes big. If like me you occasionally found the quirky, mannered characters of Stars Hollow to be a bit much, her presence here could be cause for concern. But I can honestly say I've never seen Borstein do such good work. Susie is obnoxious and brash and often hard to take, but the writing and the performance feel so specified and thought out that it's impossible not to like her.
As has become par for the course for Amazon, the series also looks great, each episode stacked with gorgeous period costume and set design. Almost all of the episodes were directed by the Palladinos, who prove that their eyes are almost as sharp as their writing.
The shadow cast over The Marvelous Mrs. Maisel is both the rampant sexism of the era and of the comedy scene at large. The lengths Midge goes to just to look nice for her husband are at once hilarious and painful. Yet the real horrors of the show come from considering how little has changed in the world of comedy in the 50-plus years from when it takes place. Another Jewish housewife, Roseanne Barr, was an anomaly when she rose to fame in the mid-'80s. As has become abundantly clear to anyone paying the slightest bit of attention as of late, standup is still a minefield for female comedians. Women continue to do it anyway, battling against all the misogyny inside the industry, forced to prove that they're funnier than the average, dick-joke-telling man.
Other Amazon shows like Transparent, One Mississippi, and I Love Dick are essentially comedies disguised as dramas; 20-30 minute episodes including occasional laughs in the face of periodic tragedy and anguish. The Marvelous Mrs. Maisel is something different. It's not better than the "comedies" which Amazon is known for, but it is funnier. The eight-episode first season is already set for a second bow next year, so you better get watching. I can only hope Gilmore Girls fans and the non-initiated alike will be as pleased as I was.
Still not sure what to watch on Amazon? Here are the best Amazon originals, the best documentaries on Amazon Prime, what's new on Amazon, the best movies you can watch in stunning 4K Ultra HD, and the sexiest movies you can stream right now.