It's not easy to find porn on Amazon Prime. The e-commerce giant is designed to sell your products you didn't realize you needed—not to help you find smut to get off to. Unlike the porn on Netflix, Amazon doesn't

have a "Steamy" category to narrow down your search either. You'll need dig deeper to find porn on Amazon Prime.

The exception is Amazon's foreign film library, which came in handy for this list. If you like getting turned on while reading subtitles, you're about to have a newfound appreciation for your Amazon Prime membership. We scrolled through more than 1,400 listings to find the sexiest movies on Amazon Prime.
Unlike Netflix, Amazon currently doesn't have any streaming movies we could find that feature unsimulated sex. However, there's plenty of almost-porn to be found.
---
---
---
The best Amazon Prime porn
When Night Is Falling (1995)
When Night Is Falling originally received an NC-17 rating for its graphic sex scenes, but this thoughtful drama has more than nudity going for it. Camille is a professor at a religious college who finds herself slowly falling in love with Petra, a circus performer she meets on the street one night. Struggling with her sexuality, and religious job, Camille's journey is as thoughtful as it is erotic. Viewers longin for more LGBTQ films directed by women should immediately add this lost classic to your watch list right now.
Obsession (2015)
Moving to the countryside was supposed to bring Simone's family closer together. Instead, Simone finds herself in an increasingly passionate affair with a handsome handyman. The acting is much better than the plot suggests, but that doesn't mean the sex isn't explicit. Amazon is streaming the unrated version of the film, so you'll catch every second of the action.
Stripped to Kill (1987)
This '80s cheeseball classic sees a smoking hot detective take a job at a strip club to uncover a serial killer. Anyone who grew up watching softcore porn on cable will appreciate this movie's sleazy charms, but buried under the hairspray is a b-movie classic. The lighting, costumes, and direction are surprisingly strong, creating an almost punk rock grindhouse thriller.
The Lover (1992)
Jean-Jacques Annaud's controversial adaptation of Marguerite Duras' 1984 novel is a tale of explicit sex and cultural battles. In 1929 a young French girl meets a Chinese aristocrat in his 30s. Pulled together by lust and forbidden desire, the couple finds their love threatened by his traditional family and racism. Delicate, slowly paced, yet full of explicit sex, The Lover is an erotic journey that's hot enough you'll be able to ignore the age difference between the leads.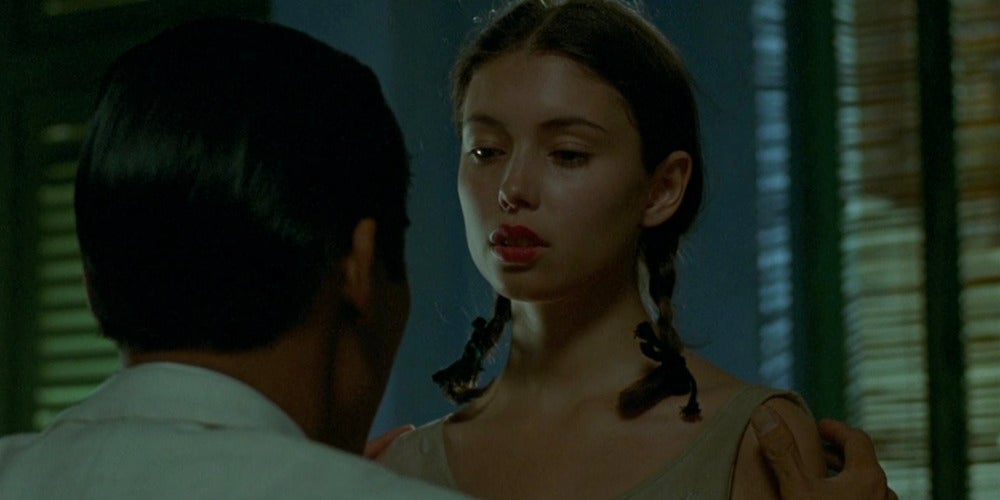 Bound (2015)
50 Shades of Grey was a disappointment for many fans, focusing more on the characters than the sex. Bound makes no such mistakes. This direct-to-DVD erotic thriller is a quickie ripoff of 50 Shades… but don't let its direct-to-DVD pedigree scare you off, this movie has plenty of steamy goodness to offer. Starring Buffy the Vampire Slayer's Charisma Carpenter, Bound follows the bored daughter of a wealthy real estate tycoon as she is introduced to the world of BDSM by a new young lover.
Sirens (1994)
Hugh Grant, Tara Fitzgerald, Sam Neill, and Elle Macpherson star in this sexy comedy about erotic art and God's judgement. When a painting is deemed a work of blasphemy by a minster, the pastor and his wife pay a visit to its creator. What they didn't expect to find is the three sexy models living with him. Playful, and at times honestly dramatic, Sirens is the kind of movie we'd recommend even if Elle Macpherson wasn't naked for most of the film.
Adore (2013)
Movies don't need to show explicit nudity to be sexy as hell, as this taboo tale of lifelong friendship shows. Adore follows two childhood friends who find themselves falling in love with each other's sons. Everyone is of age, but that doesn't make the story any less forbidden. Naomi Watts and Robin Wright are stunning as a pair of mothers torn between morality and lust.
Night Call Nurses (1972)
Roger Corman produced a host of cheap sexploitation movies in the 70s, often creating his own sub-genres in the process. Night Call Nurses is a nurse-sploitation movie centered on the lives of three naughty nurses. Time hasn't been kind to Night Call Nurses, turning an already campy hit into a "so-bad-it's-good" classic. Between outsmarting serial killers, cults, and sex counseling these there's plenty of sex and nudity to be found. This curiosity is a softcore porn treat on Amazon Prime. Just don't go looking for much of a plot.

Savage Beach (1989)
Before he made movies Andy Sidaris revolutionized TV sports, winning awards for his coverage of the NFL and Olympics. Then he retired and decided he just wanted to make movies with large breasted women firing machine guns. While his masterpiece Hard Ticket To Hawaii isn't streaming, its equally bonkers cousin Savage Beach is. After two beautiful DEA agents are forced to land on a mysterious island they find themselves in an adventure for lost gold. This one throws every b-movie trope at the screen from pointless nudity to a sword welding mutant. Grab a six pack and enjoy the indescribable weirdness of an Andy Sidaris film.
---
Related Daily Dot Articles:
---
A Very Natural Thing (1974)
A Very Natural Thing is remarkable for being one of the first gay films intended for mainstream distribution. Kicking off at the 1973 New York City Gay Pride parade, the film begins as almost a documentary, chronicling an important time in American LGBTQ history. But as the parade ends, the story shifts focus to David, a school teacher who recently left his life at a monastery, as he explores his burgeoning homosexuality. A Very Natural Thing is an artifact of the era before AIDS, focusing on issues of polyamory, '70s gay liberation, and the place of traditional relationships in the community. It's a priceless piece of history for its archival footage, but if you're just here for the sexy stuff, it features plenty of passionate love scenes and casual full-frontal male nudity. That alone makes it an outlier on this list.
Tinto Brass' Miranda (1985)
Director Tinto Brass shocked the world with his film Caligula, but his 1985 film Miranda is his unsung classic. Miranda (Serena Grandi) lost her husband in World War II and now runs an inn in the Italian countryside. Rather than remarry, Miranda juggles a series of lovers, hoping one day her husband will return. The film follows her erotic adventures over the course of four seasons, each with a different man. No film on Prime comes as close to actual porn. There's 100% unsimulated oral sex on a woman, graphic public sex, and more. It's also one of the few films we've ever seen outside of porn where a lover checks if a woman is actually turned on before starting to have sex. Surprisingly fun, but unrelentingly hot, Miranda is a hidden jewel of porn on Amazon Prime.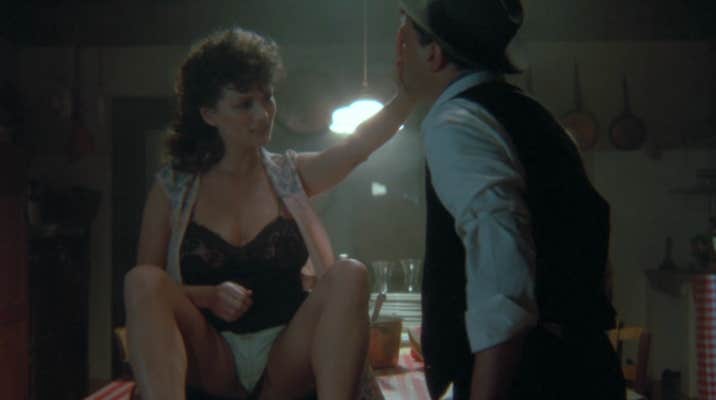 The Handmaiden (2016)
This erotic thriller comes from the twisted mind of Park Chan-wook, who brought Old Boy and Sympathy for Lady Vengeance to the nightmares of viewers around the world. Like each of Park Chan-wook's other films giving away too much of the plot would be a massive disservice to viewers, just know the sex scenes in this movie have earned it an NC-17 if it wasn't unrated. At its heart, this is a film about a long con, but wrapped around that story is an intensely sensual tail of seduction and cultural warfare. The Handmaiden is one of the finest films on this list. Even if you're not interested in nudity, you need to set aside time to give it a watch.
Love Letters (1984)
Following the death of her mother, a young radio DJ named Anna finds out she had spent the last fifteen years having an affair. Jamie Lee Curtis stars in this exploration of forbidden lust. Inspired by her mother Anna sets out to have an affair of her own, learning the hard lessons that go with inserting yourself into someone else's romance. Curtis had very few nude scenes throughout her career, but this film is a notable exception. Thankfully director Amy Holden keeps this from falling into the territory of exploitation despite the film being produced by Roger Corman.
Her Composition (2018)
Here's an interesting twist on the old "student turns to sex to pay for college" cliche. In Her Composition a talented music major finds creative inspiration in the sounds her clients make during her evenings as a escort. In less talented hands this could easily be a crap late-night softie, but star Joslyn Jensen and director Stephan Littger deliver a compelling mix of passion and tension. Coupled that with gorgeous cinematography and if anyone walks in you watching they'll just assume you're watching a nice indie flick, and they'll be right.
Friends Effing Friends Effing Friends (2016)
This hyper low-budget dramedy may not have enough sex to qualify as a softcore porn, but it certainly tests the limits. Late-night cable fans will appreciate the appearance of Julian Wells. Otherwise, this is a standard "what's it all mean when you have to grow up" romcom you've seen a hundred times before. Except the sex scenes are well done, with far more humor and kink than you might anticipate from the title. People looking for graphic simulated sex might be disappoined, but sometimes the porn on Amazon Prime is in the fantasy.
The Adventures of Anais Nin (2015)
Anais Nin was a groundbreaking writer, filling journals with private thoughts that would scandalize the conservative world of the early 20th century. Sadly, most of her work was published after her death, so many people didn't discover her until after her time. This docudrama recreates the tales of sexual exploration from her journals, providing an experience that's equally educational and erotic. Check out Nin's book, Delta of Venus, when you're done watching.
Mata Hari (1985)
Right off the bat we need to acknowledge Mata Hari is an entertaining movie, but also a deeply politically incorrect one. While its cultural appropriation is occasionally problematic if you're for depth in an 80s exploitation film we can't help you. During World War I a club dancer finds herself drawn undercover as a spy for the Germans. Using her sexuality to seduce a series of Allied officers, Often deeply stupid and poorly acted, Mata Hari's main charms are its incredible amount of nude scenes and a truly epic orgy.
The Guest House (2013)
This late-night slice of cheese is filmed like softcore porn, but dials back its focus from nudity to seduction. Don't worry, this film hits all the classic late-night movie buttons. Hot tub make outs? Covered. Goth girl finding herself in lesbian love? Congrats. A world where every lesbian is a model? Give yourself a gold star. The Guest House isn't a good movie by any standard, but it's a sexy silly blast if you know what you're getting into. This is some of the best softcore porn on Amazon Prime.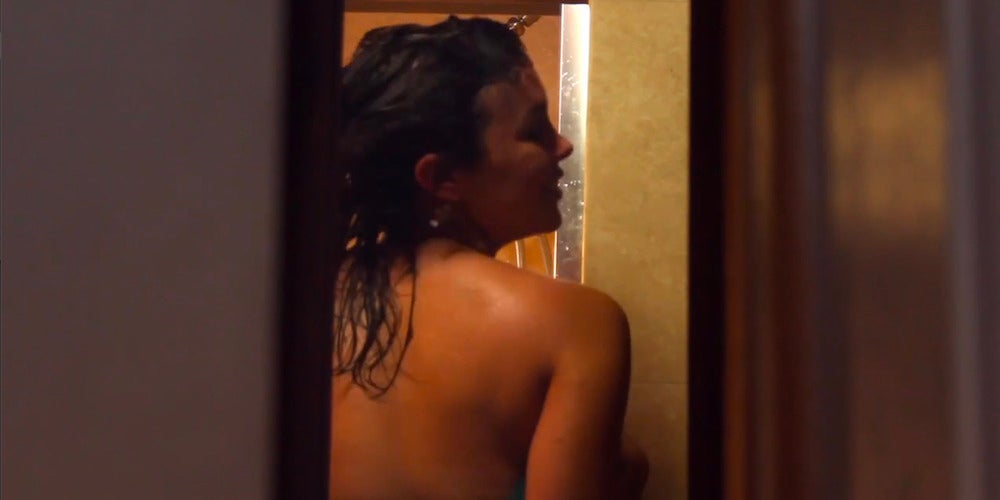 What Other Couples Do (2013)
Polyamory and swinging are having a bit of a cultural moment thanks to porn, Tinder, and a general cultural openness to discussing the idea. In What Other Couples Do, four married couples in L.A. play a game of Seven Minutes in Heaven with each other's spouses, with hysterical and touching results. If you need nudity to find eroticism, look somewhere else. But if you can find heat radiating from a situation, What Other Couples Do is a sensual movie for an unconventional date night.
Barbarella (1968)
Jane Fonda's 60s sci-fi comedy might not immediately jump out at you from the Hulu listings but this retro erotic gem is a worthy addition to your queue. Barbarella is a space cop in 41st-century, traveling the stars as a representative of the United Earth government. Tasked with hunting down a scientist who has invented a death ray Barbarella sets out on a dayglow adventure of sexual discovery and galactic salvation. If you like your sex scenes campy and your nude scenes in zero gravity Barbarella is the kinky space odyssey of your undiscovered dreams. It might be softcore porn on Amazon Prime, but it's surprisingly hot.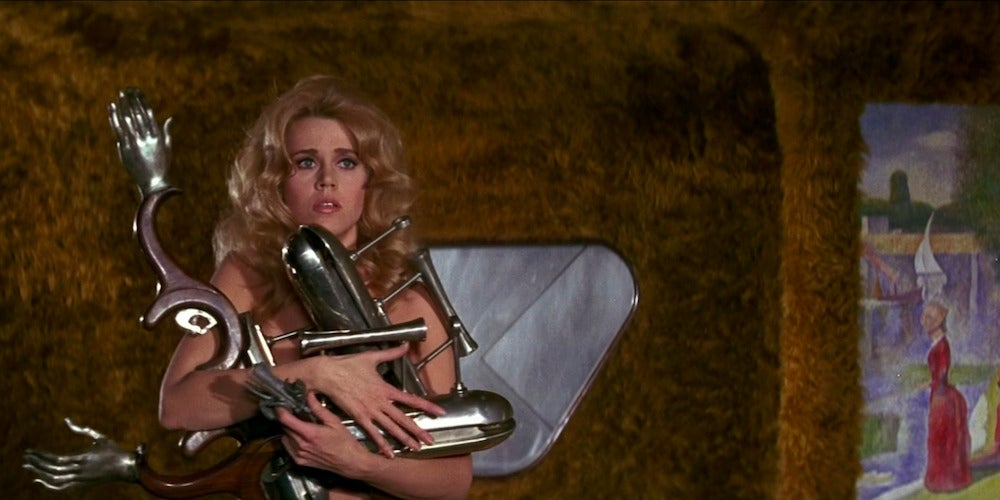 Private Lessons 2 (1993)
The name Private Lessons 2 might make you think this is just another mindless piece of late-night softcore porn. In a way you'd be right, but Private Lessons 2 rises above the schlock thanks to its legitimately smart directing and sexy cast. Viewers follow a bored fashion photographer as she rediscovers her sensual side with the aid of her hot chauffeur. The plot is silly, but you won't mind once the imaginative and shockingly explicit sex scenes start. One actually looks straight out of a 1980s Michael Mann movie. Don't miss out on one of the finest softcore flicks of all time.
Lady Chatterley's Lover (1982)
Polyamory is having a cultural moment, but D.H. Lawrence was exploring the concept in 1928 with his brilliant novel Lady Chatterley's Lover. This 1982 film adaptation keeps the original novels controversial plot about a woman who takes a lover when her husband is left impotent by an injury. It just spices things up with 80s style sex scenes. Star Sylvia Kristel is breathtaking, but her onscreen chemistry with co-star Oliver Mellors is what makes the film an sensual classic. You'll be surprised to discover that not only is their porn on Amazon Prime, there's artistic porn.
Amazon Prime Video Guides
---
Amazon Prime Video Genre Guides
---
---
The Daily Dot may receive a payment in connection with purchases of products or services featured in this article. Click here to learn more.
Editor's note: This article is regularly updated for relevance.