At first, Eddie Hearn thought a couple of YouTubers fighting each other in a boxing match was a joke. When Logan Paul and KSI stepped into the ring in August 2018 to fight a sloppy but entertaining bout that ended in a draw, Hearn originally thought the end result would be brutal and unwatchable.
The Matchroom Boxing managing director, one of the most powerful boxing promoters in the world, was completely wrong.
Now, he's all in on YouTubers fighting. He saw that more than 1 million people paid $10 to stream the first fight on YouTube. He saw that more than 20,000 people jammed into Manchester Arena in the U.K. to watch it live. He saw the money that was made, and he realized he could improve the product. So, he decided to promote the rematch at Staples Center in Los Angeles and broadcast it on the DAZN streaming service on Saturday night.
It's still difficult to determine how this will be received by boxing fans, YouTube fans, and by those who are just curious about what could be a sideshow. Ticket sales were slow heading into fight week, and the fight has faced criticism on multiple fronts—it might not be a fit for fans of the sport.
The vast majority of boxing fans who probably haven't heard of KSI and Paul—despite the fact they have more than 40 million combined YouTube subscribers—don't care to watch them tangle with each other in what basically amounts to an exhibition.
"If there's an audience, then God bless," Steve Farhood, the longtime Showtime boxing commentator who was inducted into the International Boxing Hall of Fame in 2017, told the Daily Dot this week. "There's a reason they're getting paid and getting on the platform. There's obviously interest. But for boxing fans who understand the sport and understand the nuances and subtleties, watching two guys who have built their names on the internet and by woofing at each other, that doesn't do it for me."
Making matters even tougher, the YouTube fans who showed massive support for the first fight have been quieter (and maybe more indifferent) this time. In part, that's because they might not even know where to watch.
"The problem is [Hearn] wants YouTubers to be interested in boxing," Josh Pescatore, a YouTuber with 186,000 subscribers, told the Daily Dot. "But he's not putting the event on YouTube. That will be the killer."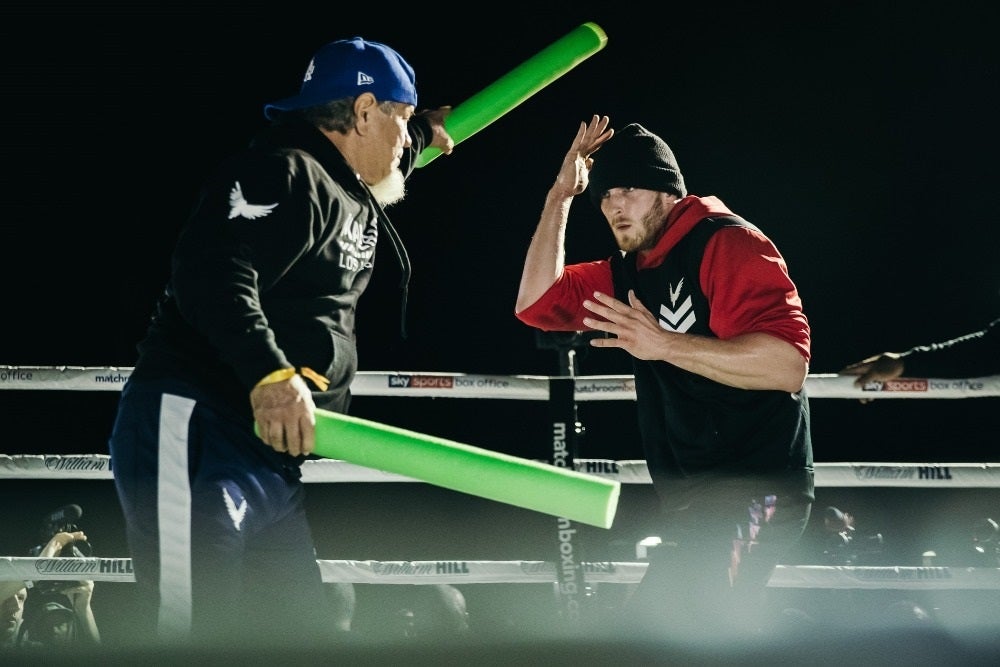 The first fight was streamed on YouTube, which makes sense considering that's where Paul and KSI built their names and their massive audiences. YouTubers and YouTube fans are used to using YouTube, after all. In the U.S., DAZN mostly caters to fans of combat sports. While the majority of boxing fans haven't heard of these YouTubers, the average YouTuber might not know DAZN even exists.
"Lately, I've had a lot of kids come to me and ask, 'Where do I even watch the fight?'" Pescatore said. "Everybody thinks it's on YouTube. They find out you have to subscribe to DAZN, and they say, 'My mom won't let me do that.'"
While Hearn might have thought he could make real money by staging the rematch and could convince tons of young YouTube fans to shell out for a DAZN subscription—all while turning a younger demographic into boxing fans—that might be a difficult road to traverse.
"It's a possibility," Farhood said. "There are young fans who would watch this who probably have not been exposed to high-level boxing before. Maybe some of them will be attracted to boxing. It's a possibility."
Still, Hearn has tried to make this card appeal to both sets of fans: the YouTubers and the boxing supporters. He's added two-division world titlist Billy Joe Saunders to the undercard along with Devin Haney, one of the most exciting young fighters in the sport who owns a 135-pound lightweight belt. While some in boxing have lamented the fact that world-class fighters are having to support a couple of boxing neophytes, Michael Conlan doesn't see it that way. In fact, Conlan, one of the top prospects in the entire sport, said he'd have taken a spot on the card if it was offered.
"I don't think it's good or bad for boxing in general, but I do think it's good for fighters like [Saunders] and Haney, as I suppose they have another audience and possible new fans watching them," Conlan told the Daily Dot. "I'm sure they will be paid handsomely so I'm sure they are not complaining. It's a different demographic of fans that [they're] reaching, and again to the main point, [they'll] be paid handsomely. So definitely I would."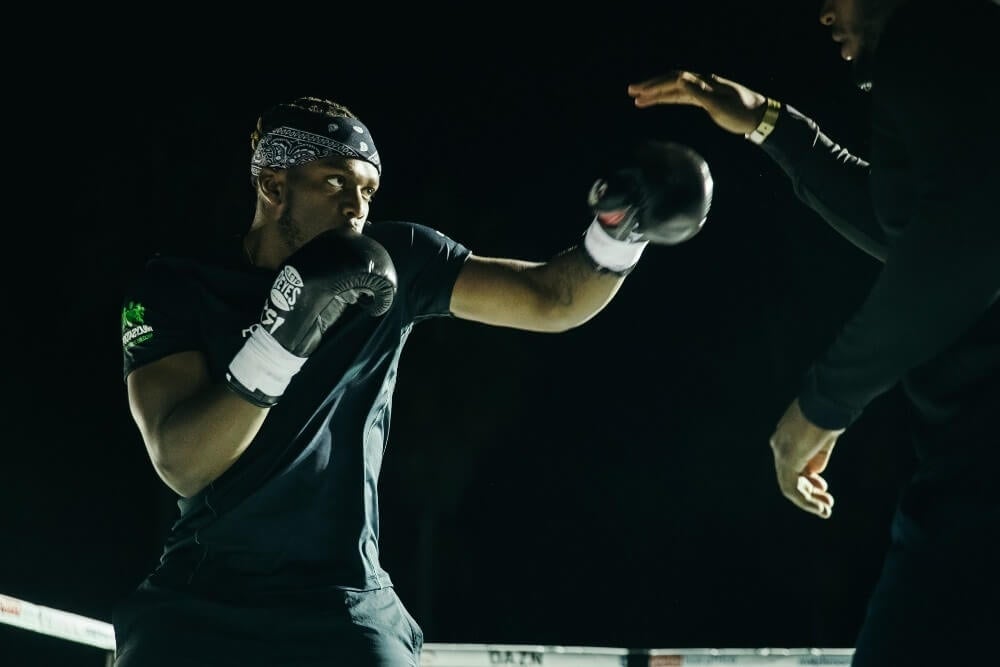 Some in the boxing community might be upset that so much attention (and so much money) has been poured into this DAZN event when other, more deserving boxers are ignored. Overall, though, much of the community seems indifferent to the card. That's not a big problem for the sport's future, because there's always more high-level fight cards on the horizon.
The idea that YouTubers are also apathetic is a different, more worrisome issue. On the original YouTube boxing card that featured KSI knocking out Joe Weller in February 2018, the undercard featured only social media stars. The same went for the first Paul-KSI battle, and there were storylines galore for YouTube fans to imbibe.
There was the rivalry between Jake Paul and Deji—the younger brothers of Logan Paul and KSI—that ended with a bloodied Jake Paul knocking out Deji. There was YouTuber Scarce losing 100 pounds in six months to fight Rackaracka. There was the karate-trained FaZe Sensai battling against the Brazilian jiu-jitsu of Overtflow.
Content and storylines flowed non-stop. Pescatore, who was working for Keemstar's Drama Alert YouTube news show at the time, realized that you could make endless amounts of vlogs based on the number of YouTubers who were fighting. With bite-size interviews and small bits of news here and there, Pescatore said the Drama Alert channel could attract 45 million views per month in the leadup.
"There was this connected web that had self-generating content that grew upon itself," Pescatore said. "But there is no hype for the [rematch]. Any kind of drama that comes out of this will seem manufactured, so it won't go as far. Indifference doesn't ride on YouTube."
Jake Paul begged Hearn to allow him to fight on Saturday's card. But that didn't happen. The undercard is only for professionals. No YouTubers allowed.
"It's definitely not ideal," Logan Paul told the Daily Dot on Wednesday evening. "In an ideal world, my peers would be fighting on the undercard. But KSI and I have enough pull where the amount of views would probably be identical either way."
Maybe so, but this card feels like a missed opportunity in multiple ways. That's because when you ask the question, "Who exactly is going to win on Saturday?" the answer isn't easy to determine. It probably won't be boxing. It probably won't be YouTube. It might not be the promoters or DAZN. It might not be the fans who will have to pay twice as much money to watch. In reality, despite what occurs in the ring, the only ones with their hands raised at the end of the night might be Paul and KSI, their influence, and their bank accounts.
"That looks like it's it," Pescatore said. "There's just nothing to talk about. Even the content creators don't win."
READ MORE:
For a year-round sports fix, sign up here and check the "sports" box to receive our weekly boxing newsletter. You'll hear about all the biggest fights and best knockouts from the Daily Dot's streaming sports guru Josh Katzowitz.