Jena Friedman is as dark and fearless as ever on her new special Soft Focus, a satirical magazine-style show debuting Sunday on Adult Swim. The comedy is reminiscent of her work as a writer for The Daily Show but manages to top some of its most outrageous moments.
Friedman's fans already know that she's never been one to shy away from controversy (as evidenced by her recent standup set on Conan) and it appears Cartoon Network didn't try to reign the comedian in one bit on her shocking and hilarious half-hour special.
In the first segment Friedman attempts to teach a group of frat guys about the importance of consent by making them carry around sex dolls, in much the same way high schools make teenagers carry around baby dolls to teach them about parenthood. While the boys do their best to keep the dolls safe, things do end up getting a little messy.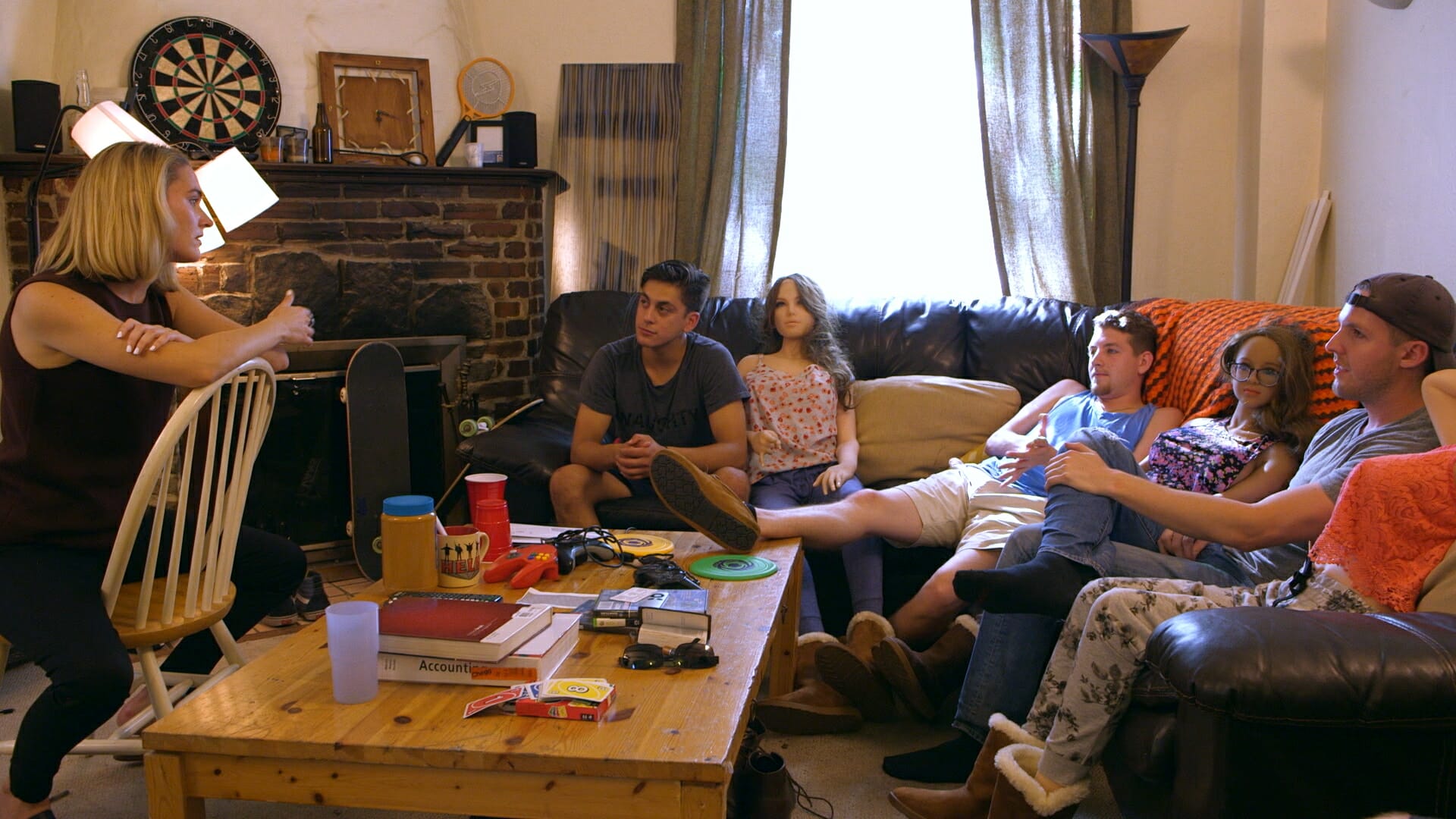 In the second segment, Friedman interviews Gilberto Valle the "Cannibal Cop," a New York City police officer who was convicted of a conspiracy to kidnap, cook, and eat women. Valle's conviction was later overturned by the judge in the case, but he remains an imposing and creepy subject.
Somehow Friedman manages to make the interview funny, although no less disturbing, and as if the whole concept wasn't bizarre enough, she finds a way to take things to a whole other level by the end. (We won't spoil it for you, but suffice to say, it doesn't get less weird.)
Friedman emailed with the Daily Dot about the show, and what compels her to make this kind of comedy.
…
Obviously, this show is similar in some ways to your work on The Daily Show. What is it about this kind of comedy you find appealing?
I've always loved comedy that interacts with real people, so often truth is stranger than fiction and when it works it's fascinating to watch.
This show often blurs the line between fact and fiction—do you worry that there are some viewers who can't distinguish between the two?
I don't think it matters if some people don't get it, you can't win 'em all.
Do you feel like the college guys in the "Campus Rape" section learned something from the segment you did with them?
Hopefully, they were good sports.
Was it at all frightening being in the same room with Gilberto Valle, especially considering that you were kind of making fun of him?
Not really, I don't think I'm his type.
You've never been one to shy away from controversial topics. What is it about comedy that lends itself to discussing things that many people try to avoid talking about in public?
I think comedy can be disarming and helps us break through the awkwardness or emotions that come with controversial topics.
A lot of people probably know you as a standup. Do you have a preference between doing prerecorded shows like Soft Focus versus performing in front of a live audience?
I love the magic and unpredictability of performing live, but I find that I'm often funnier after I've been edited.
Which is more important to you, that people learn something from your satire, or that they laugh at it?
I mean, to each their own.
Part of the appeal of the interviews you do is how uncomfortable they can be. Is it difficult to stay in character in such awkward situations?
Thanks for thinking it's a character.