On Tumblr, Jason Oberholtzer, 25, is a squeaky-clean, tie-wearing New Englander who can't get enough of charts. On Twitter he's a rapping fiend named Q.E.D. who's not afraid to fry a random stranger's "ass like bacon."
Oberholtzer is the founder of I Love Charts, a crazy-popular Tumblr blog that aggregates creative charts, graphs. and infographics from all around the Internet, and a blogger for Forbes.com. In August Forbes sent Oberholtzer to Toronto to cover the King of the Dot's World Domination II, an international rap battle competition that draws dozens of aspiring rappers. It's there that he found the inspiration to try his hand at rap.
"If you spend enough time watching and analyzing battle rap, you start thinking in verse despite yourself. It gets a little annoying actually," Oberholtzer told the Daily Dot. "So the obvious choice was to test out my chops on strangers on the Internet."
Two weeks ago, Oberholtzer held his second Twitter rap battle showdown, harnessing his large number of followers on Tumblr and Twitter to draw in competitors. In the end he collected about 10 different challengers who gave Oberholtzer a run for his money.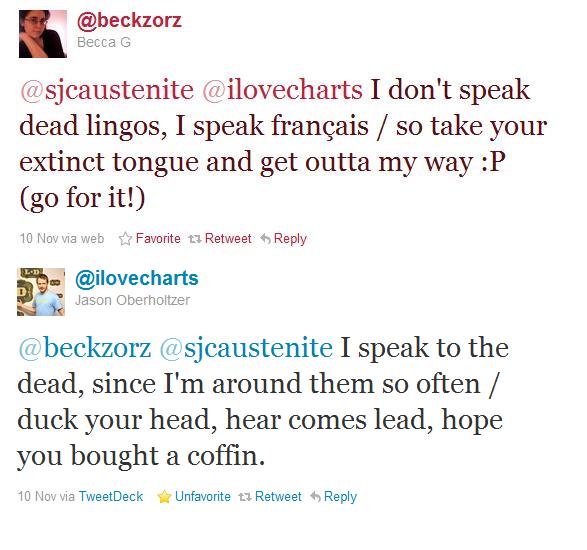 "Twitter is the best medium to try fun, silly, interactive things with your followers because it can be so conversational," Oberholtzer said. "It's an interesting challenge. The character limit means you really have to pack your syllables."
All in all, Oberholtzer responded to more than three dozen tweets, many of which he found using the hashtag he invented for the I Love Charts Rap Battle, #RapBattleILC.
Rap battles have been a popular part of American culture for the last 30 years. Battles can be performed live or recorded, but almost always involve one rapper using obscenities to insult his opponent.
Today rap battles are taking place all over the Internet, especially on message boards where people write pages worth of lyrics. On YouTube, the Epic Rap Battles of History series have been viewed more than 316 million times. Each video features actors battle rapping as famous people in history like Einstein and Stephen Hawking or Darth Vader and Hitler.
Oberholtzer plans on holding his third rap battle in the near future. In the meantime, he will be working on the last chapter of his King of the Dot's article and searching for cool charts. Because at his core, Oberholtzer is a proud nerd. (His rap name Q.E.D. stands for quod erat demonstrandum, the Latin phrase meaning "which was to be demonstrated," a phrase used in mathematics and philosophy.)
"I learned that I'm really not good at this, but that at least I'm better than all my followers," Oberholtzer said. "That's right, shots fired."
For anyone thinking of challenging Oberholtzer during his next rap battle—or hosting their own battle—he had this short list of advice to share:
1) Figure out how you are going to navigate the character count when you go into a response. Are you going to try to get all your rhyming in 140 character? Spread it over two Tweets?

2) Use what the other person last said to you for inspiration. It's not like you can pull in much else when you are just staring at a little profile picture on your monitor. It also helps to keep things organized when you are going against a dozen or so people at the same time like has sometimes been the case for me.
Illustration by Fernando Alfonso III