James Franco's career has been steadily devolving into hipster meta-parody for a while now, but we've no one to blame but ourselves for letting him bottom out this way.
The 36 year old Franco has rapidly been augmenting his film career with what seems to be an ever-worsening career as a hipster: a pretentious, insufferable character constantly engaged in performance art. Now he's topped it all off by taking a selfie composed of himself wearing a shirt printed with hundreds of James Franco selfies.
We hate ourselves so much for showing you this.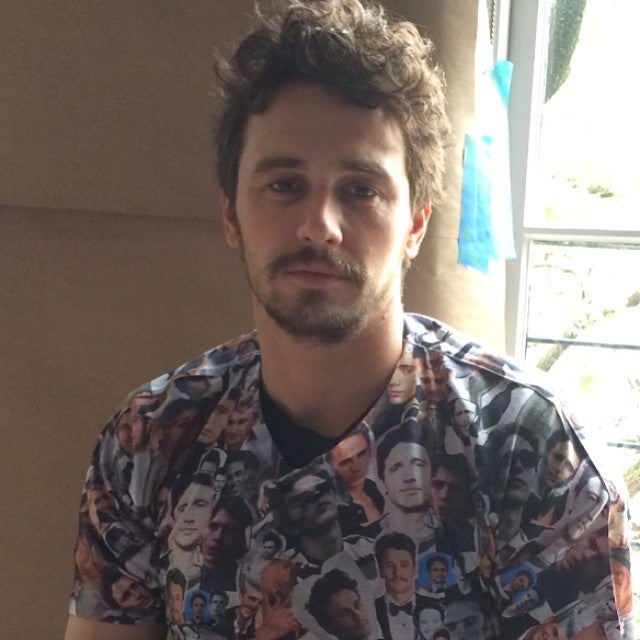 Photo via Instagram
Over the last several years, Franco has cut back on his admittedly hugely prolific career in order to play… himself. He's played himself in movies, including This Is the End with Jonah Hill and a cameo as himself in Veronica Mars. His Instagram account is home to hundreds of selfies. When he's not taking selfies, he's writing poems to himself, and then writing letters to himself about the poems he's already written.
Then he uses his reported $20 million net worth to go on talk shows and complain about how people can't stop looking at him:
Ostensibly, Instagram is for my fans. But, you know, now all the bloggers are following me on there, so they'll just take it and use my images for whatever they want. I didn't ask you [Letterman] to look at it. It's what the people want.
Is it, James Franco? Is it really?
As I gaze upon the abject misery in your expression, James Franco, I know you're wondering where you went wrong. Fortunately for you, it's not too late. We can fix this.
I know that with your PhD candidacy in English and your simultaneous post-grad studies in filmmaking, writing, poetry, and design, you might not have learned this, but your Instagram is still part of your public persona—and that has implications beyond your desire to have fun goofing around on the Internet.  Although you've studiously devoted your time to writing, directing, and starring in films about white men like yourself, if you turned the camera around and pointed it at other people, you might discover there is a diverse, vast, and interesting world outside of Franco.
But, I hear defenders saying, James Franco frequently does tireless charity work and shines a light on the queer community, especially through his portrayal of gay men like Hart Crane, Sal Mineo, and Allen Ginsberg!
Well, yes. But let's be real, here: Charity work is only one way to offset Hollywood's eagerness to hand him a microphone and boost his film career. Meanwhile, actual openly gay men have trouble achieving careers of his stature. And let's not talk about how his portrayal of Ginsberg conveniently left out the little-known but appallingly well-documented issue that Ginsberg was an aggressive pedophile.  
Increasingly, audiences want diversity. Theoretically, Franco is primed to give it to them. He's a hipster's hipster: liberal, progressive, a champion of indie art projects and a passionate supporter of gay rights. But on paper, Franco's efforts wind up looking like his Instagram: an endless array of vanity projects in which he surrounds himself with other white dudes filming narratives talking about white dudes. It's all done with a surprising lack of self-awareness for someone who once wrote, " I get paid to pretend to be a person like those people with no empathy for others." Ugh, see, this is why we didn't fund your Indiegogo campaign.
James Franco supporters, look at your life, look at your choices. Only you can prevent James Franco from thinking his playful ego indulgence isn't tied to his creative output, or that the two don't combine to drown out the voices of other people we want to hear more from. I'm looking at you, all 117,000 people who "liked" this ridiculous collective selfie-gasm. 
Someone actually sewed that shirt together, someone actually wove Franco's silk-screened faces into a coherent whole, then handed James Franco the shirt. Someone gave James Franco a camera. We all told him this was OK.
It's not okay, James Franco. Stop taking selfies. Stop soaking up liberal arts education and go write a starring role for Lucy Liu. Go adapt the works of Randall Kenan instead of William Faulkner. Be the change.
Point your camera in the opposite direction.
Photo by Alice Barigelli/Flickr (CC By 2.0)