Jake Paul gets criticism for posting controversial and obnoxious videos day after day. He gets criticism for his casual racism. And he gets criticism for allegedly bullying fellow YouTube stars and for being a terrible neighbor. But you can't deny the 20-year-old Paul is one of the biggest YouTube stars on Earth. He has nearly 13 million YouTube subscribers, and he's earning about 30,000 new subscribers per day in 2018, according to YouTube analytics site Social Blade. If your children have access to YouTube, they probably can't get enough of him and his sound effect-laden and fast-cut videos.
Who wouldn't want that kind of social media stardom, that kind of YouTube power? Jake Paul figures you do, and he's willing to teach you how to be lit just like him (minus the casual racism, we hope).
If you're a daily Paul watcher on YouTube, you've probably noticed that he's been publicizing something called Edfluence. As he describes in a recent video, Edfluence is "basically a course I created teaching you guy all the secrets, tips, and tricks I 've learned over the past five, six, seven, eight years of doing social media."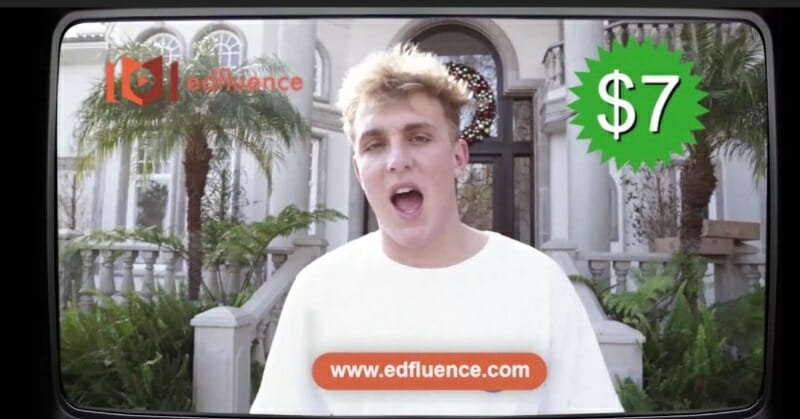 With that kind of pitch, who wouldn't want to give Paul a $7 one-time-only fee? I mean, I want all my "fly" fans to buy my merch, too. So, I logged onto Edfluence.com to make myself the middle-aged version of Jake Paul.
I immediately take a quiz to determine what kind of social media influencer I can be. Luckily, it's free.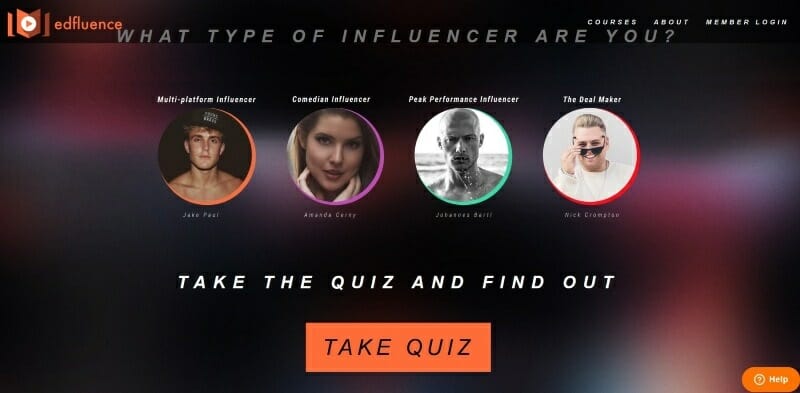 It asks if I want money or fame, how committed I am to being a social media influencer, about my dream car, and if I like chess or gaming. I dutifully answer the questions, and my results appear in my email inbox so I know which kind of "Team 10 Influencer" I can be.
Me? I'm a dealmaker, baby.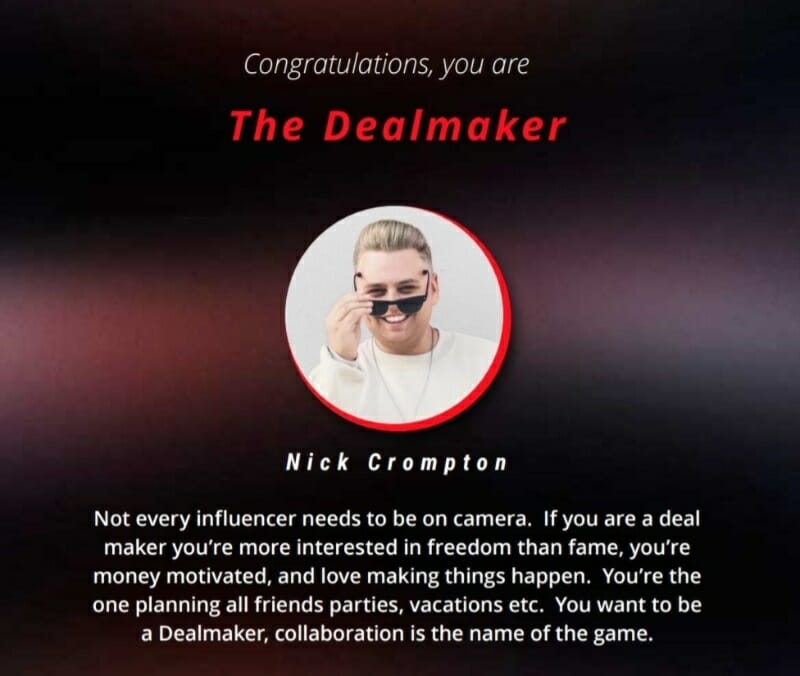 Step two is to collect my roadmap to success. I watch a long video featuring Paul recall how he went from a bored teen in suburban Ohio to an adult who drives fancy cars, stays in expensive hotels, and burns through plenty of money. He pontificates on the old ways of Hollywood and how you had to be in the right place at the right time to get in front of the right producer. Now, he says, we live in a new world where you can decide your own destiny.
He spends most of the video talking about how much money you can make in this infancy of social media, especially if you join his expanded Team 10 brand, which he's now calling Team 1000. Paul said there are 10 easy-to-follow steps to become a social media influencer powerful enough to join his team, and he gives three of them in this free video.
1) You need a phone to record video.
2) Identify what kind of creator you are. (I already did that! I'm a dealmaker, remember?)
3) You have to figure out "watch time" to make a video go viral. As Paul says, the longer a viewer watches your video, the more it's promoted on the site you're on and the more likes and subscribers you'll get.
(He's, um, not exactly giving away state-kept secrets here.)
The other seven lessons you're going to have to pay for in a video he calls the Roadmap to Team 1000, where he says he can teach you everything in a couple hours that's taken him five years to learn.
Note that this is a tampered-down version of Paul. He's calmer and in control—he's actually tolerable. Of course, he's not angling for my page views. He's angling for my $7, and he keeps talking about how I really have to want this. I really have to want to live the life of a social media influencer.
It's essentially a late-night infomercial, but it's hard to resist the scenic Miami shots, the McLaren with butterfly doors that he's driving, and the repetitive notion that all you have do is follow Paul's instructions to rake in millions. He's like a YouTube version of Vince Offer trying to sell me a Shamwow.
OK, he's got me. After charging my credit card, I'm treated to an unlocked Paul video basically selling me on what I just bought. He also makes the point that nobody becomes a social media influencer by accident—unless, he said, you end up on Dr. Phil and ask somebody to catch you outside.
Eventually, Paul brings out Instagram and YouTube star Amanda Cerny for a conversation that Paul says will be one of the most important you'll ever watch. He also says if you don't really want this, don't bother watching the conversation. But I sorta want it, so I watch, and the two talk about how you have to start at the bottom before you can grow your social media empire and how you shouldn't give up. Not entirely helpful, but somewhat inspirational, I suppose.
Next, I see Paul again, telling me that I'll have to work late nights and that I'll have to know where to find the right map to success. (Hey, I already spent $7 on a roadmap!)
But I have to be honest. His constant attempts to inspire me to become just like him are beginning to work. I'm beginning to realize that it's every day, bro. I'm ready to be recognized in the streets. I'm beginning to get lit. I think I'm beginning to really want it.
Then, Paul hits us with this. In order to unlock all the secrets I thought I could get for a nominal fee, Paul says I have to join the Inner Circle, which will provide me with the guide to becoming social media famous and rich. He said he's going to spill all of his secrets once you're inside the circle. He's going to teach you what you couldn't learn at school, and he's going to save you from a boring 9-to-5 job.
But to join the circle, you're going to have to open your wallet again. It's not nearly as cheap this time.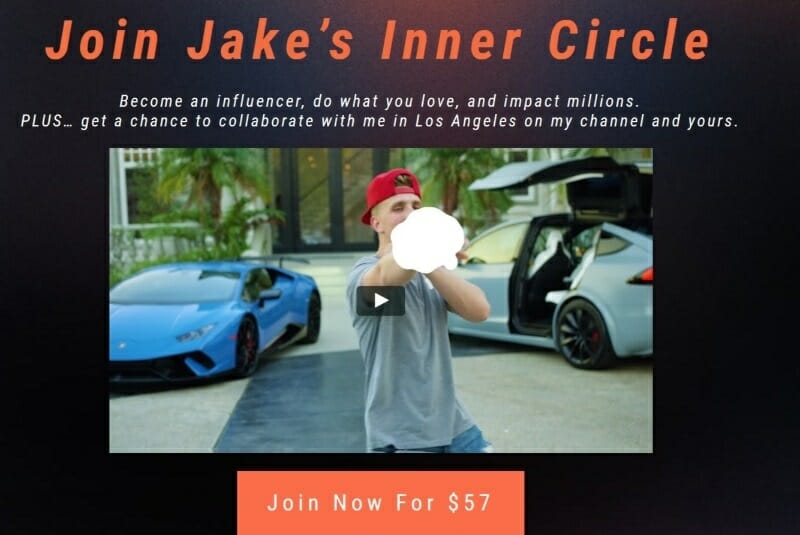 Paul does offer a 30-day refund if you don't find the $57 value he says you'll gain ("No questions asked," he said), but I'm going to decline his offer.
I guess I wasn't the dealmaker I thought I could be, and Paul isn't the Shamwow guy either. Others feel ripped off, too.
YouTuber Taylor A told his 3,100 subscribers (up from about 800 a few days ago) that Paul scammed him in a video.
https://www.youtube.com/watch?v=XGXG1qilfyg
As Taylor (and at least two other YouTubers who are calling Edfluence a scam) figured out, we just paid Jake Paul $7 for the opportunity to maybe pay him $57. Perhaps there's a reason Paul is a millionaire, and it's not just because he knows about "watch time."
"Much like any developing platform, we are working through the initial hiccups, but could not be more excited about perfecting the Edfluence experience and empowering a new generation of content creators," Team 10 COO Nick Crompton, who is the same guy who I matched with when I first started this journey, told TubeFilter.
Not everybody is disappointed, though.
I majored in PR/Marketing and I just learned more on Edfluence from @jakepaul than I ever did in college……

— Caroline Ward (@mscarolineward8) January 2, 2018
https://twitter.com/dimitri_wehrli/status/950323719980937216
https://twitter.com/jamienicyt/status/950167045148233728
Paul said he's going to collaborate with at least one person in the Inner Circle. If you want to be a social media superstar and Paul somehow picks you to be in one of his videos and puts himself in one of yours, yes, you're going to get some Paul-dusted publicity and probably gain plenty of followers in the short term.
But it's almost as if, in new Hollywood, you have to be in the right place at the right time to get picked by the right content producer.
It's not going to happen for me, though. I guess I didn't really want it badly enough after all.