Jake Paul hasn't made a public comment on his older brother Logan Paul's suicide forest video that has set the internet aflame the last few days. But Jake is continuing to produce the kind of YouTube content that is offending plenty of viewers.
Though it's clearly not as offensive as filming an apparently dead body hanging from a tree, Jake's offering this week featured potentially inappropriate content for his minor-age fan base.
https://www.youtube.com/watch?v=2pt3I_6uKDY
If you're not interested in watching the video, it features plenty of the regular Jake Paul tactics, including waking up his roommates by spraying a fire extinguisher all over their room, forcing them to evacuate the premise because of the fumes. He also makes a few homophobic jokes and causes plenty of damage to the cabin he and his friends have rented in Big Bear, California.
Though the title of his video "I lost my virginity …" doesn't actually refer to him having sex—instead, it's about him skiing for the first time—Paul is facing criticism for the original YouTube thumbnail that was posted on the channel. Some Twitter users believe the headline is pure clickbait, and the original thumbnail is nothing but sleaze.
This is the thumbnail that's shown now.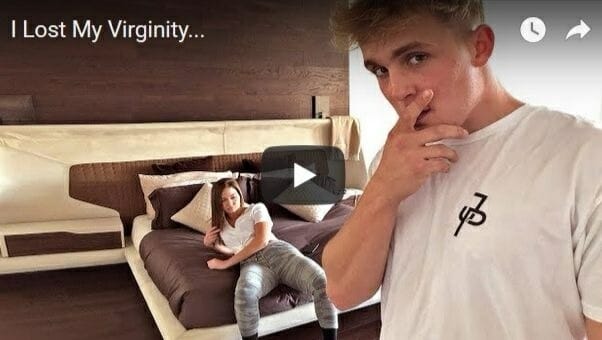 The original, though, was much more risqué despite the YouTube description that describes the video as "family friendly pg clean."
It's like Logan and Jake Paul are in a race to see who can make the worst possible video pic.twitter.com/SdI4IN0Avq

— Josh A (@OfficialJoshA) January 3, 2018
And much of Twitter wasn't happy about the original thumbnail, particularly in the wake of his brother's controversy.
If you think Logan Paul is bad, get a fucking load of Jake Paul. He's known to be a public nuisance, has made racist comments, and has emotionally abused several of his Team 10 members (including his ex-gf Alissa Violet) to the point of them quitting. KIDS LOOK UP TO THESE PEOPLE

— ms. ando (@babyikea69) January 3, 2018
jake paul just posted a video and the thumbnail was him and a girl practically naked making out and the title is i lost my virginity and it's clickbait?? anything for fame

— rachel (@okjuggy) January 2, 2018
https://twitter.com/itsmehaiden/status/948354728244609024
jake paul released a video with the title 'i lost my virginity'. im so sorry for your viewers/ child viewers boi but just to get some views and made it as a clickbait? oh god, jake paul you're disgusting

— eka⁷ (@cthkook) January 3, 2018
and the fact that the first thumbnail was them doing sex on the bed cmon

— eka⁷ (@cthkook) January 3, 2018
https://twitter.com/scarypotato69/status/949053880914137088
On Friday, it was reported that Jake had been filmed saying the N-word twice in a freestyle rap, leading to even more controversy for the duo.
In the middle of the "I lost my virginity" video, Jake makes the New Year's Day claim that, 'This year is going to be an incredible journey."
So far, though, it's been a bumpy first week of 2018 for the Paul brothers.
H/T LAD Bible