On Dec. 23, a YouTube video that I'd posted in 2008 had 473 views to its name. The video was an inside joke, a clip I shot myself of a friend talking about telegrams on a balcony. It was a parody of rapper Cam'ron's infamous callout of 50 Cent, and I believe I knew everybody who had ever watched it.
When I woke up four days later, "It's Gonna Be a Hot Beach Week" had climbed to more than 60,000 views.
Was it friends? Family? Coincidence? Did Cam'ron reenter the national limelight? None of the above.
I bought the views. And it only cost a little more than $50.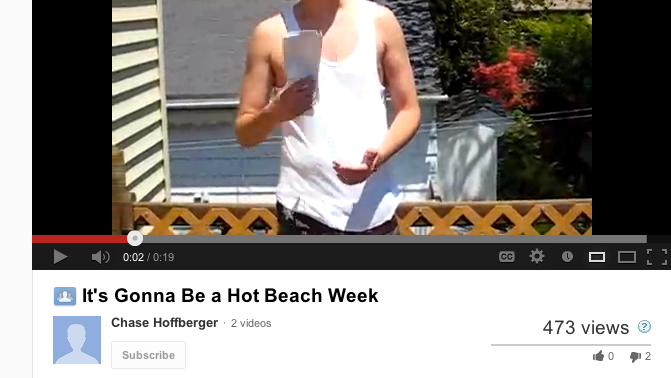 How to buy YouTube views
I purchased the views at a number of YouTube view-buying sites, all of which I'd learned about after publishing a story on a number of major music channels losing what amounted to billions of YouTube views right before Christmas.
A litany of emails flowed into my inbox in the days that followed its posting. All of them alluded to the size and scope of the YouTube view-buying industry. They said that view buying was rampant—that it happened in and around all corners of the site.
"Every artist that I know of uses this service in some kind of way," one individual with experience in the view-botting industry told me. "It's easy, and it's inexpensive. That's just the reality. Everybody cheats in some form or fashion. Sometimes you get caught."
Knowing that it's better to show than tell, I set out to find out. Just how easy is it to buy YouTube views, and what exactly happens when you've done it?
Where to buy YouTube views
A guy named Jacob told me that I should buy my views from YTView, a site owned by someone known on Skype as KenzoTanaki. The site promises "real views," "higher retention" between 60 and 100 percent," and claims to have delivered more than 400 million views. A cartoon drawing of Psy doing his "Gangnam Style" dance features prominently on the site's homepage.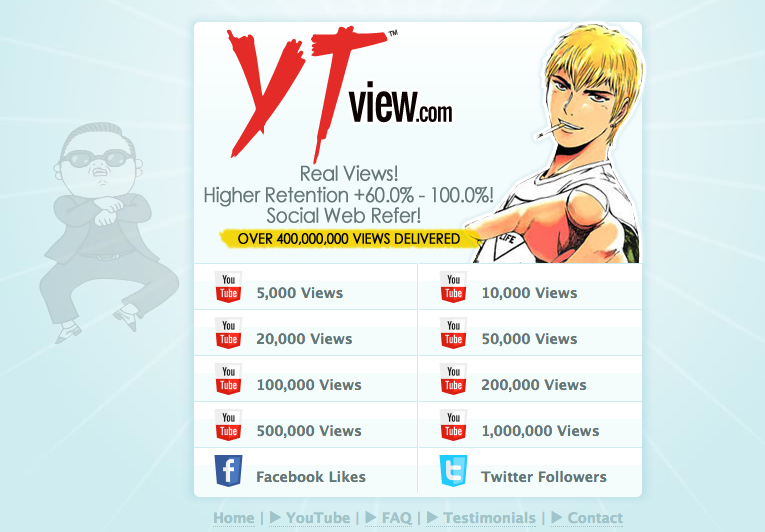 "I've seen his potential on some videos," Jacob told me, adding that Kenzo was well respected in Black Hat World, a certifiably unethical Web forum where talk of fake views and automated Facebook likes often occurs.
I sought Jacob out for direction because he was the one who gamed the song "Pickles" to the tune of 8 million views in eight days back in the beginning of December. The song was awful—a poorly produced electronic dance track played under a repetitious "Pickles, pickles, I love pickles" chorus—but Jacob had turned it into a weeklong hit. It was something he did just for fun, he told me when we chatted over Skype, something to show off like a portfolio or résumé.
"I blast some tests sometimes," he said. "I try to prove [to] some ppl how its easy to get on top."
Buying views on YouTube
I went to YTView with the intention of buying 50,000 views from Kenzo. The process was absurdly easy: Click on any of the homepage's eight YouTube options, reselect your "package" in a drop-down menu, then enter in the URL for the video that you'd like to boost. From there, you're whisked away to a PayPal page and told to enter in your username and password. Once you have one, the final step is as simple as pressing "Pay Now."
Altogether, purchasing the views took 45 seconds. The waiting is the hardest part.
I'd actually chatted with Kenzo a few times thanks to an introduction I'd received through Jacob. He told me that he was from Malaysia and had worked on view-buying campaigns for a number of artists in the music industry but that it wasn't worth it for him to give up their names.
"Their manager" is generally the main contact in negotiations with the artists, he told me in a series of messages delivered in broken English, "but most don't publish their identity. They just ask to blast this vid and that—50 percent first. After I'd finish the job, they pay the 50 percent balance."
Why buy YouTube views in the first place?
Jacob said the main reason why people buy views is to "get to the top as soon as possible"—to rack up enough views to get into the conversation early. Nobody wants to watch a video that's only run up 1,300 views; 30,000 looks much better.
"From there," he said, "you get real views and don't need to bot."
Though no substantiated history of selling YouTube views exists, it's believed that the practice began in 2005 and developed into a substantial business practice sometime around 2009 or 2010, when a former YouTube coding and system maintenance employee known these days as SpK started gaming the system and seeing big returns on rising view counts.
Today, as Jacob and Kenzo both mentioned, view buying is a multi-million dollar industry, one that they say has helped make the careers of many notable music acts. The paper trail, however, is infuriatingly thin, and few involved want to implicate anybody else in the industry, for fear of their safety and their wallets.
"[My clients] do it so that they can get some credibility for themselves and their brand," said Fletcher Batts, a social media marketer who works with a number of unsigned artists in the rap world. Batts once owned a site called Hip Hop Encounter which Google diagnosed as being ridden with malware in 2013.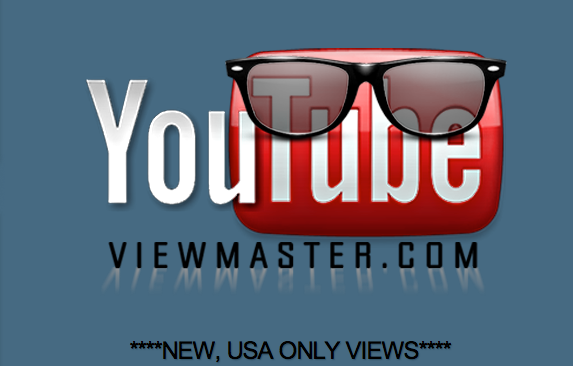 "That's the reason that I was selling it," Batts said. "It helps unsigned or less exposed artists get a leg up. Signed artists have millions of views. If you've already already got 10,000 views up there, people are going to click through, because it's all about the appeal and the marketing."
Batts wouldn't provide the Daily Dot with the names of any artists he'd worked with but asserted that too many of them failed to use the service the way that they should have.
That's something that Jacob echoed when I told him that I wanted to buy some views.
"Not everything that gets views will get popular," he wrote. "That is the thing I learned in view botting."
My package of 60,000 showed up Dec. 26—a late Christmas present that I'd received from a stranger.

READ MORE:
YTView is hardly the only option when it comes to buying views on YouTube. Thanks to a variety of rank and files that resemble the pecking order of a drug ring on The Wire, people can turn to any number of sites that offer views for a wide variety of price points.
Options abound at sites like BuildMyViews and BulkYouTube, which lists a Skyper named Safal914 as its main contact. Batts wouldn't use him often, but he tapped into Safal's business from time to time. "Whenever I needed to do immediate views," he said. "Like if somebody needed views in 48-72 hours. I charged extra for those services."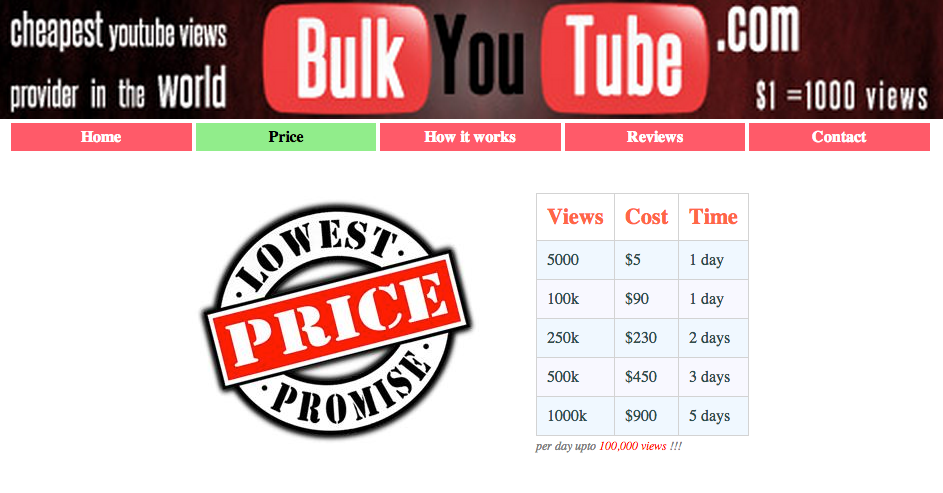 When I contacted Safal, he asked me in severely broken English if I came to him to talk about "video deletion" and then asked me for my username on Fiverr, a site where resellers offer ridiculously discounted deals on views—some of which occasionally come at a 50 percent clip from the rates people at the aforementioned sites can offer.
It's there that Tapangoldy, whose involvement we covered in December, first made his mark. Jacob said he knew him from something he called "the famous gig," an offer Tapangoldy made that promised to deliver an excess of 20,000 views for the price of $10.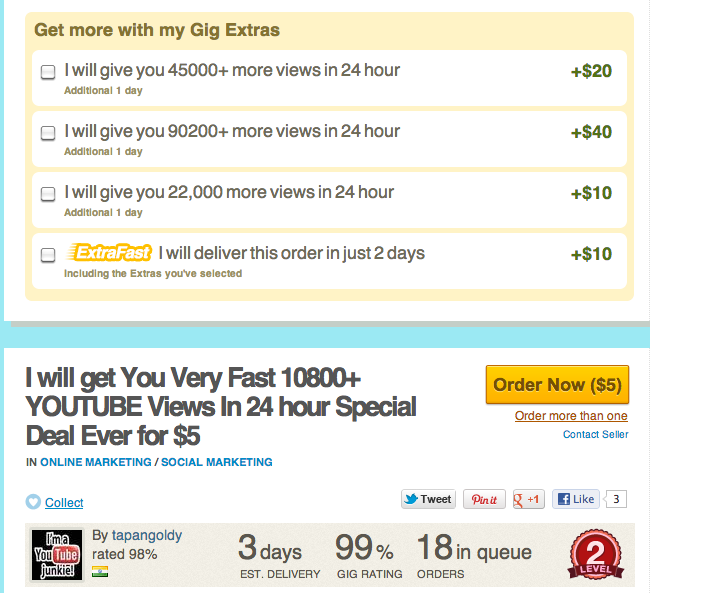 "Those are crackhead prices," Batts responded when I brought the offer up to him. "That's the kind of offer that'll net orders on top of orders."
Jacob and Batts both said that you can tell if a YouTube view is faked by the place in which YouTube says that the view was accrued. I found that to be true.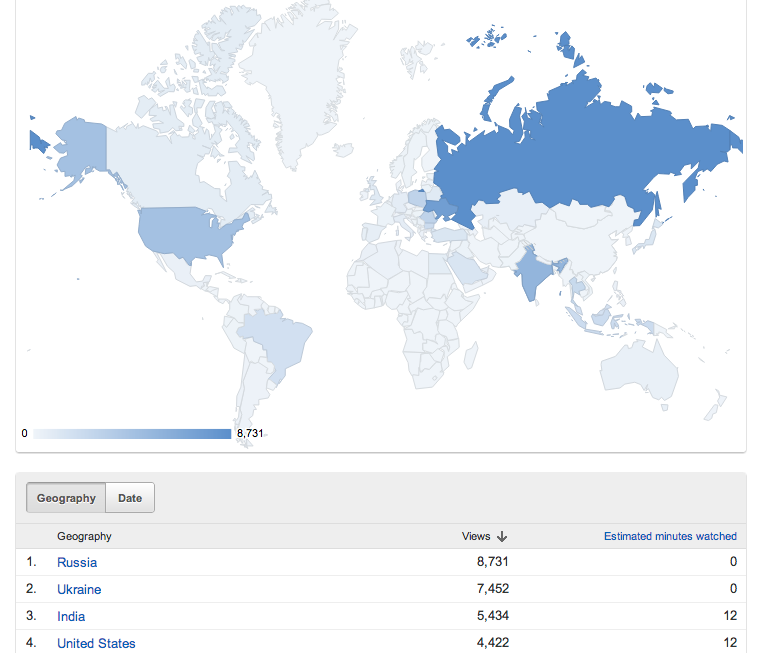 Consider this: A 19-second YouTube video of a friend impersonating a rapper accrued more than 60,000 views in a span of four days, and only 4,000 views came from the United States. The countries making up the remaining 56,000: Russia, Ukraine, India, Poland, Romania, Thailand, and Indonesia.
"We would do a rented IP address," Batts explained.
"You can rent a couple thousand IP addresses anywhere on the Internet. You get those IP addresses, and you put the video onto a website. It doesn't matter where that website is [Batts said that you could use Facebook, Instagram, or any standard website] as long as the video's been embedded onto the site. You grab the embed code and make the video auto play, so whenever somebody goes to that site, the video goes to autoplay. You cycle through these IP addresses, and you send the IPs to that website. Every time it goes through, you're getting a hit for your video.

READ MORE: 
"These are low retention hits because you're getting two or three seconds on it before YouTube registers a hit as a view," Batts said. "That's one method, and that method hasn't been detected or deleted."
View manipulators have to spread those IPs out or else the view demographics could get the video flagged. Batts said that the provider who allegedly got everybody in trouble the week before Christmas was using a different technique that generated views from only a few countries, all of which were located in Asia and parts of Eastern Europe.
"They weren't even U.S. views, which is a telltale sign that they are fake views," Batts said. "At least spread them around or make them global. These were all targeted in one specific area. That was the red flag."
Not every YouTube view purchase is as clean as cutting cheesecake. I also tried to purchase another 50,000 views for a Daily Dot video that found me trying to successfully complete the Cinnamon Challenge. The video went from 103 views to 22,821 before stalling out indefinitely.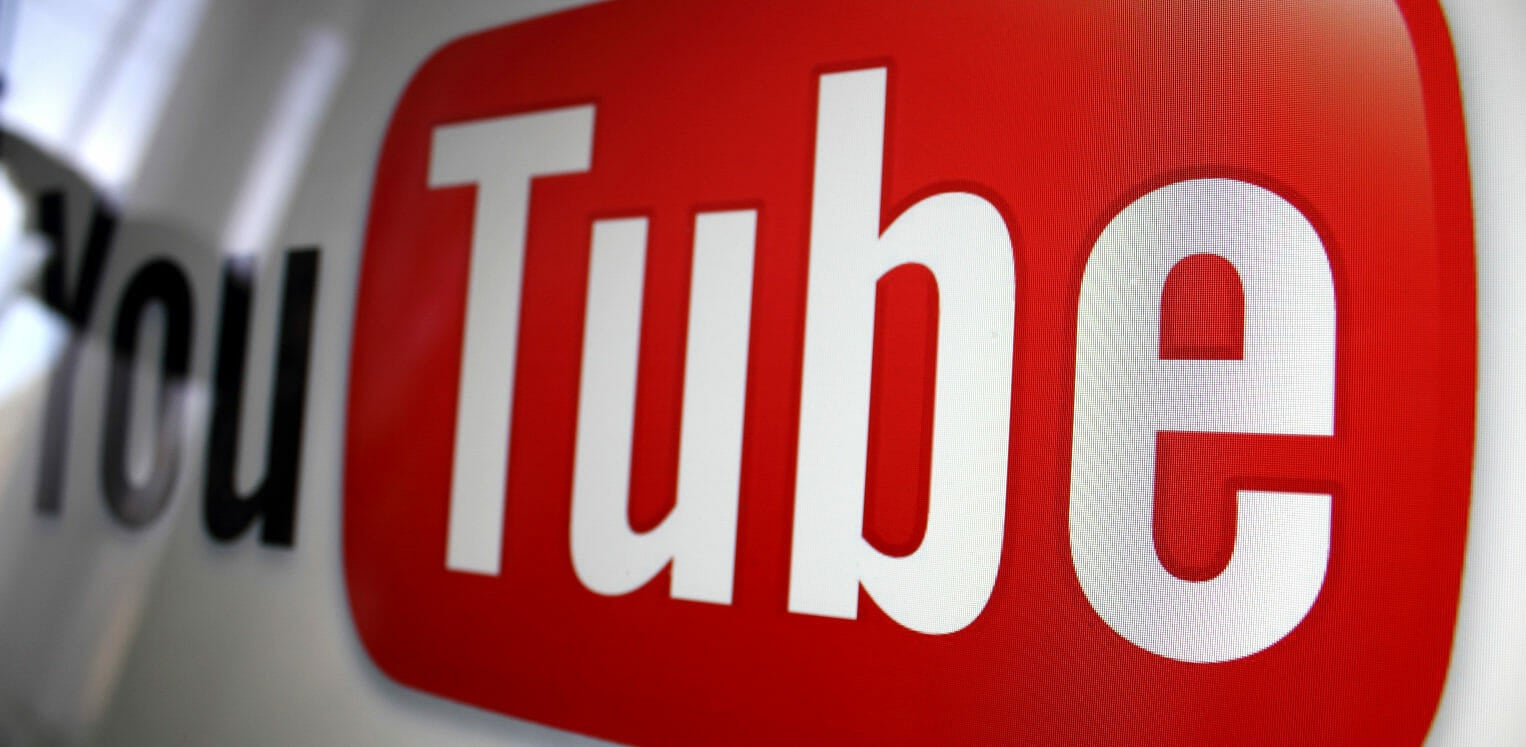 I told Kenzo the order was incomplete two days after making it and he told me to relax. "I know," he wrote. "That's why I didn't send you a message like 'Your views is delivered.'"
I checked in again two nights later.
"Wait 24 hours," he responded. "If still none increase, I will refund you $30."
Was he on to me? Hard to tell, but there was a significant change in the man's tune this time around. Still, the facts are facts: 7,401 of the 22,821 views come from Russia, 6,276 come from Ukraine, and 1,074 from Poland. Only 521 views originated in the United States.
Who was watching me huff cinnamon from the depths of Eastern Europe? Nobody. Nobody legitimate at all. But that's not what YouTube's analytics will have you believe. According to the video's official stats, more than 15,000 people tuned in.
In the eyes of my mother, that makes me almost as big as Bieber.
YouTube did not respond to the Daily Dot's request for comment.
Editor's Note: The Cam'ron parody video was made private before publishing this story in an effort to respect the privacy of the video's subject, who does not wish to enter into the public conversation.