Stripping down your favorite YouTube videos into separate audio and video files is easy. You just need to pick the right tools.
A quick Google search will lead you to countless free sites that will convert a YouTube video to an MP3 or your choice of audio file. There are countless Chrome and Firefox extensions that will do the job for you. But don't be surprised if those tools quickly disappear.
The music industry smartened up to the fact that "stream-ripping" is one of the many ways people avoid buying music. A group of major record labels in September 2016 filed a copyright infringement claim against the popular "stream-ripping" site youtube-mp3.org. TechTimes reported on Wednesday that youtube-mp3.org hasn't been functioning properly for a month, and may soon shut down. Other stream-ripping websites may face litigation and shut down as a result.
While this is far from the end of stream-ripping (in fact, it's likely to make youtube-mp3.org's competitors even more popular), it's a reminder to keep on the hunt for alternatives in case they become defunct. Currently, the three main options for converting YouTube videos into separate audio and video files that exist are a free website, a browser plug-in, or a computer program.
READ MORE:
One smart tactic may be to avoid websites and programs that make their sole function (free music from YouTube) obvious. If you're a Mac owner, you can easily capture the audio from a YouTube video using Garage Band. Mac and PC owners can easily download Audacity, a free open-source digital music editor that will also allow you to capture YouTube audio.
If you're handy with Linux, it's just a matter of performing a simple command.
How to download a YouTube video
Have you ever heard wondered what the string of letters at the end of a YouTube URL are for exactly? They're the key to finding a video on YouTube's system, and that's how a conversion tool can find where the video is stored and download it. Once it's located, it can be downloaded as a Flash video and converted to any format you want.
Most sites follow the same format of a text box for inputting the link, and various options for finished format types.
One YouTube-to-audio converting site that shows a lot of promise is Peggo. Peggo converts YouTube and SoundCloud tracks to MP3s.
Other sites that still seem to do the trick include Convert2Mp3, VidToMp3, ListentoYouTube, and VideoGrabby.
The YouTube downloader sites are all pretty clean and minimalistic in style and serve the same function. You simply copy and paste the link to the YouTube video of your choice, and then choose between recording audio or video.
Desktop programs
Others "stream-ripping" tools exist as downloadable programs on your computer, like YouTube dl, YTD, and Video Downloader Pro. a Tube catcher is a good option for Windows users.
These programs can also go beyond YouTube, allowing you to rip content from other sites and download in HD-quality 1080p.
Here's YTD, a popular desktop option for download YouTube videos, for example:
Browser extensions
Just a warning that browser extensions also risk being discontinued. Developers often rely on donations in order to get by, so make sure to cough up a few bucks (especially if you plan on using it frequently.) As of publication, Firefox's YouTube Video and Audio Downloader still functions.
Also, you'll no longer find a Chrome extension that will rip audio from a YouTube video. Why is that? Google owns YouTube, and YouTube, Google, and Chrome have banded together to crack down on illegal downloads of copyrighted content.
Remember to be wary of what you're downloading and for what purpose. It's illegal to rip copyrighted material from YouTube and use it for commercial purposes. Legal uses are those that fall into the domain of "fair use," which can include providing educational context and producing transformative works of original content for criticism or commentary. You can also download anything that is public domain video or audio and save your own uploaded videos as audio or video content for personal use. These are all bound by the same copyright law that applies to all forms of copying technology, from writing by hand to using a scanner.
The ability to convert YouTube clips to standard video, along with the legal ins and out of video copying, come together to create some of the most iconic YouTube moments, like Double Rainbow Guy. But even if you're not out there to become the next Gregory Brothers, with the right tools you can now download video and audio from YouTube, and keep your favorite clips safe on your own computer.
But what if you just want the easiest way to download a whole video to watch later?
While all of the above services and options work, the best and easiest way to download a video from YouTube remains SaveFrom.net. This powerful website is quick, easy to use, and offers a wide range of options for downloading media. Simply insert the URL of the YouTube video you wish to download and SaveFrom will let you download an MP4, WebM, or 3GP video of the link. These are no high-definition formats, but if you're just trying to quickly rip a funny dog video, it will serve your needs.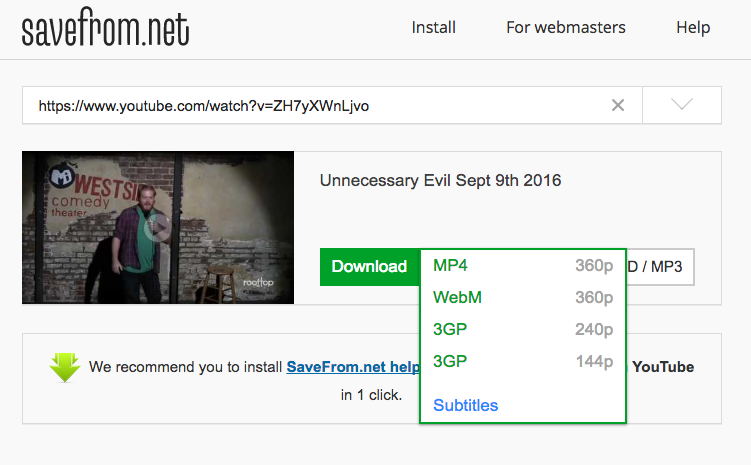 SaveFrom works with the people behind Ummy, a great HD video and sound downloader that allows users to download YouTube clips in full 1080p HD. Ummy isn't free, however. The app costs $9.95 for a license to use the program and unlock all of its features. For most users, this will be unnecessary. Unless you're doing high-definition parody work and need HD copies of videos, SaveFrom will give you more than enough quality.
Additional reporting by John-Michael Bond
Editor's note: This article is regularly updated for relevance