Greg Behrendt wrote the best-selling dating book He's Just Not That Into You, which became a hit film in 2009. His podcast Walking the Room and his many late-night appearances keep him in the public eye. Not bad for a guy who pursued comedy after he was injured playing rugby in college.
"Rugby is far less painful," he told the Daily Dot via email.
Behrendt should know. He's dealt with a lot in his nearly 30-year career—depression, addiction, cancer, death—and he's come out the other side wiser, and funnier than ever. His new album Why Are You In Here? is deeply personal, true to life, cutting, and told by a comic who's evolved his delivery over time. It's his best stuff yet.
Behrendt recorded his new hour at ACME comedy club in Minneapolis, a favorite for standup. It's the same club where Janelle James recorded her debut, and where Jackie Kashian has recorded every album she's ever done. "When a comedy club puts comedy above all else. When it seeks to bring the best in comedy to the town it's in because it also believes in the town, then you get support for newcomers because the club is the trusted brand," Behrendt said. "Also low ceiling."
But it's more than a good crowd and a low ceiling (you'd be surprised how much it helps) that make this album stand out. Behrendt's older albums Uncool and That Guy From That Thing were both very funny. But somewhere along the way, there was a fundamental shift, even in his delivery. Clips from the special for Uncool show a cocky, almost Dane Cook-like swagger that's present even when he's talking about getting old. These days Behrendt stammers through sentences and corrects himself on the fly. He's actually cramming multiple subtle punchlines into a few seconds—and it's great. He's traded the swagger in for understatement and it suits him well.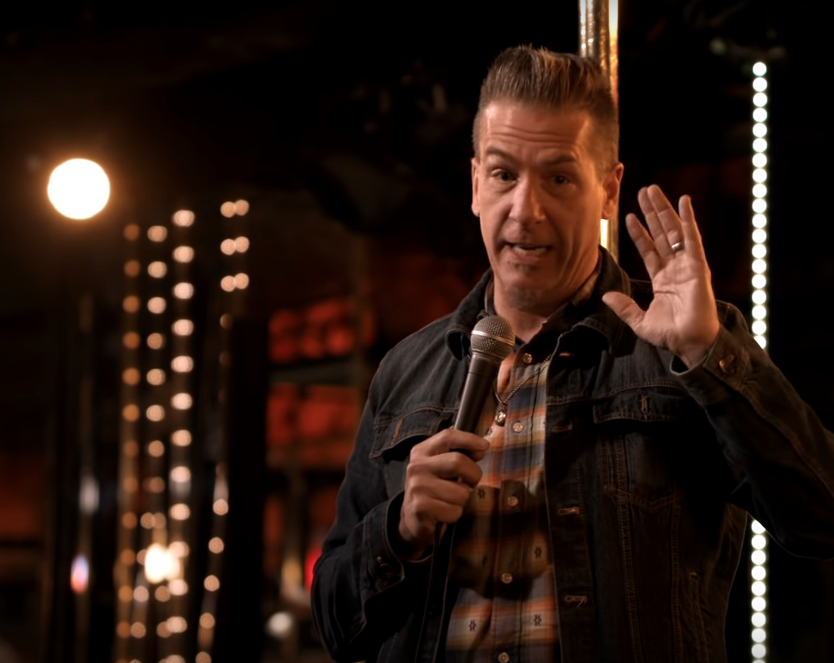 More than his delivery has changed. Behrendt is still talking about what he's best known for: relationships. But now he's focusing more on his own family, telling stories about his wife and especially his kids. Something he says his two daughters are fine with, even if he is making fun of them. "They are OK with it … which makes me think they think I'm not popular enough for it to affect their lives," he said.
He also writes a lot with his wife Amiira Ruotola, so at the very least he can spread out the blame. Writing with your romantic partner can have its ups and downs of course. "Advantage: I get to write with my wife," said Behrendt. "Disadvantage: She has to write with me. Not kidding, I'm a fucking baby."
Behrendt isn't afraid to get personal on the new album. He talks about his sister's death and his battle with cancer. "I think it was cathartic," he said, referring to incorporating his cancer battle into his act. "It was also the only thing going on in my life at the time so it was bound to come out, but I've moved on."
Moving on seems to be Behrendt's core mission. Any time a comedian has a mainstream success, it can be a double-edged sword. It gives you a larger audience of adoring fans, but those fans tend to want you to give them more of the same instead of trying something new. (See: Jim Gaffigan and his Hot Pockets bit.)
"There was a time where decided I was defined by [He's Just Not That into You]," Behrendt said. "I let it fuck with me and blamed it for my career shortcomings. Then I watched Jordan Peele make a straight horror movie, and Donald Glover just be Donald Glover.  The world doesn't get to tell you who you are, you tell it."
He's also glad to see comedy has changed: "Honestly, it was 97 percent white men and 3 percent everyone else … Also you can tell jokes, make noises, play guitars, comedy ascribes less to trend."
As for changes he's less happy with, well, Behrendt had doubts about that question.
"When you get older saying what's bad about something usually means 'I don't get it.' As a comic that's death," he explained.
Comics talk a lot about "finding their voice" when they first start, but a real comedian knows that voice is going to grow and change. There was nothing inauthentic about Behrendt's first two albums. His honesty was a big part of what made them so funny. But a decade has passed and a lot has changed in both his personal life and in the world. Behrendt is clearly a much different guy than he was in 2008, and he isn't afraid to let that new dude out to tell some jokes.
Why Are You In Here? is available exclusively via Audible until Nov. 2