The 2014 Eurovision Song Contest is currently happening in Copenhagen, showcasing Europe's most talented and, often, most outrageous and fringe musical acts. Tonight, Conchita Wurst takes the stage for the second semifinals to perform "Rise Like a Phoenix," and not everyone is happy about it.
Wurst is the drag persona of 25-year-old Austrian singer Thomas Neuwirth. She has collected more than 40,000 fans on her Facebook page, and 3 million views on the video for "Rise Like a Phoenix." She often performs in luxurious evening gowns, and a full beard.
In an interview with the Wall Street Journal, she claimed she decided on the name "Wurst" because in Germany and Austria, it means "it's not important."
She's also faced controversy and transphobic comments ahead of her performance. Last week, anti-gay Russian legislator Vitaly Milonov claimed Wurst's appearance would be insulting to "millions" of Russians, and that the Eurovision Song contest is a "Sodom show." Activists in Belarus urged the state television network to boycott her performance. A Facebook petition to ban Neuwirth from the competition was also created in Austria, with nearly 40,000 likes.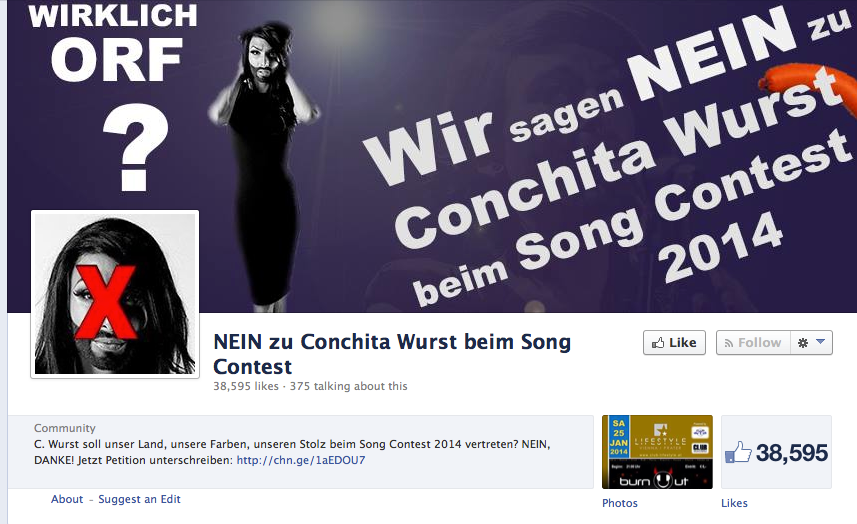 Eurovision's entries often include members of LGBT communities, and the contest has developed a huge following in those communities, but the tensions in Ukraine and Russia, and the enforcement of Russia's anti-gay propaganda laws, could affect the voting outcome in that region of Europe.
This transphobia hasn't affected Wurst, though. She told the Associated Press, "If this is only about me and my person, I can live with it. I'm just a singer in a fabulous dress, with great hair and a beard."
To prepare for tonight's performance, here's Wurst's Eurovision rehearsal, in 3D form:
Screengrab via Eurovision Song Contest/YouTube