DLive is a streaming service that aims to provide an unbiased platform for gamers and entertainers, at least according to their website.
But like a number of alternative social media sites, it's got a neo-Nazi problem. Recently, figures from the far-right like Holocaust denier Nicholas J. Fuentes have taken over DLive to stream controversial content.
Fuentes, 22, uses DLive to stream hours of videos for his followers, also known as the Groypers. While he posts the occasional stream of Call of Duty, his more popular videos are of his political reactions.
Fuentes streamed on Dec. 1, where he responded to comments by Israeli talk show host Joe Basrawi. Basrawi is a Turning Point USA (TPUSA) ambassador.
"It doesn't help that all of these people from Turning Point are fucking ugly," Fuentes says about Basrawi and other Turning Point members.
In the comment section of Fuentes' video, Groypers also repeatedly use offensive language. After the Daily Dot requested comment from DLive about harassment seen on Fuentes' video, the stream replay was taken down from the site.
But, one video is just a drop in the pond of DLive's white nationalist issue. Here's everything you need to know about the platform that currently hosts the Groyper army and other odious figures.
What is DLive?
DLive is a streaming platform built on blockchain technology which launched in September 2018. Blockchain is a decentralized system, according to the site "be in crypto," which means it is hosted across multiple servers that establish a permanent record. This technology differentiates DLive from its competitor YouTube in a few ways.
First, its revenue comes from cryptocurrency donations instead of ads. DLive streamers earn more as DLive withholds just .2 to .9% of revenue as opposed to YouTube's withholdings of 45 to 50%. Recently, influencers have come out against YouTube for dividing their income essentially in half.
On DLive, streamers earn Lino points users can give one another, which equates to about one cent per point.
Along with higher earnings, limited censorship is also associated with blockchain technology. Unlike centralized systems, it takes longer for blockchain platforms to remove content from its several servers. DLive attempts to prevent prohibited content with its community guidelines which ban harassment or hate speech. However, the blockchain hosted aspect of it also is supposedly protection for users against deplatforming.
How DLive started
Gamer PewDiePie, whose full name is Felix Arvid Ulf Kjellberg, brought attention to the platform when he announced his exclusive transition to DLive in April of 2019. Kjellberg left YouTube with almost 94 million subscribers after revenue, copyright and censorship disputes.
"DLive is great for me because I'm treated like a real partner, just like all of the other streamers on DLive's unique platform," Kjellberg said in a statement in April.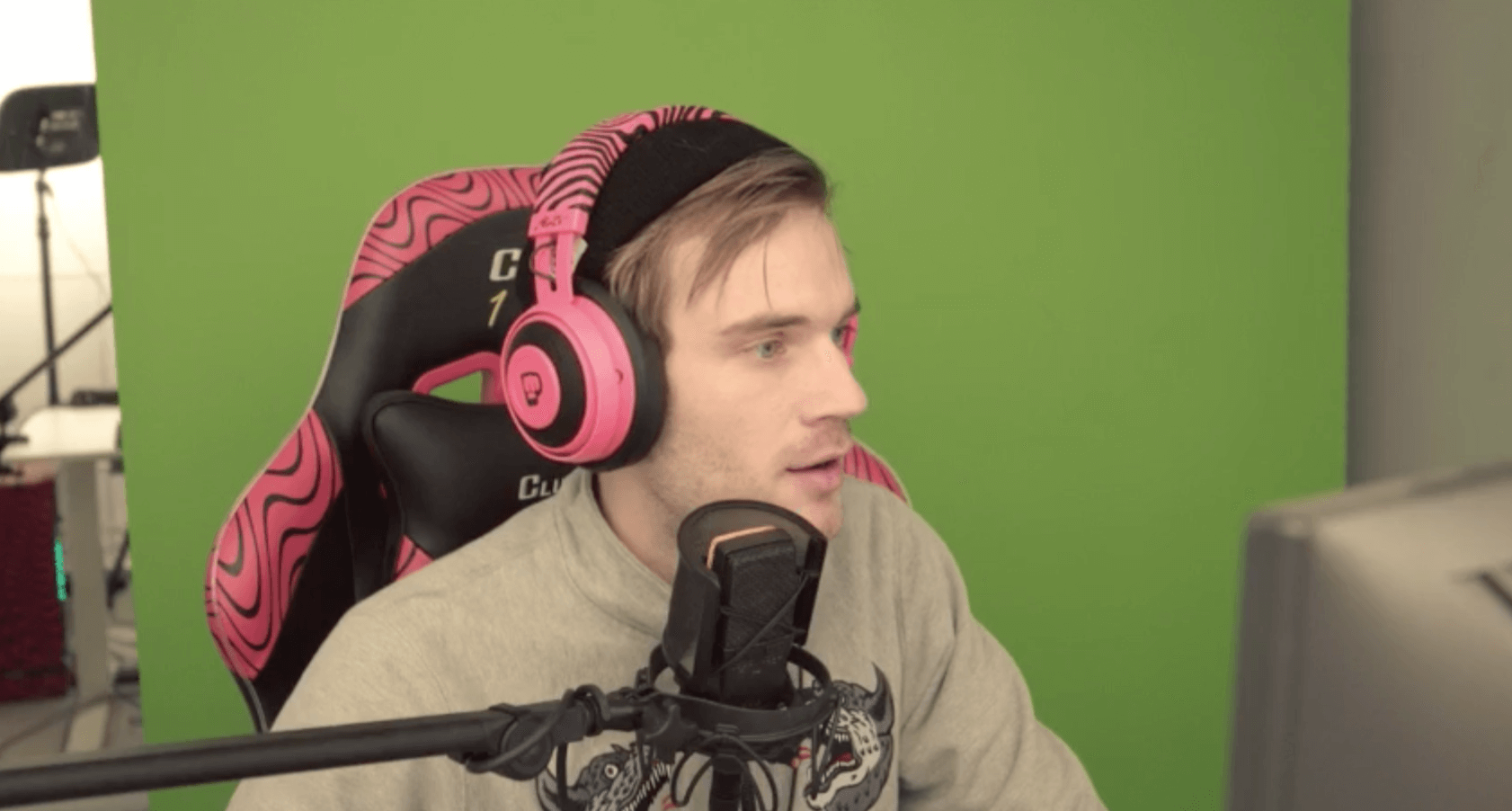 Alex Jones, host of Infowars, also brought notoriety to DLive. He streamed on the site until being deplatformed in April of 2019 for violating community guidelines, according to Modern Consensus.
During this time, DLive hosted about 35,000 active streamers. Today, more than 125,000 active streamers converge on DLive, according to a spokesperson for the site.
Who is on DLive now?
Although DLive banned Jones from streaming, other far-right personas remain prominent. Fuentes is one of them. He announced a 10-hour DLive stream for Dec. 28th on Twitter.
"10 hour marathon DLive stream to celebrate the end of the 2010s on Saturday December 28th at 2 pm cst (Dlive.tv/nickjuentes)," Fuentes tweeted.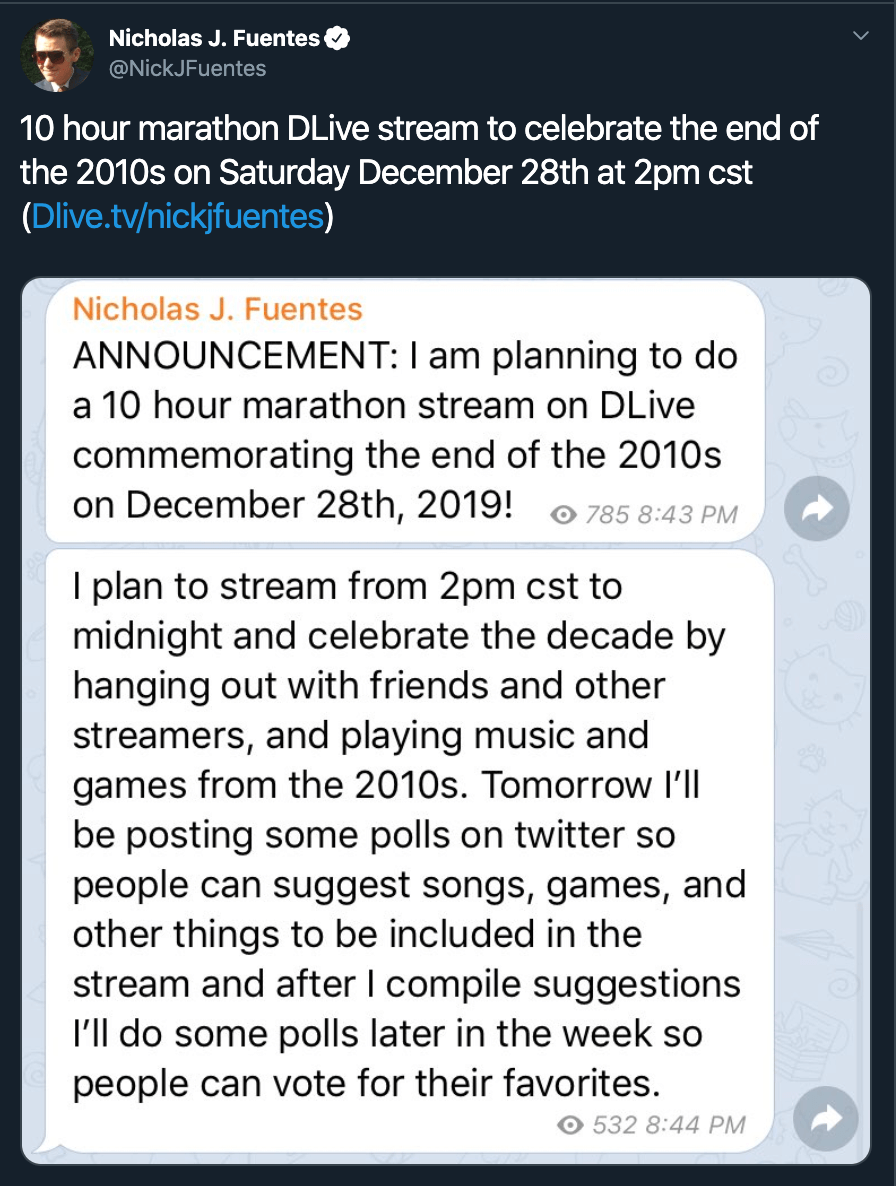 In Fuentes'smost recent stream, he hosted the Groyper Leadership Summit, which included white nationalists Patrick Casey and Jake Lloyd, who both have their own DLive channels. The summit came a day after the TPUSA Student Action Summit. Groypers including Fuentes were removed from the event after heckling speakers like political commentator Ben Shapiro.
The Groypers, known for asking homophobic and racist questions at Republican events, have been denounced by major conservative figures like Shapiro and TPUSA founder Charlie Kirk.
A spokesperson from DLive said that streams are consistently monitored for prohibited content.
"We do have community guardians to actively monitor our community behaviors, to make sure they are aligned with our guidelines," the spokesperson wrote.
The recently deleted video was accessible on DLive for over 20 days. Fuentes' latest stream posted on Friday did not shy away from similar content. The Groyper Leadership Summit"consisted of speeches from Patrick Casey, Jake Lloyd, and Fuentes. At one point in Fuentes' speech, he made homophobic comments about TPUSA's Benny Johnson.
"She didn't go to nursing school to get cheated on by her husband with men. I mean that's gross. That's disgusting," Fuentes said in his DLive stream, which is still up.
READ MORE: