What happens when a two-year-old Twitter spat spills over into real life? 
If you're Chris Brown, the answer might be an arrest warrant.
Los Angeles police are investigating an alleged brawl that took place Sunday night between Brown, his friends, and rapper Frank Ocean. Though the fight reportedly took place over a parking space outside of Westlake Studio, Brown and Ocean have quarrelled publicly before—on Twitter.
In summer 2011, Brown sent a seemingly innocuous shout-out to rapper Frank Ocean, then primarily known as one of the members of alt-hip-hop group Odd Future. Brown called Ocean "a young James Fauntleroy or Kevin Cossum [sic]." Many onlookers, including The Globe's Sarah Pickett, thought it was "kind of a funny diss."

Screengrab via Celebpromoter
Ocean didn't laugh *or* take the tweet as a compliment. He retorted that Brown, a highly controversial artist ever since his acceptance of a plea bargain over a felony assault charge against Rihanna in 2009, reminded him of "a young Sisqo or Ike Turner."
Instantly, a feud was born.

Screengrab via Celebpromoter
A few days later, Ocean posted a video of two of Chris's cousins chasing him down after a run-in. The video prompted Odd Future's Tyler, the Creator to express worry for the safety of everyone involved. Then Brown supposedly backed off: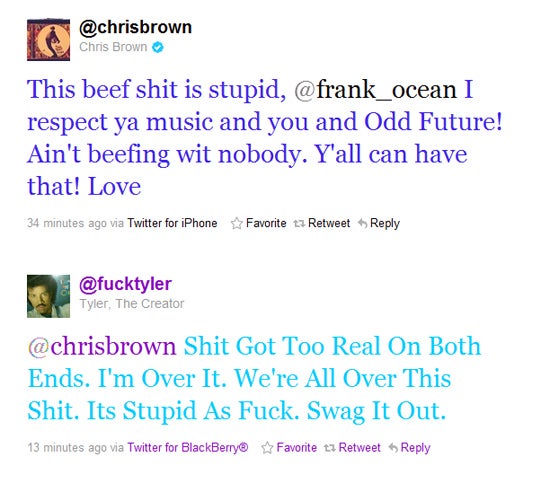 Brown later deleted his conciliatory tweet, however, and last year rumors surfaced of homophobic comments Brown made about Ocean after his much-publicized coming-out. Brown denied them, and stated via Twitter, "Love who u wanna love." (That tweet, too, was later deleted.)

Screengab via chrisbrown/Favstar
Conflicting reports suggest that Ocean started Sunday night's conflict by blocking Brown into his parking space as Brown was trying to leave, but that Brown threw the first punch. "Got jumped by Chris and a couple of guys," Ocean tweeted later. "Lol."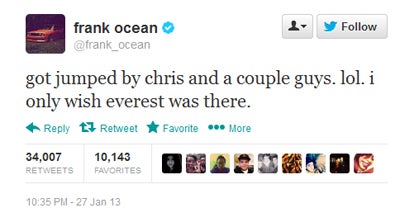 "Chris Brown is a named suspect in a battery report," an L.A. county sheriff's representative told the L.A. Times, but added that the incident "does not rise to the level of an alleged assault."
If, as Ocean claimed, he won't be able to fully perform at the Grammys on Feb. 10, he might well disagree. The artist is nominated for three Grammys for his critically acclaimed debut album Channel Orange, produced by André 3000 and John Mayer. Ocean also collaborated on Jay-Z's "No Church in the Wild," which nabbed two more nominations.
Brown had a successful comeback with last year's F.A.M.E., which won the Grammy for Best R&B Album. This year, he is up for only one award—competing with Ocean for Best Urban Contemporary Album. 
If Ocean, the likely favorite, takes home the trophy, will we see another spat?
Possible, but not likely. Reports before the fight broke out suggest that Brown attempted to shake Ocean's hand and walk away. After the altercation, Brown posted an Instagram taken inside the Westlake studio before the fight, declaring that he was "Working on my album. Not working on negativity. … Bullshit will forever be in the shadows."
Or, at least, forever on Twitter.
Photo via web.stagram by Aja Romano