Still searching for that perfect quirky holiday gift for a nerd near you? Know a hipster coffee table that's just begging to be graced with a coffee table book on hipsters and/or coffee tables? 
The Daily Dot has you covered. Nothing's trendier than Tumblr right now, so it stands to reason that nothing's trendier for the book lover than Tumblr blogs that have turned into books. Pick the one that's right for your picky giftee!
For the Meme Lover
Feminist Ryan Gosling 
The Tumblr: Feminist Ryan Gosling
The Book:  Feminist Ryan Gosling: Feminist Theory (as Imagined) from Your Favorite Sensitive Movie Dude
Danielle Henderson's Tumblr turned insta-meme gets insta-highbrow in this look at the best iterations of Ryan Gosling imagined as the perfect boyfriend. Best part? Ryan Gosling is an actual feminist, so it's not even fanfiction.
Coloring for Grown Ups
The Tumblr: Coloring For Grownups
The Book: Coloring for Grownups
This irreverent, frequently politically incorrect coloring book gives you the opportunity to wreak Crayola-induced violence upon Chris Brown and draw Mitt Romney to th.e right side of history. The Tumblr frequently posts submissions from color-happy readers, which your giftee can use to inspire their own artistic whimsey.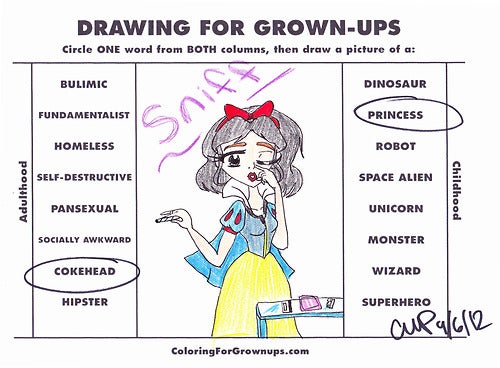 Photo via coloringforgrownups/Tumblr
For Zen Living
Everything That Can Happen In A Day
The Tumblr: 2009
The Book: Everything That Can Happen In A Day
This unusual blog turned book turned minor cultural movement is predicated on the concept of just doing something, anything—whether it's painting the sky on envelopes for strangers, or leaving 10 oranges in public for other people to find. Think of it as self-help for those who help themselves.

Photo via Booooooom.com
The Burning House
The Tumblr: The Burning House
The Book: The Burning House
The idea is simple: make a stylish photo of all the things you'd save if your house was on fire. The result is more elegant than one might expect, a kind of crossover between Polyvore and Things Organized Neatly, and a mesmerizing breakdown of the things we value most.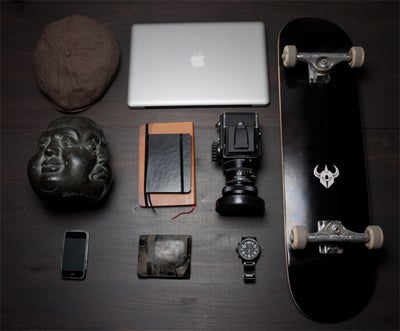 photo via theburninghouse/Tumblr
I Love Charts
The Tumblr: I Love Charts
The Book: I Love Charts
With over 200,000 followers and counting, I Love Charts is one of the most popular blogs on Tumblr.  With hilarious,easily digestible charts and graphs on every subject from Breaking Bad to Brussels sprouts, it's easy to see why.
Illustration via ilovecharts/Tumblr
For Disenfranchised Youth
Odd Future
The Tumblr: Odd Future and Golf Wang
The Book: Odd Future: Golf Wang
This no-longer-underground group of 10 teen Los Angeles hip-hop artists includes Frank Ocean and creator Tyler Okonma. With beats that range from smooth to fierce and lyrics that are often as macabre as they are brilliant (one extended metaphor speaks of disposing of manners like chopped-up bodies), these artists have formed a subculture that's 1 part skate punk, 1 part indie rap, and 1 part whatever they want to be. Though they recently allegedly physically assaulted one of their own fans onstage, with two openly queer members, they're progressive in unexpected ways. Oh, and they're also into serial killers.
F*ck! I'm in My Twenties
The Tumblr: FUCK! I'M IN MY TWENTIES
The Book: F*ck! I'm in My Twenties
In the wake of the recently launched book, NBC snapped up Emma Koenig's sly musings on life as a broke New York artist. Get it before the comedy premieres, along with the inevitable comparisons to Two Broke Girls, Girls, Quarterlife, and… you get the picture.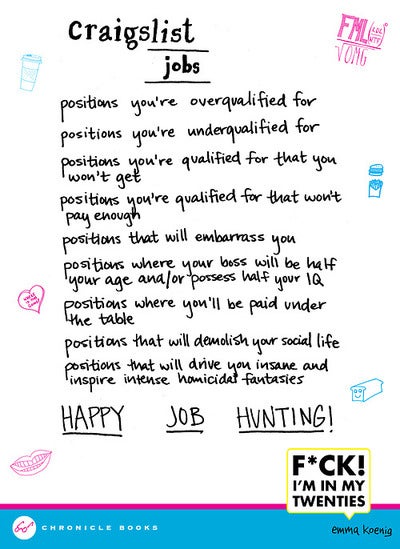 Illustration via fuckiminmy20s/Tumblr
Suri's Burn Book
The Tumblr: Suri's Burn Book
The Book: Suri's Burn Book: Well-Dressed Commentary from Hollywood's Little Sweetheart
This sassy snarkfest shared its New York launch party with F*ck! I'm in my Twenties!, in what could have been the ultimate party that was also a self-mocking takedown of the young and fabulous. But it's not just wry self-mockery; Suri dishes out chapters devoted to looking at "Social Capital in the Modern Economy, then follows it up with "Celebrity Children I'm Over Already."
While author Allie Havan promises, "The book will be Suri's completely new, completely definitive guide to the families of Hollywood, and no one will be spared," the Tumblr is generally nicer on celebrity kids than their parents. And who can blame them?
My Bad Parent
The Tumblr: My Bad Parent
The Book: My Bad Parent: Do As I Say, Not as I Did
Another blog-turned-book that skewers parents more than kids, this man-on-the-street blog is a hilarious takedown of bad parenting and occasionally badly behaved children; though sometimes the captured moments feel a little too meme-ready to be authentic, the results are almost always hilarious.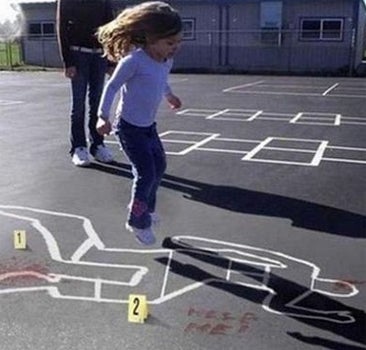 Photo via mybadparent/Tumblr
Look at This F*cking Hipster
The Tumblr: Look at this fucking hipster
The Book:  Look at This F*cking Hipster
Like People of Wal-Mart, Look at This Fucking Hipster is one of the first and most well-known spy-on-your-neighbors-while-skewering-social-class memes. It could have worn out its welcome years ago, when Honda shamelessly borrowed it for a car commercial, but it turns out making fun of hipsters is a gift that keeps on giving.
Stuff Hipsters Hate
The Tumblr: Stuff Hipsters Hate
The Book: Stuff Hipsters Hate: A Field Guide to the Passionate Opinions of the Indifferent
Had enough hipster mockery? Hipsters strike back in this blog dedicated to hipsters passionately railing against things that piss them off—everything from Christmas music to preparing for natural disasters (in other words, probably everything that white people like). The blog itself hasn't been updated in months, but no fear: the book is there to assist you with all your holiday hipster rants.
For the Pet-Lover
Hot Guys and Baby Animals
The Tumblr: Hot Guys and Baby Animals
The Book: Hot Guys and Baby Animals
Does what it says on the tin: lots of photos of hot dudes and adorable puppies, kittens, and other cute little animals.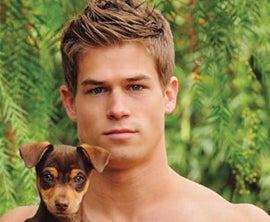 Photo via hotguysandbabyanimals/Tumblr
Texts from Dog
The Tumblr: Text From Dog
The Book: Texts from Dog
This popular Tumblr enacts fictional conversations between owner October Jones and his pet bulldog, Dog.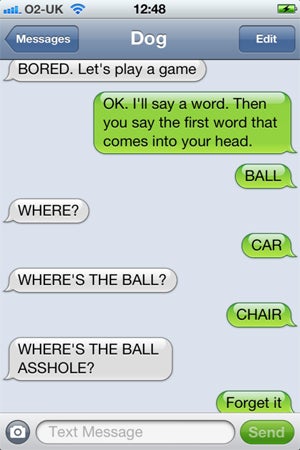 Photo via textfromdog/Tumblr
Hipster Puppies
The Tumblr: Hipster Puppies
The Book: Hipster Puppies
Oh, wait, did we say we were done making fun of hipsters? We lied.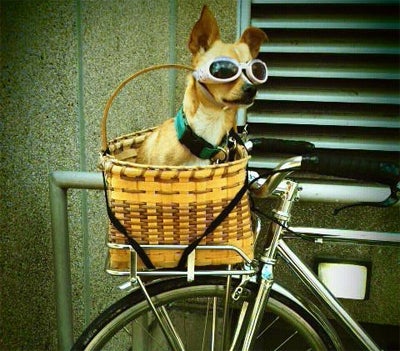 Photo via hipsterpuppies/Tumblr
Bonus: Maddie On Things
The Tumblr: Maddie the Coonhound
The Book: Maddie on Things: a super serious project about dogs and physics
This photo blog-turned-book isn't out til April, but in the meantime you can cheer yourself by enjoying the wildly popular Tumblr full of pictures of what may be the world's most photogenic hound.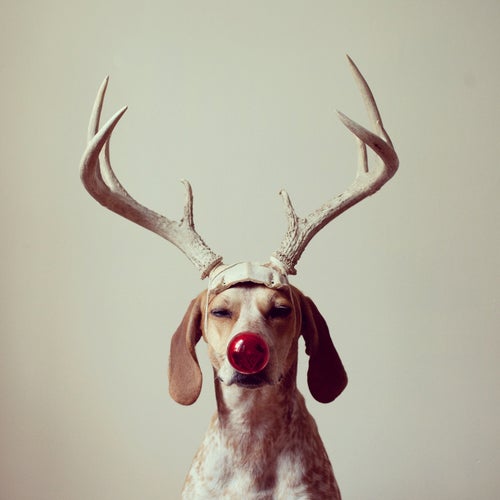 Photo via maddieonthings/Tumblr
Photo via Hipster Puppies/Amazon