Rapper Bhad Bhabie–made famous by her "cash me outside" Dr. Phil appearance–is facing backlash online after insensitively responding to accusations of cultural appropriation for wearing box braids.
Bhad Bhabie, whose real name is Danielle Bregoli, posted an Instagram story defending her hairstyle choice. In the post, she called out those attacking her hairstyle choice, even going so far as to chastise Black women for wearing straight hair and wigs.
"Y'all hair anit meant to be straight but y'all glue whole wigs on to your heads and sew Brazilian/Indian/Peruvian hair," the rapper wrote.
She also explained that she has never "made fun of" girls with box braids, so she shouldn't be the recipient of scrutiny from Black women.
"Leave me tf alone or imma start getting real disrespectful," she added.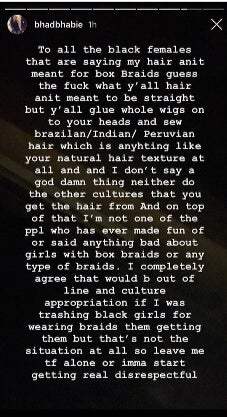 Instagram user The BTPG Chairman KING ZEUS angrily responded to Bhad Bhabie by calling her a "human vulture."
"Bhad Bhabie got famous off beating up her mother and now she wants to beat up the black community's women. She's very disrespectful to our black culture. She's the latest version of a human vulture," he said.
Others took direct aim at Bhad Bhabie for disrespecting black women.
"I didn't had a problem with these ugly ass braids.. until your dumbass got disrespectful," Instagram user @aesthetictiara wrote.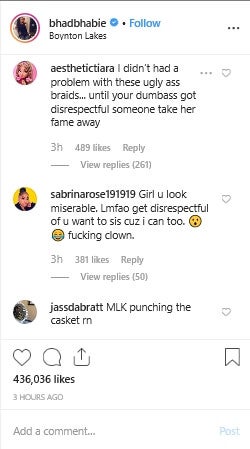 As the "Bestie" rapper continued to get more negative attention, she doubled down on her hair fashion in the instigating manner that has made her famous. In an Instagram post, Bhad Bhabie sarcastically opened with an apology. She ended the post with an invitation for naysayers to come "pull em out."
"I want to deeply apologize to everyone who's life's have seriously effected by the way I wear my hair and from the bottom of my heart I wanted to tell you suck my dick (and yes apparently I guess I have really effected life's I can't figure out another reason why anyone would take time out of their day to write paragraphs and bully someone about hair) and btw who ever wanna come 'pull em out' like they said ya got my location I anit hiding," she captioned an Instagram post, which included an uploaded video of herself rapping to "Nurse" by YoungBoy Never Broke Again.

In 2018, Bhad Bhabie received a gold certification from the Recording Industry Association of America for her single "Hi Bich." This year, she closed a major endorsement deal with CopyCat Beauty. Snapchat's original series will release the second season of her show, Bringing Up Bhabie, in 2020.
READ MORE: 
H/T XXL