The hidden bummer about the World Cup is that for all its show-stopping breakthroughs of instant classic play, in three weeks we'll be looking at a small cluster of contenders still standing—Germany, Argentina, Spain—and then Brazil will win the World Cup. Hell, Goldman Sachs gives Brazil almost a 50 percent chance to win.
Another inconvenient truth is that FIFA's world rankings as opposed to, say, college football's Associated Press Top 25, are historically useless because they aggregate an overload of team history and measure it—four years' worth—against varying levels of global competition. Even though Brazil crushed Spain at the 2013 Confederations Cup, and even though Germany enters the World Cup with an injury-riddled starting 11, your FIFA top five remain:
1) Spain
2) Germany
3) Brazil
4) Portugal
5) Argentina
But forget about the futile tournament that opens Thursday with a seemingly prewritten ending. The World Cup is an opportunity to evaluate the world and dive into arbitrary rankings that matter much more than FIFA's.
The most drinkingest countries at the World Cup*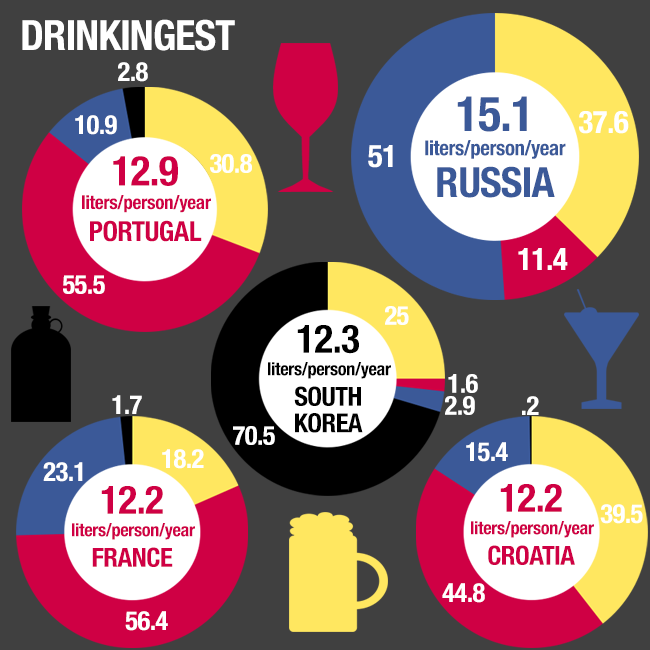 *According to a 2014 World Health Organization report that measures pure alcohol consumption among adults (age 15+) in litres per capita per year, 2010.
Social media presence
To no one's surprise, Portugal's Cristiano Ronaldo and Argentina's Lionel Messi are the undisputed champs of social media. The two are championed as the game's best players and both lead the world in branded content. But social media-wise, there's no room for debate. Ronaldo has 26.6 million followers and 84.5 million Facebook Likes, while Messi has a mere 57.9 million Facebook likes and no Twitter presence at all. But among the official accounts of competing national teams, it's a different story.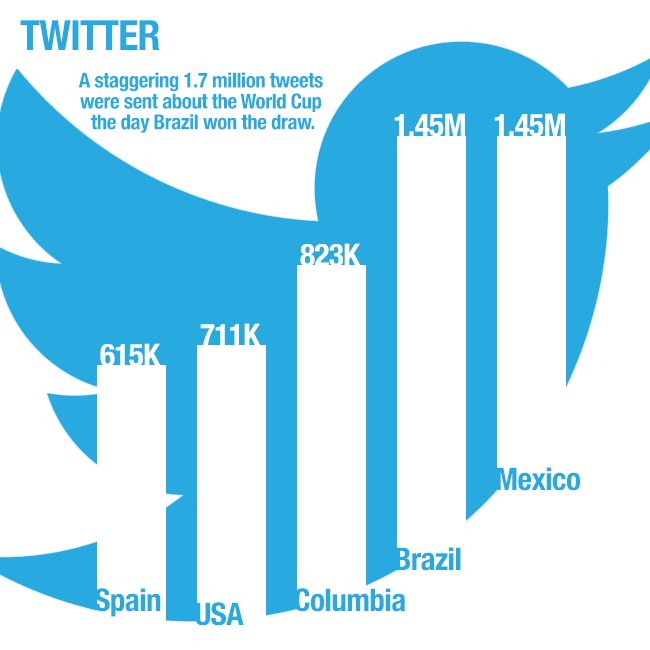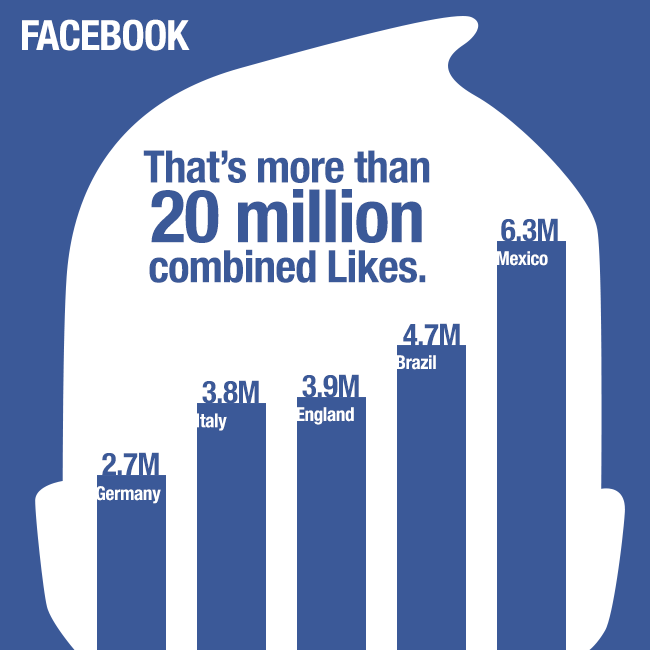 Number of Starbucks stores
The South Korean capital of Seoul has 284 Starbucks locales, that's even more than New York City's 277. Still, America runs this category and that should swell you with patriotic fat.
Number of World Cup tickets purchased
This one, predictably, isn't close. Brazil 2014 is seeing record demand for World Cup tickets. Let's hope most of these tickets are for valid seats, as 1,300 poor souls could be in for a rough start to their vacation Thursday.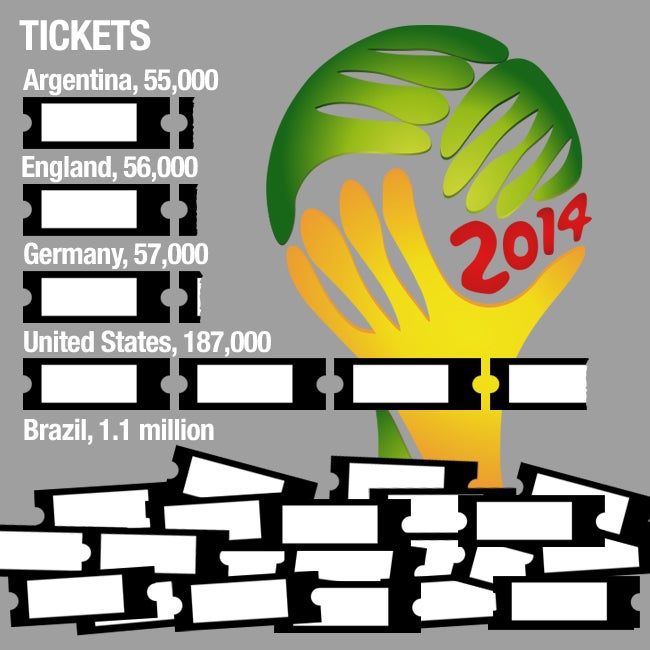 Best countries to be a woman
The Netherlands
Has the highest percentage of women (69 percent) that feel safe walking around at night in their country, according to Gallup.
Australia
The best place to be a working woman, according to The Economist. Its report compounds Organisation for Economic Co-operation and Develpoment (OECD) data that weighs different nations' number of women with college educations, female labor force participation, wage gaps, the proportion of women in senior jobs, and child care costs as they relate to average salaries.
Switzerland
According to the OECD's Better Life Index, Swiss women are the world's happiest, scoring a perfect 10.0 under "life satisfaction."
England
Seventy-four percent of women of reproductive age in the United Kingdom use some form of contraception. Somewhat appropriate, as it's been a free government-sanctioned resource since 1974. England is a safe sex world power.
Japan
As the WHO concluded last year, Japanese women experience the lowest amount of "physical or sexual violence, or both, by an intimate partner" in the world at "only" 15 percent. But that's, admittedly, an incomplete picture. The World Economic Forum has Japan outside the top 100 on its gender equality rankings. Not a single Nikkei 225 company is run by a woman.
Best World Cup pop songs
1) Belgium—"Ta Fête"
Book it: Belgium has a breakout tournament on par with the genre-bending, revolutionary principles of the Total Football Netherlands teams of the '70s. Belgium is historically a cobbled-together nation with differing pockets of language now finding its voice after waves of immigration. It's all kind of here in Stromae's soulful synth lines. Oh and it means "your party," which is universal, man.
Australia's is star-making, if very loosely related to soccer.
Cameroon's is infectious too.
But Belgium's is the only one of these that truly inspires.
2) Algeria—"1, 2, 3"
I think this video is for French citizens with Algerian heritage. It'd also be reductive to call this an official anthem as opposed to what's more honest–the fact that I found this while poking around YouTube. But I don't think you'll regret listening to this reggae-soaked French rapping from a dude in an Algeria jersey.
While I have you: Don't ever forget that USMNT captain Clint Dempsey remains the gold standard for rapping soccer players. Case in point: "Don't Tread," the DJ Screw-homaging Big Hawk (RIP) collabo from 2006.
3) Argentina—"Vamos Argentina"
A cheaply made Latin American keyboard cut can lift spirits this time of the year. Beats the hell out of Maxi Pardo's miserable romantic ballad.
4) Ghana—"Go Go Black Stars … GOAL!"
Here's a free lesson in aggressively generic intercontinental soccer tournament anthems: tribal drums, a dance routine, built in chants, hands in the air, adorable children.
5) Germany—"Deutschland schießt ein Tor!"
The world doesn't seem to be ready for German reggaeton, German pop punk is too niche, and so Melanie Müller's Brazil anthem has swayed the will of the people. Not surprising. With its sandals-and-socks-level uncool, clunky theatrics, and state-beckoning echoes, this is perhaps the most German thing ever recorded.
Photo via Marcello Casal Jr/Wikimedia Commons (CC BY 3.0) | Infographics by Jason Reed