Tech

Tech

The gadgets, platforms, and software that make your digital life possible. If it bleeps, clicks or blinks, you'll find it here.

Internet Culture

Internet Culture

There's a community for everyone online.

Streaming

Streaming

News, reviews, and guides for the world of online entertainment.
This new revelation about Woody from 'Toy Story' will blow your mind
Why are people just now noticing this?
Few characters are more beloved than Sheriff Woody from Disney's Toy Story series (especially if you measure love in box office ticket sales). But how much do you really love the cowboy? Do you, for instance, know his last name? Did you even know he had a last name? For shame!… and you call yourself a fan.
It's not entirely your fault, of course. In the credits for the original 1995 movie, Woody, voiced by Tom Hanks, is just listed as Woody. No last name is given. Buzz Lightyear has a last name. Slinky Dog has a last name (it's Dog). Mr. Potato Head clearly has a last name and an honorific title.
But not Woody. They don't even mention he's a sheriff.
As the movies progressed, we learned more about Woody: that he has a hand painted face, that he is from a fictitious 1950's TV show called Woody's Roundup, that he's a hand-me-down from Andy's dad, but it wasn't until August of 2009 that we learned his last name. That's when director Lee Unkrich tweeted that Woody's last name was, and always had been, Pride.
Woody's actual full name is "Woody Pride", and has been since the earliest days of developing the original Toy Story.

— Lee Unkrich (@leeunkrich) August 2, 2009
The tweet didn't get too much attention at the time. In almost ten years, it's only garnered 122 retweets 280 likes, which makes it all the odder that people are freaking out about it now.
On Monday, a pianist and orchestrator named David Russell, a man with only slightly over 1,000 followers on Twitter (some of whom he undoubtedly gained since Monday) tweeted that he just found out Woody's last name. In two days, the tweet has racked up over 1,400 retweets and 4,600 likes.
Some of that might have something to do with the way he phrased it.
"I was today years old when I found out Woody had a last name," Russel wrote, along with a picture showing Woody's last name.
I was today years old when I found out Woody had a last name pic.twitter.com/K6J1dQwJc2

— david (@DavidRussell323) January 15, 2019
Whatever the reason may be, the knowledge seems to be blowing people's minds.
https://twitter.com/darknessfell92/status/1085077419982311424
I can't believe I lived for 20 years and never once did this come up in conversation with anyone ever.

— Eric L. @ KH3 Hype (@EricLTrombone) January 15, 2019
January 15, 2019
January 15, 2019
January 15, 2019
https://twitter.com/Vincearah/status/1084999140788994048
What the heck? I've lived my whole life never knowing this pic.twitter.com/ZnsFm7mcG7

— Ibby The Ibster (@ibby_the_ibster) January 16, 2019
One prevalent theory has emerged about why Woody's last name is Pride: Perhaps he's gay.
His last name is Pride because he's gay https://t.co/EBjCLDZFCg

— pecan (@pecanrol) January 16, 2019
lol headcannon woody is pan

— tea' (@SquiZzY___) January 16, 2019
It seems Jessie and Woody are due for a long talk.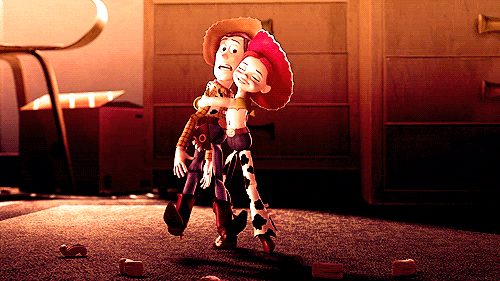 David Britton is a writer and comedian based in Rhinebeck, New York who focuses on internet culture, memes, and viral news stories. He also writes for the Hard Times and is the creator of StoriesAboutWizards.com.
© The Daily Dot, all rights reserved.
Represented by Complex Media, Inc. for advertising sales.