Who's a good dog? It turns out, most of them are. And they're getting better.
Popular Twitter account We Rate Dogs (@dog_rates) is the internet's go-to resource on getting good puppers the head pats and retweets they deserve. Anyone can send in a photo in hopes of a rating, which usually looks a little something like this:
Meet Jarvis. The snow pupsets him. Officially ready for summer. 12/10 would perform a chilly boop pic.twitter.com/0hLkztpiOW

— WeRateDogs® (@dog_rates) March 26, 2017
This is Tuck. As you can see, he's rather h*ckin rare. Taken seriously until his legs are seen. Tail stuck in a permanent zoom. 13/10 pic.twitter.com/P7PBGqrKSe

— WeRateDogs® (@dog_rates) March 29, 2017
This is Karll. He just wants to go kayaking. 10/10 please someone take Karll kayaking already pic.twitter.com/vXLkvyNQHp

— WeRateDogs® (@dog_rates) May 2, 2016
With all the boopin' and bamboozlin' going on, this might seem like highly unscientific stuff, but now there are stats to back it up. Dog fan David Montgomery crunched the numbers on all the dog ratings from January 2016 to present, and he made a crucial finding: While most of the rated dogs have always scored a 10/10 or better, those 8/10 and 5/10 ratings are getting more and more scarce.
As of this week, the average rating is now an astounding 12.5/10.
Hey @dog_rates. I did some math on your ratings. Turns out good dogs are getting better! https://t.co/SCYEbJ3Vxl pic.twitter.com/CndONsO08I

— David Montgomery @ #NICAR20 (@dhmontgomery) March 28, 2017
Here's a closer look: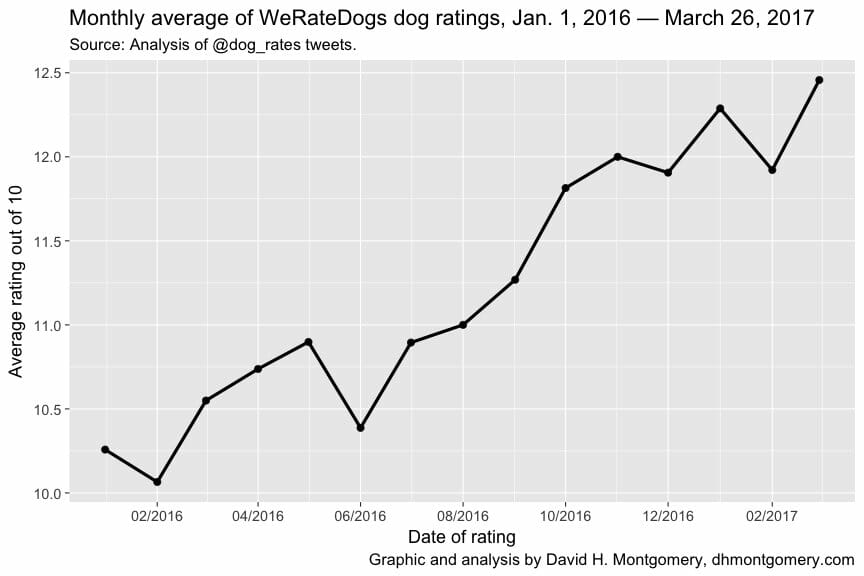 If you want to overanalyze these stats, and we're pretty sure you do, there are a few takeaways here. The 10/10 ratings have actually gotten more sparse as the 12/10 and 13/10 dogs have gotten more frequent. The highest rating charted is a 14/10, but a 0/10 still made an appearance toward the end of February, which explains the dip in that month's average rating overall. Still, the upward trend is impossible to deny. No bamboozle.
What is behind this spike? Are the best doggos making friends with other doggos and helping them become better? Are the judges growing soft in this exhausting political climate? Or are there just more great pups in the world today? If that's the case, you might begin to consider that the bottom of this good pup market is bound to drop out. In theory, a world where most dogs earn a 12/10 makes a good old fashioned 9/10 pupper pretty heckin' rare and therefore more highly rated in turn, no? It's a fascinating possibility, one bested only by the chance that indeed all good dogs are now better than ever.
Study up on the science of dog rating on your own time: We Rate Dogs human Matt Nelson is publishing a book of A+ doggos, now available for preorder.