In case you needed more proof that Breaking Bad is over, you can check Craigslist.
There, under the Albuquerque real estate, you can find the White family's house for sale, located at 308 Negra Arroyo Lane.
It's not real, unfortunately; it's a clever ad by Century 21. (Frances Padilla, who's owned the real house since 1973, doesn't appear to have any interest in selling anytime soon.) The post itself is chock-full of Breaking Bad references—"two-car garage for a Pontiac Aztek, Chrysler 3000 or both. Water heater replaced in 2009." Don't forget about the crawl space ("perfect for kids!"). Sadly, no pizza on the roof.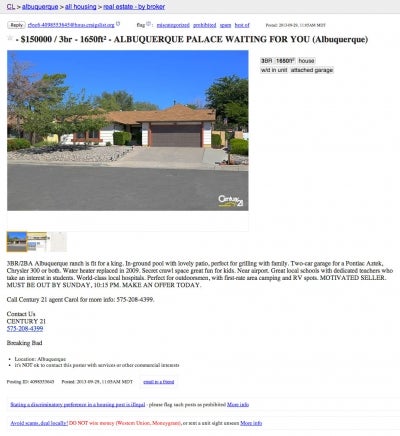 And the "Century 21" agent selling the house is named, conspicuously, Carol—same as the Whites' neighbor who dropped her groceries in the season 5 midseason premiere.
Oh well. If not the house, at least you can still buy that Aztek.