At the center of a dazzling web of connected communities—young adult literature, music, YouTube vloggers, Harry Potter fandom, and Internet media, two unlikely candidates have emerged as heroes for a new generation of geeks, fans, and world-changers.
Tuesday night, they assembled all these communities in one place, and took their place among titans, as the Vlogbrothers—acclaimed novelist John Green and his brother, musician Hank Green—played Carnegie Hall.
A star-studded cast including literary icon Neil Gaiman joined the Green brothers as they celebrated the collaborative spirit behind the Vlogbrothers' worldwide fan movement, known as Nerdfighters. "Nerdfighteria" is now in its sixth year of living out the Vlogbrothers' motto: Don't Forget to Be Awesome.
The two-hour "Evening of Awesome" sold out Carnegie Hall, thanks in part to the whimsical musical talent of Hank Green, whose songs like "Accio Deathly Hallows" and "A Song About an Anglerfish" have been iTunes bestsellers. But judging by the night's number of heartwarming moments, fans were there to celebrate the love and humor between the two brothers, and the message of hope their projects have inspired.
Nerdfighters held meetups around the world to watch the livestreamed event. In Bloomington, IN, Nerdfighters from Indiana University, gathered at the local public library to watch the event. Meetup organizer Katie Diamond told the Dot the IU nerdfighter club has a membership of about 70 people.  They punctuated the event with commentary in true Tumblr style: "I ship them so hard, you guys," one fan said as Hank Green sang a song written about his wife.
"This song is about love," Green sang, "but not what we think of as love—especially if the 'we' in question is Justin Bieber."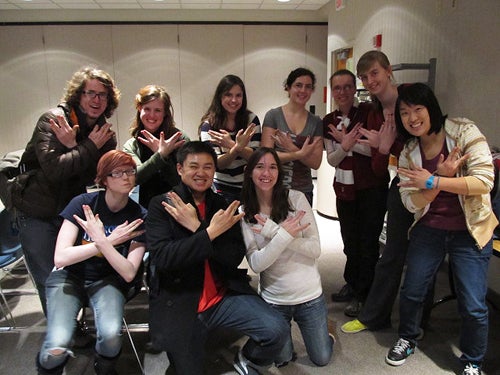 The Carnegie Hall date also celebrates the one-year anniversary of John Green's  Printz-award-winning Young Adult novel, The Fault in Our Stars, which Time dubbed the best novel of 2012. A celebration of the life of Harry Potter fan and Nerdfighter Esther Earl, Stars tells the story of two teens who meet and fall in love even as one of them is dying from terminal cancer. While being published, Stars saw massive fan campaigns and a first printing that sold-out entirely through pre-orders, and lives at the center of the cultural movement that Nerdfighters have spawned. This includes the recent success of Hank Green's Project for Awesome, which united YouTube and the Nerdfighters community to raise nearly half a million dollars for charity at the end of 2012 in its sixth year.
"When I felt like I was part of a plan, part of a larger, organized universe, I was really happy," said John Green. "When I felt like there was no plan, I was really sad… in many ways, my life has been like a very, very long Emily Dickinson poem in that respect." He spoke about his search to answer the question of whether meaning was constructed or inherent, and how, after meeting Esther Earl in 2009, his views changed. "I don't really care how we get to meaning, I just care what we find once we get there. And to me, most of the meaning in my life has been found in collaboration."
Coming just days after Hank Green vlogged about collective ownership of ideas, the collaborative spirit was in abundance last night. In addition to the surprise appearance by Neil Gaiman, folk rock band The Mountain Goats, musician Kimya Dawson, and YouTube stars Hannah Hart and Grace Helbig all made guest appearances, along with Ashley Clements and Daniel Gordh, stars of the Lizzie Bennet Diaries, which is co-produced by Hank Green.
The entire program is online and available for viewing.
Screengrab via vlogbrothers/YouTube