As those of us who have been fired for a stray tweet or blog post can tell you, secrets keep better offline. Washington, D.C. police officer Nicole Rizzi—who for years infiltrated protest groups in the nation's capital in plainclothes—posted about her law enforcement job all over the web, and inevitably, it cost her the cover she had worked to establish.
Attorneys Jeffery Light and Sean Canavan filed a lawsuit Monday on behalf of United Students Against Sweatshops (USAS). Rizzi, the lawsuit alleges, assumed the alter-ego "Missy" to infiltrate the group during its protests. The legal move—targeting Rizzi, the city, and its mayor—is intended to prevent further undercover operations within the organization.
Just what threat anti-sweatshop activists posed to public peace and order is unclear, but Rizzi's messy digital trail was not. According to In These Times, which broke the story, the web was littered with evidence of her double life.
Lacy MacAuley, an activist and media manager for the Institute for Policy Studies, has suspected for the past several years that a protester named "Missy" was an undercover cop. "Missy" seemed to be at every protest, but no one knew her. However, MacAuley had no way of proving her suspicions.

Then, in November of 2012, MacAuley was at a bar on U Street when a friend recommended that she follow a Twitter account of a funny person with the handle @snufftastic. MacAuley immediately identified the user in the photographs as the person she knew as "Missy." The user Tweeted frequently about the daily grind of being a police officer in DC.

She even fielded a Tumblr question about how she dressed for her covert work.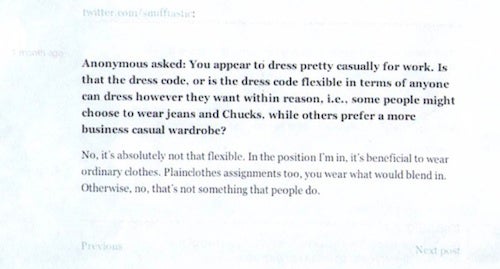 That blog, Rizzi's Twitter account, and several other profiles have since been deactivated, though it won't do much good. The evidence against her includes film taken from a USAS event she was invited to after activists already knew who she was. Meanwhile, you can still browse her (mostly booze- and dog-related) photos on Yfrog.
Rizzi's presence in the D.C. protest scene and the legal aftermath have wide implications, as recently enacted local statutes are at issue. As the Washington Post reports:
The D.C. Council passed a law in 2004 after mass arrests in 2000 and 2002 led to civil rights complaints and lawsuits that eventually cost the District more than $21 million. The Partnership for Civil Justice said it uncovered a D.C. officer who lawyers said at the time not only infiltrated a peaceful protest group but urged them to commit violent acts.

D.C. police are now prohibited from infiltrating advocacy groups without top police officials' permission, which can be granted only as a last resort and with a proven threat of violence. Last year, the District's auditor criticized police for not complying with the law.
Will Rizzi's case force the Metropolitan Police to quit spying on peaceful protesters? Probably not. But they may need to start Facebook-stalking their own officers.
Photo via snufftastic/Yfrog