Super Bowl weekend is upon us, and as the San Francisco 49ers and Baltimore Ravens prepare to take the field Sunday, Twitter is already buzzing about the big game.
There's a lot on the line in New Orleans, as two teams prepare to clash in the battle to become the world champion of a one-country professional league. 
The 49ers are by far the most discussed team on Twitter over the last week, according to Topsy, with more than 358,000 tweets bearing the team's name. The Ravens drew more than 243,000 tweets over the same time period.
While tweet volume is by no means an indicator of success, there's a lot more buzz around the Niners, suggesting that team is the Twitter community's favorite going into the game.
Or it could just mean a lot of people are angry about 49ers cornerback Chris Culliver's anti-gay comments this week.
Nate Silver, the statistician who correctly predicted the result of all 50 states in last year's presidential election, believes the 49ers will win too. And who knows? If you're Super Bowl–savvy, Indianapolis Colts owner Jim Irsay is ponying up cash to those who can predict the winner or answer his trivia questions.
Here are some tweets of support and disdain people sent over the last few days: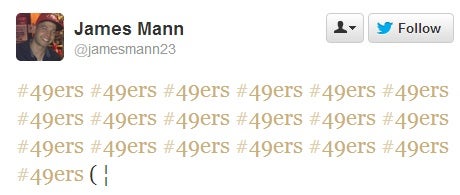 Wonder who that guy's backing?

Sorry, Niners fans, a terrible person is backing your team.

Those seem like two excellent justifications for any opinion.

I'd rather have Nikki Sixx in my corner than Donald Trump any day.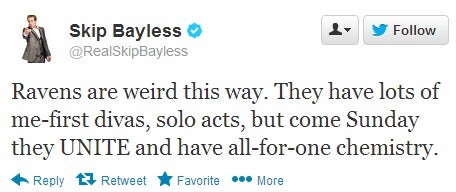 All for one, and one for Bowl.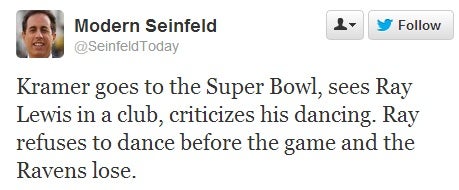 It'll be all your fault if the Ravens lose, Kramer.
Photo by MDGovpics/Flickr