After a woman with Alzheimer's Disease spent an entire day missing after taking her dogs out for a walk, her family understandably grew worried.
But thanks to kind-hearted Twitter users, the woman was reunited with her family later that evening.
Diane Blayney left her home in Belfast, Northern Ireland, at around 9am Wednesday to walk her dogs, according to the BBC. When she didn't return home shortly, her family grew worried.
Her daughter, Joanne Mehaffey, who was on the road and struggling for a phone signal, posted Blayney 's photo on Twitter and Facebook and urged others to share it.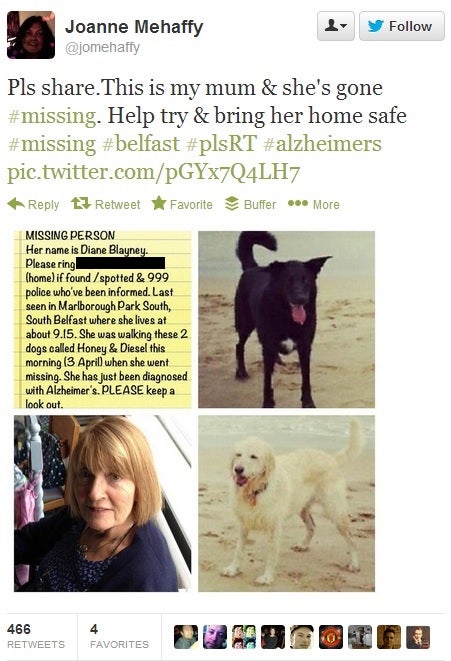 Among those who saw the tweet was Christina McStravick. "I was sitting about six o'clock in the living room, watching TV, and I noticed a woman walking past the window with two dogs," she told the BBC. "She seemed a wee bit dazed and kind of caught my attention but I didn't think anything of it."
Just a few seconds later, McStravick saw a retweet of Mehaffey's tweet. She slowly drove by Blayney and gently urged her to come in for some tea while her husband notified Blayney's family.
Blayney had walked around eight miles, according to Mehaffey.
"While she would not have necessarily wanted everyone to know that she was suffering from Alzheimer's, I needed her brought home, and if that meant I needed to share it, I was going to share it," Mehaffey said.
Twitter has proven extremely useful in locating missing persons. Back in January, a 12-year-old Sussex, England boy was found just a few minutes after police posted an alert on Twitter.
Both McStravick and Mehaffey claim their husbands give them a hard time for using Twitter, but maybe they'll stop calling themselves "Twitter widows" after seeing how useful the social network can be.
Photo via @jomehaffy/Twitter