A team of researchers have found a way to gauge Twitter's overall happiness on a given day.
Their hedonometer tool went live this week and plots the joyfulness levels on a chart, where each point represents a single day. As to be expected, there are clear spikes on holidays and notable dips in moments of tragedy.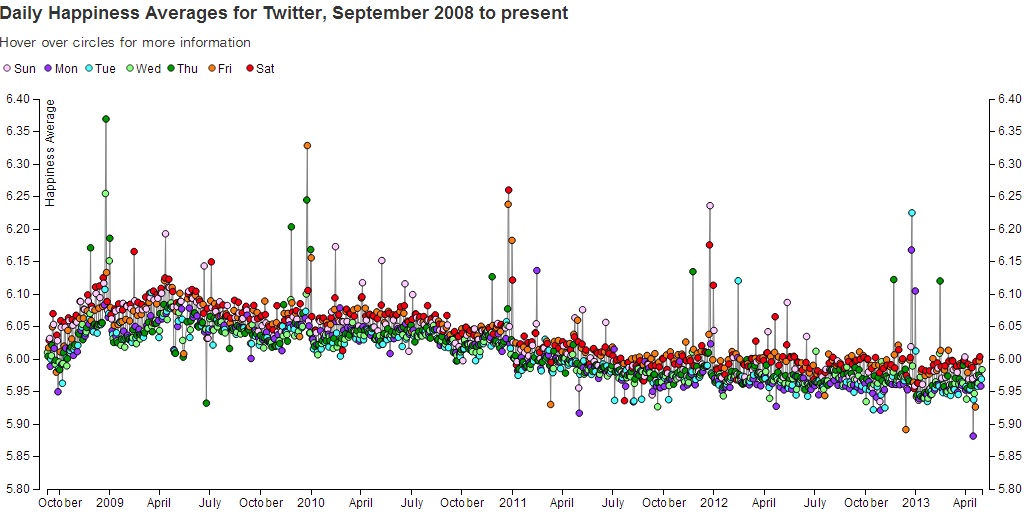 The community's happiest day since September 2008 (when the researchers started analyzing data) was Christmas Day that year; it's saddest, the Boston Marathon bombings last month, proved even worse than the Newtown school shooting in December.
The real-time tool is the brainchild of researchers from the University of Vermont and the Mitre Corporation. They look at around 10 percent of all tweets—around 50 million each day—with a focus on English-language tweets.
The team grabbed the 5,000 most frequently used words from Google Books, New York Times articles, song lyrics, and tweets to give a database of 10,000 words to analyze. Each word was given a happiness score between one (the lowest) and nine through Amazon's Mechanical Turk small job marketplace.
The top-ranked word is "laughter," with a score of 8.5. The lowest is "brutal" at 2.6. Many profanities have a score of between four and six, due to their varying usage as expressions of dismay or delight. The researchers also have a volume control which allows them to "tune the relative importance of the most emotionally charged words by removing neutral words from consideration when determining the happiness of a given day."
The death of Osama bin Laden two years ago proved more complicated than anticipated:
Many people presume this day will be one of clear positivity. While we do see positive words such as "celebration" appearing, the overall language of the day on Twitter reflected that a very negatively viewed character met a very negative end. It was a day of complex emotion which is best explored in the word shift for the day, rather than the single number of its average happiness.
The team said the hedonometer will soon take in data from other sources, such as Google Trends (to see what people are searching), link-shortening service bit.ly (what Internet denizens are clicking), and the BBC (what people are reading) to gauge trends in society beyond conversation.
The researchers also plan to explore different languages, examine phrases instead of words (for additional context), and probe emotions other than happiness in the future.
If Twitter truly is the world's watercooler, the hedonometer seeks to be the analytical fly.
H/T Reddit