When you have a boring, low-skill task to outsource, there are plenty of ways to do it on the Web. You might hire people through oDesk or Fiverr, while Amazon has its own work marketplace, Mechanical Turk.
In a fascinating post, Twitter revealed last week that it is hiring workers through the latter to help classify Twitter trends and bring context to incidents that are becoming popular quickly.
Since spikes in search topics like #bindersfullofwomen (a reference to a comment made by Mitt Romney in a debate) tend to rise and die quickly, it's important for Twitter to understand the context for search and advertising purposes. When Twitter's internal systems discover a popular new search query, the company automatically sends a job to Mechanical Turk, where it asks humans to categorize or provide additional information on the term.
One example Twitter gave was that of Big Bird, the Sesame Street character who became a hot topic during the presidential debates. Twitter was able to find out the context for searches on Big Bird was more political than childrens'-TV-how-related and avoid sending out Dora the Explorer ads instead of ones by Barack Obama or Romney.
Twitter uses a "custom pool" of workers for these jobs, and many of them classify queries full-time for the company. Workers who provide consistently strong results for companies through Mechanical Turk and obtain "Master Qualifications" gain access to work unavailable to the general public, however Amazon told Talking Points Memo it has a "number of methods" for companies to control who can complete work for them. (Twitter did not respond to a request for comment by time of publication.)
Mechanical Turk has hundreds of thousands of Human Intelligence Tasks (HITs) available to workers at any given time. But for all of the tasks that provide important services to companies on a number of levels, many jobs on the virtual assembly line are menial and literally pay pennies.
Here's a look at some of the most ridiculous tasks we found:

Entering the most up-to-date price of an Amazon product into a Web form can net you a whopping two cents.

If you can capture a screenshot of an actor expressing fear or disgust in a movie, you might receive a "bonus" of $0.10 on top of zero payment if it passes muster.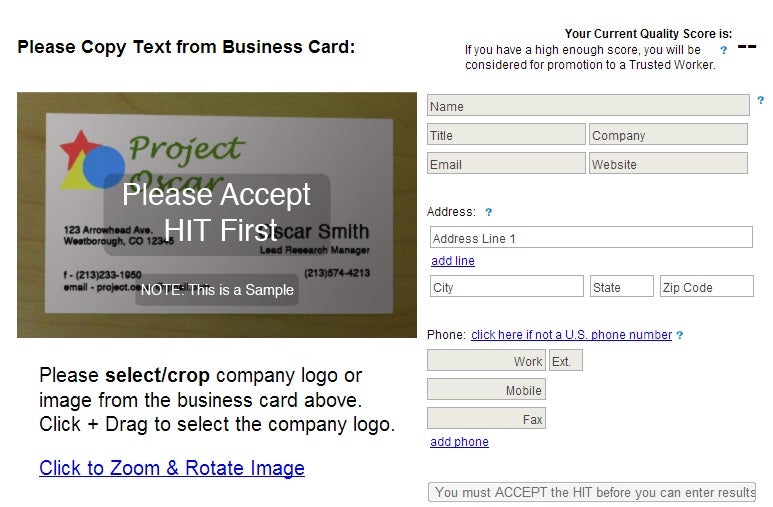 Why go to all the trouble of scanning a business card, creating an input form, and paying workers to copy text from the card at five cents a pop when it's probably more efficient to just do it yourself? Even still, there's literally an app for that.

A whole quarter for a 450 word article "without grammer mistakes and in good English"? Sold.

Sorely tempted to respond to this one with a link to Let Me Google That For You.
Seems like this HIT gives you nine cents for literally doing nothing for a minute.

Your mission, should you choose to accept it, is to say which of these two videos you prefer. Total runtime of the videos: 5:14 minutes. Total time to complete the task: four minutes.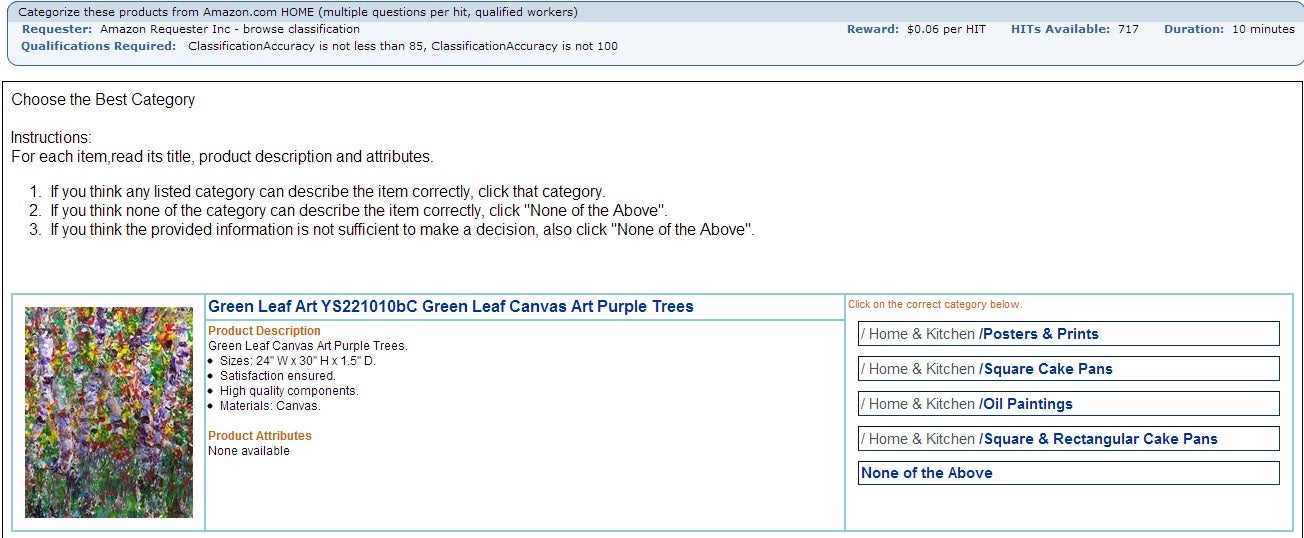 It looks like Amazon uses its own platform to categorize products as well.

A company's name is an essential part of its business and marketing strategy. This firm is giving you 10 cents if you can come up with one in two minutes.
Researchers want you to find out the meaning of a word on Twitter, rendering their job titles somewhat moot.
Finally, can you "think like a sexually ambiguous but not especially sexually-focused 19-20 year old male?" If so, this is the eight-cent job for you:

It doesn't get any better than that.
Photo by Robert Scoble/Flickr