Tumblr has never been cool with you using Missing E.
Similar to the Reddit Enhancement Suite, Missing E is a plugin that works with Tumblr and a Web browser to bring new features to the platform. Named after Tumblr's noticeably absent vowel, the popular add-on has been downloaded 258,408 times.
However, Tumblr has never been a fan of the extension. And now, in the first days of the new year, Tumblr is cracking down on Missing E users with threatening pop-up announcements.
Since January 1, Missing E users were greeted with a screen-sized notice upon logging into their Tumblr dashboards. The announcement cheerfully explains that it'd be a good idea to uninstall Missing E if the user wants to continue receiving Tumblr technical support. It also lists a hosts of side effects a user could experience by using the plugin.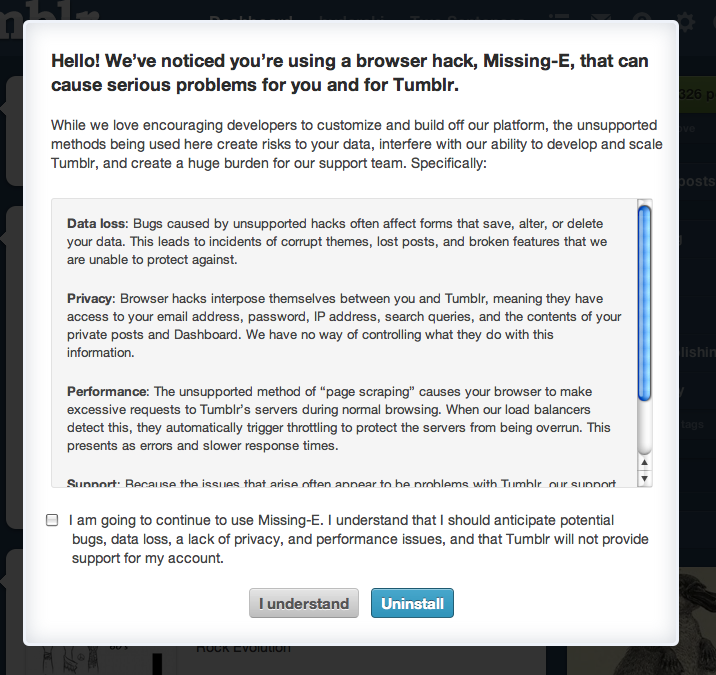 The problem with the pop-up, however, is that many users were receiving it regardless of whether they had Missing E installed or not. As a result, in many cases Tumblr's threat has had the opposite effect.
Jeremy Cutler, the developer behind Missing E, maintains that the extension is perfectly safe to use. He also provided a new user style to prevent related pop-ups from Tumblr.
"Dear Tumblr, Telling me to uninstall Missing E when I: A) Didn't have it, and; B) Didn't know what it was Was probably your worst move. I now have Missing E. And I don't know how I spent my life on tumblr without it," wrote lezbefriendshomoyouwont.
"With "enemies" like mine, who needs advertising?" responded Cutler.
Cutler isn't sure why Tumblr has a problem with his popular extension. When we last spoke to him, he said it was hard to "not take it personally." He wrote on the Missing E Tumblr that even though the Tumblr pop-up singled his plugin out, it was actually a more general warning.
"The reasons they give for suggesting that you uninstall Missing e are the worst-case scenario for installing browser extensions or browser modifications of any kind. However, Missing e is not a source of these kinds of problems."
Regardless of what Tumblr wants, the majority of users are standing with Missing E. A Tumblr search for "missing e" brings up praise for the plugin and criticism for Tumblr.
"Oh Tumblr, Do you really think, with your previous tiffs with Missing E, that that little scare-tactic form is going to look like anything but bullshit? Seriously though, that's low," wrote triiku.
"if you're not interested in providing the best possible experience for your users, why even build a website in the first place?" asked everythingisungodly.
Photo by thefrogman