Before the Steubenville verdicts had even been announced, a hauntingly similar case was already emerging in the small town of Torrington, Connecticut. Two four high schoolers were arrested on charges of sexual assault, but the 13-year-old alleged victims' ordeal was far from over. Instead, she quickly became became the target of horrifying online harassment, much of which seemed to originate from her school-age peers. 
Two 18-year-old alleged rapists, Edgar Gonzalez and Joan Toribio, have received a surprising amount of support from students at Torrington High School. In a photo posted (and now deleted) by Instagram user aalyahhx, a group of Torrington students posed in cheerful support of Gonzalez, using hand gestures to spell out his jersey number: 21. 
Since then, the number 21 has become a symbol of solidarity for friends of Gonzalez, along with the #FreeEdgar hashtag on Twitter.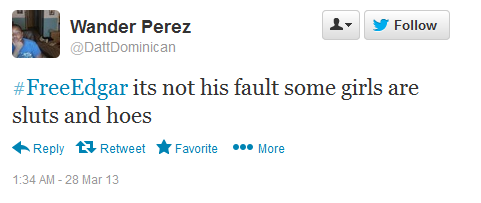 While many of the Twitter accounts involved in Torrington's recent cyberbullying case have now been deleted, there are plenty of seemingly genuine new messages on the #FreeEdgar hashtag—along with a fair few accusations of rape apologism. Tweets like "now a days girls like that girl stay opening there [sic] legs just for the D so yea ! #FreeEdgar" may be receiving direct backlash from outsiders, but Gonzalez's friends and supporters seem undeterred.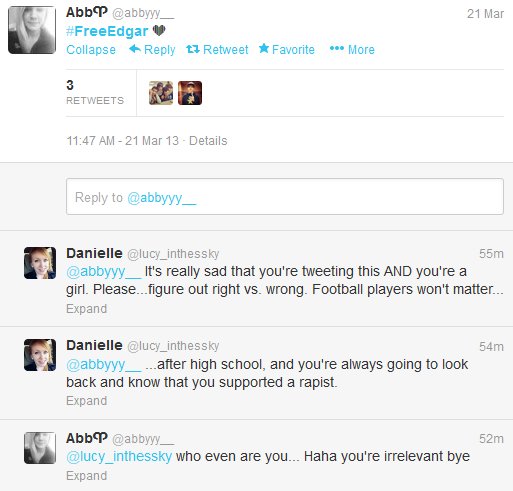 Advice from Twitter users such as @ArielKG ("I know they're your friends but they committed a horrible crime… Any rape is still rape.") seems to be falling on deaf ears, but the teenagers of the #FreeEdgar hashtag may have more to worry about than a few sharp words from strangers on social media. Several people have been tweeting hacktivist account @AnonyOps with suggestions such as "get those #freeedgar dummies," and it's rarely a good idea to attract the attentions of Anonymous. (You can follow Anonymous's Twitter campaign at #OpRaider.)
Image via Flickr/Dougtone