Tom Hanks and Rita Wilson are the first celebrities to come down with coronavirus. People are concerned for the famous couple, but a recent update from their son, Chet, informed the public that they are doing well.
Tom Hanks announced their diagnosis via Instagram, where he reassured everyone that he and his wife are alright. Hanks is in the midst of filming in Australia for Baz Luhrmann's Elvis Presley biopic but noted that he will take the advised precautions and isolate himself. "The Medical Officials have protocols that must be followed," he wrote. "We Hanks' will be tested, observed, and isolated for as long as public health and safety requires." 
The comment sections for Hanks' announcement, which he shared to both Instagram and Twitter, were soon rife with well wishes and messages of concern from friends and fans. "Get well soon brother," Marlon Wayans wrote. "I love you tremendously. Praying for you and wifey. Always my nizzle."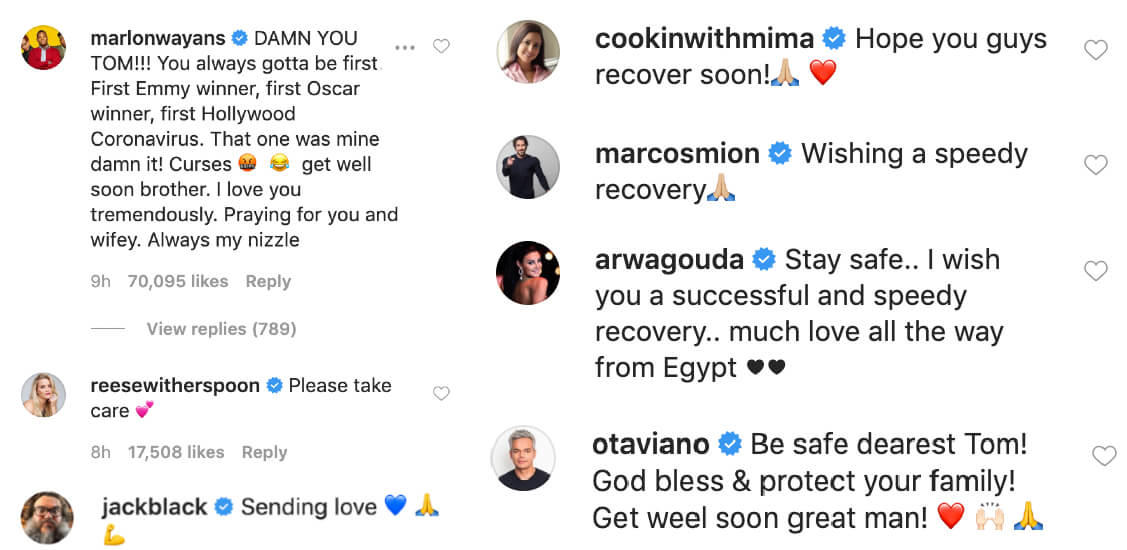 Even Tim Allen, Hanks' co-star in the Toy Story movies, chimed in. "Woody, I should have made you two wear my space suits," Allen, in character as Buzz Lightyear, wrote. "You and Rita rest and get well!"
As people were still flocking to his social media pages to offer their best wishes, Hanks and Wilson's son Chet took to Instagram to give an update on their conditions. "It's true, my parent's got coronavirus. Crazy," he said in a video. "I just got off the phone with them, they both are fine, they're not even that sick. They're not worried about it, they're not trippin' but they're going through the necessary health precautions, obviously."
He concluded the update with a quick thank-you to the people sending their regards. "I appreciate everyone's concern and the well wishes," he said. "I think it's all going to be alright, but I appreciate it and just everybody stay safe out there. Much love."
Earlier this week, a viral hoax spread claiming the unenviable title actually belonged to Daniel Radcliffe but was quickly proven false.