Warning: This article contains spoilers.
The Mandalorian's second season brought in a slew of supporting characters from all across the galaxy ranging from Bo-Katan Kryze and Ahsoka Tano to the return of Boba Fett and Fennec Shand. But they all paled in comparison to the cameo that The Mandalorian pulled off in "The Rescue."
The assault on Moff Gideon's star destroyer was more or less a vast success. A team composed of Din Djarin, Cara Dune, Bo-Katan, Koska Reeves, and Fennec boarded the ship, captured Moff Gideon, got ahold of the Darksaber, and rescued Grogu. But they got a major assist from a mysterious Jedi, who heard Grogu's call from a couple of episodes ago and took out the battalion of droid dark troopers about to take over the ship's bridge. His name is never revealed, but you know exactly who it is the moment he takes off his hood. And if for some reason, you weren't clued in before, the appearance of R2-D2 will tip you off.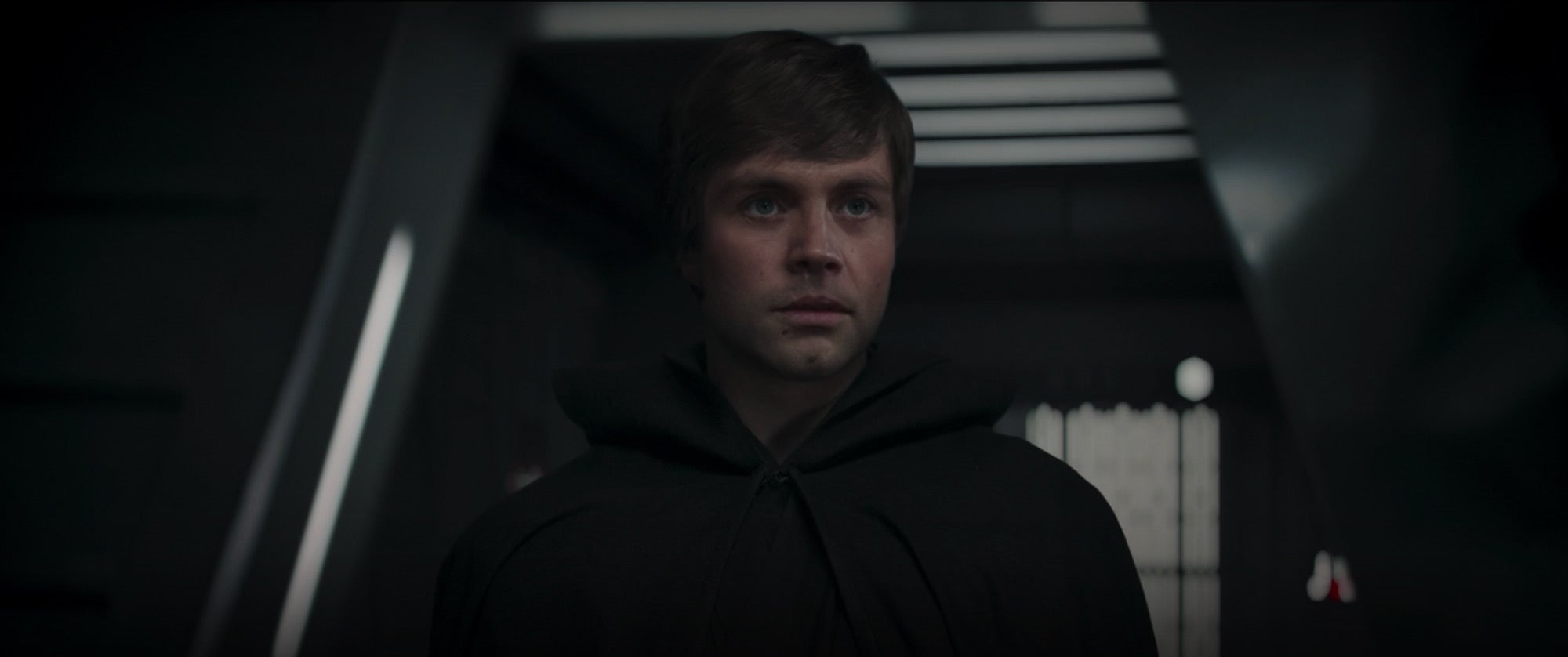 Yes, Luke Skywalker has entered The Mandalorian.
The Jedi
A big surprise or an evitability? As Ahsoka told Din just a few weeks ago when she suggested letting Grogu call out to other Jedi in the galaxy, "there aren't many Jedi left," so the arrival of Luke Skywalker to answer Grogu's call makes sense narratively. (It also allows for a character like Ezra Bridger to come into play in the Ahsoka spinoff.) But instead of casting a younger actor to play Luke Skywalker, The Mandalorian brought in Mark Hamill to once again reprise the role he's best known for with help of some de-aging CGI.
Someone on Twitter made an apt comparison between Luke taking down the dark troopers in The Mandalorian and Darth Vader's massacre of the Rebel troopers aboard the Profundity at the end of Rogue One. Both show powerful flexing their powers and they barely break a sweat.
But if Luke taking down the dark troopers is like Vader in Rogue One, then Luke in the bridge is akin to CGI Leia in Rogue One: It technically works, but it's largely distracting in the moment—and it detracts from the emotional core.
Which is a real shame because the final scene between Din and Grogu, in which Din says goodbye (for now) to his son before Grogu sets off with Luke and Artoo, is a very powerful one. For the third time in the series, Din takes off his helmet, but it's not because his life is in danger or because he needs to rescue Grogu. This time, it's a deliberate choice.
It's too soon to know if Luke will have a semi-regular appearance in The Mandalorian's third season or if this is more of a one-off cameo, but if it's the former, I almost wish the show would cast someone else to play a younger Luke instead. But for now, we're left to worry about when we'll see Grogu again and the possibility of Grogu being at Luke's Jedi Academy when Ben Solo destroys it in about 19 years.
The Darksaber
Bo-Katan and Koska agreed to help Din rescue Grogu, but they had ulterior motives. First, they wanted Moff Gideon's ship so they could take back Mandalore. But Bo-Katan also wanted to take on Moff Gideon for herself and reclaim the Darksaber herself. Unfortunately, Gideon was waiting for Din in the brig, which resulted in a duel between Gideon with the Darksaber and Din with his beskar spear. Din won that fight, but it presented a bigger complication.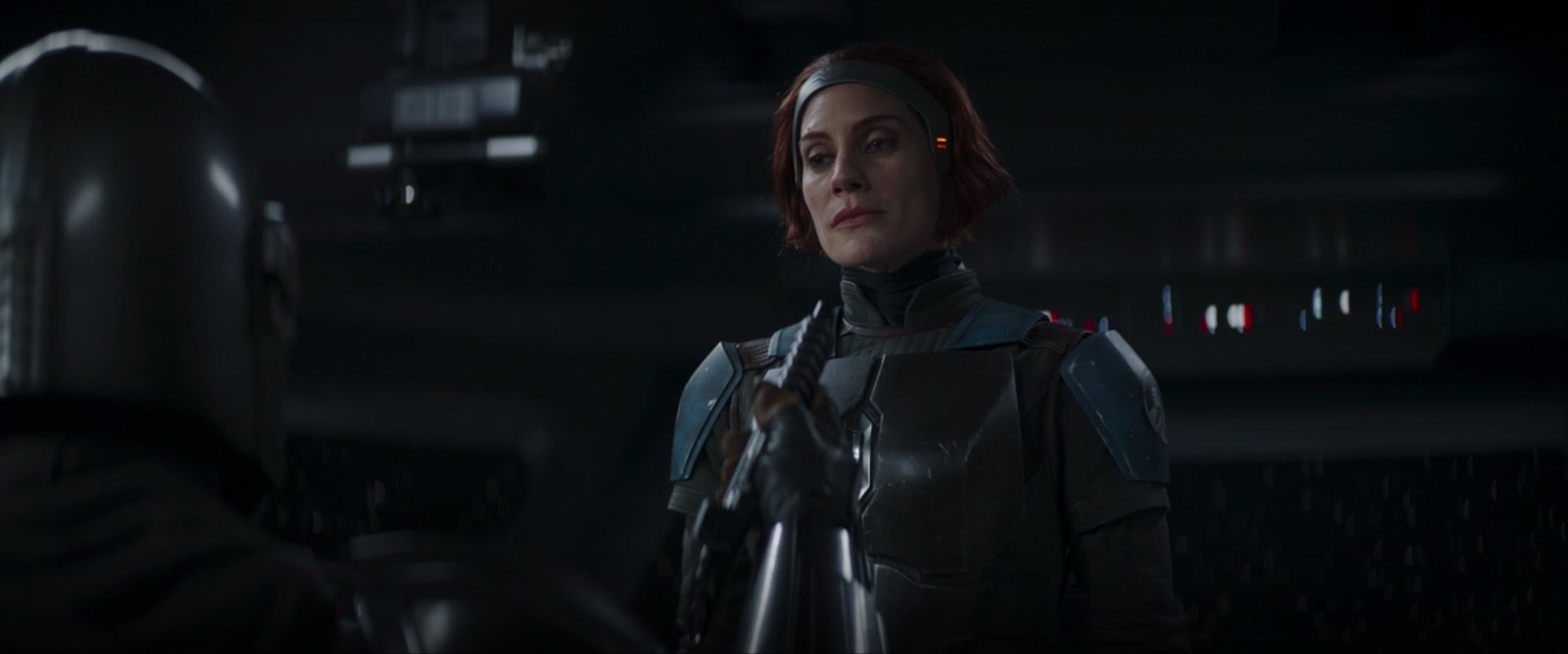 In the eyes of the people who matter, that darksaber now belongs to Din. And despite him yielding it to Bo-Katan, it isn't hers; she has to win it in battle. They didn't have a chance to resolve that issue because that was around when Luke arrived on the scene. But it's also something of a headscratcher.
Bo-Katan didn't have to fight anyone when she wielded the Darksaber the first time around. It was given to her by Sabine Wren in Star Wars Rebels' fourth season so she could be the one to lead the fight to take back Mandalore. And it wasn't like the other ruling families snubbed her because the darksaber was a gift; many of them stood by her.
A retcon? Maybe. But at the very least, the matter of who can wield the Darksaber is bound to cause some problems in The Mandalorian season 3, especially if Din isn't interested in fighting to take back Mandalore.
A backdoor post-credits sequence
Last week, Disney announced several new Star Wars TV shows in varying stages of production during a four-hour Investor Day call, but The Mandalorian gave Disney and Lucasfilm their biggest flex yet: Announcing a third Mandalorian spinoff—after Rangers of the New Republic and Ahsoka—in the final shot of The Mandalorian's second season.
The scene is more or less straightforward. After we see the twin suns of Tatooine, Fennec storms Jabba the Hutt's old palace and shoots everyone in the room except for two people: a female Twi'lek slave and Bib Fortuna. Fennec allows the Twi'lek to flee, but she saves Bib Fortuna for Boba Fett. After killing him, Boba takes the throne while Fennec leans on it with some spotchka in hand.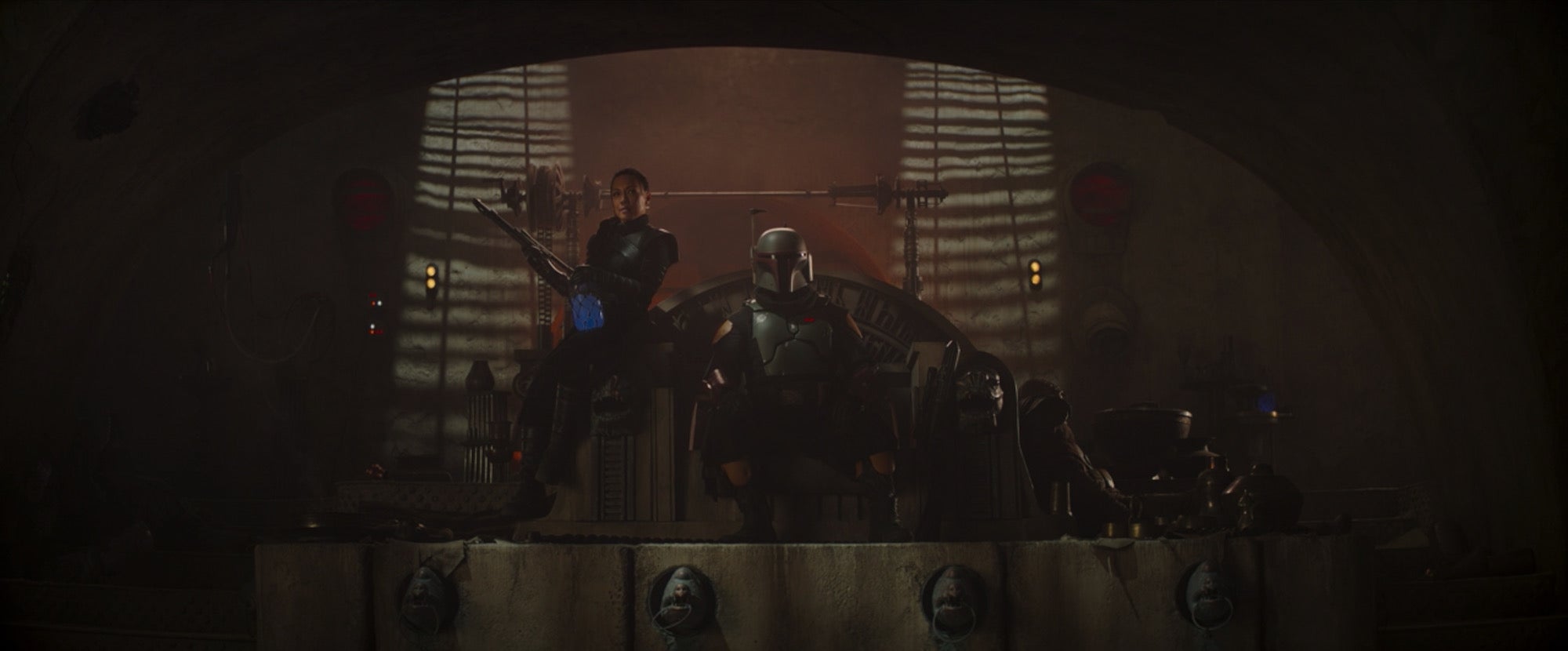 The scene cuts to black as the words "The Book of Boba Fett" and "Coming December 2021" appear on-screen.
What do we know about it? Almost nothing. But anyone who had initially hoped that Boba Fett was the titular Mandalorian (which he won't claim he is, per his trading of barbs with Bo-Katan earlier in the season) will at least get to see Star Wars' most famous bounty hunter get another adventure in the galaxy.
---
More essential culture reads
---