Following the overnight success of Creamsicle, the denizens of Tumblr are becoming adept at creating meme-like fandoms in the space of days. Meet the Knitter, whose origin story is a photo post on the popular microblogging site.
The post shows a young man posing with his knitting while wearing a tank top, with a reblog comment suggesting that he would make a good DC Comics villain.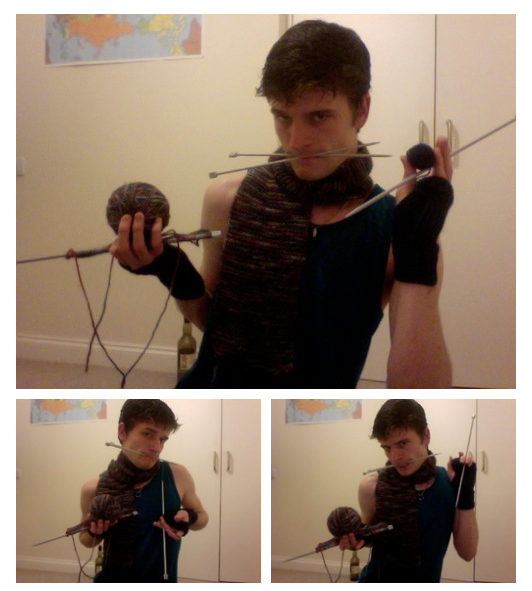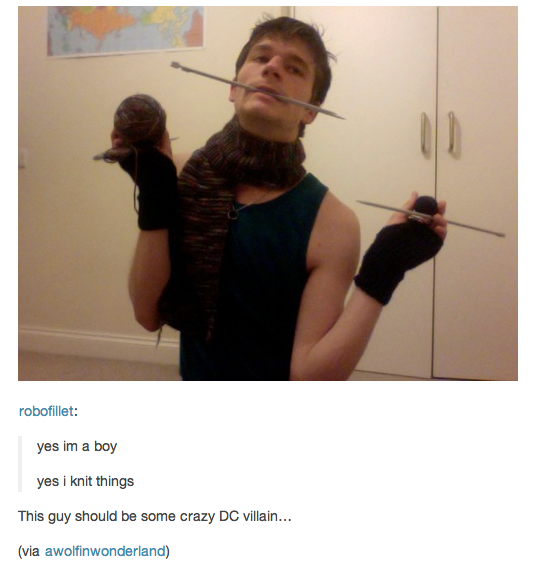 Tumblr user fernacular quickly produced some fanart for the Knitter and his two woolly monster companions, and the rest is history.
Less than two weeks later, the original photo post has over 86,000 notes and the Knitter is at the centre of a full-blown fandom. 
halfaleagueonward wrote:
The whole Knitter thing happened by chance, but I really love it, and after a couple of days of watching what was happening in the tag, and drawing some art for it, and seeing people react to that art, I knew that I wanted to encourage it and participate in it, and drawing a comic seemed like the best way I could do that.
The fast-paced nature of Tumblr makes it a perfect breeding ground for memes and in-jokes, and The Knitter hits a trifecta of Tumblr fandom interests: DIY hobbies, male superheroes posing in the style of The Hawkeye Initiative, and a canon that can be digested and reblogged in a matter of minutes.
Knitter fandom hasn't quite decided on a full backstory (or even characterisation) for their protagonist yet, but The Knitter Speaks audioblog suggests that he's the Batman-villain equivalent of a yarn bomber, making sure the citizens of Gotham are warm and cozy at night—whether they like it or not.
No less ridiculous than many "real" supervillains from the DC Comics universe, which is possibly why most crossover fanart combines the Knitter with the more colorful 1960s-era Batman characters. 
Tumblr user halfaleagueonward's webcomic Knit & Purl features a supervillain origin story worthy of Dr. Horrible's Singalong Blog, with the Knitter experiencing a meltdown thanks to the public's judgment of his hobbies as a male knitter.
Meanwhile, fanartist verticalthought proceeded to introduce a faintly homoerotic antagonist …
… and soon enough, Tumblr fans have begun to invent an entire pantheon of superheroes and villains for the Knitter to interact with.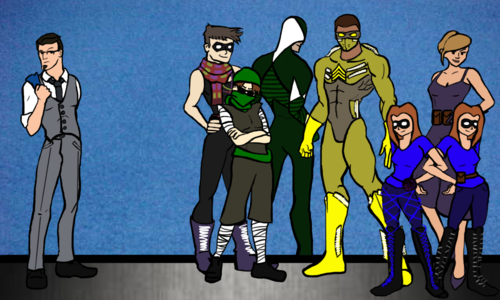 askknitter.tumblr.com
The group includes a character named the Polyjester and a Japanese supervillain whose name references miniature crochet doll art.
And yes, people are definitely already shipping the Knitter with the Manipulator.
As of today, Knitter fandom includes knitting tutorials, cosplay of the Knitter's new sidekick Stocking Ette …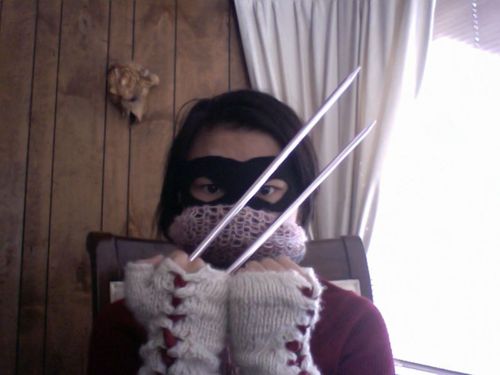 the-hipsters-have-the-phonebox.tumblr.com
 
… crossover fanart with Avatar: The Legend of Korra …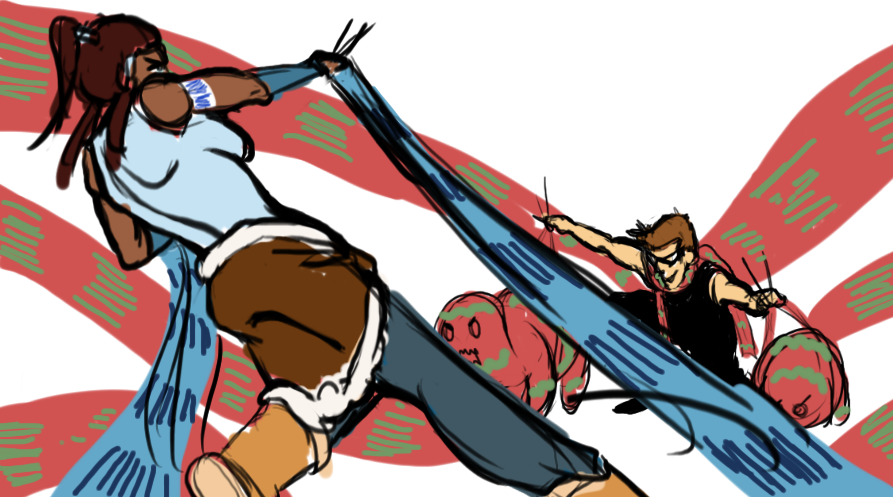 kittydeagleblogs.tumblr.com
… fanfic, baked goods …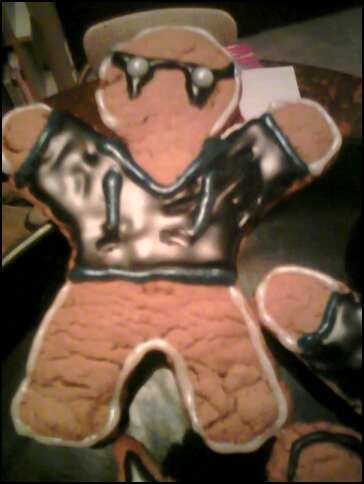 askthemanipulator.tumblr.com
… and an askblog where you can ask the Knitter questions about his life in Gotham City.
Given the speed at which this fandom is rushing through its lifecycle, we can surely expect a Christopher Nolan–style gritty reboot by February. 
Art by Moonwhing/Tumblr