We love the Internet. Except when we hate it. Every week, Jordan Valinsky bottles the angst of his Millennial generation and finds something to despise about the Web.
Typically—if this was a normal, hurricane-free week where all we talked about was Jennifer Aniston's engagement ring—the following would just be a self-inflicted-stab-inducing ramble of how the Internet is annoying me.
But after turning on CNN for about a minute (I fell asleep for the first thirty seconds), I felt sort of itchy at the prospect of writing something so negative and complainy about my remedial Internet problems. It appears that some unfortunate people didn't have the Internet for a few days. I can't imagine that.
For those Internet-derelict souls, as your begrudgingly unelected Internet sherpa I will educate you on all the #buzziest things you might have missed. And you don't even have to text a number to for instant gratification of virtue. Since the name of my column is "The Hater,"™ it couldn't be all flowing Pinot Grigio and J. Crew outlet store prices—there has to be some horrible, too.
So, if you're just signing-on after a stretch in the soggy wasteland of no Internet, here are the terrible and not-so-terrible things you might have missed.
TERRIBLE: Matilda, a.k.a. the host of @Sweden this week.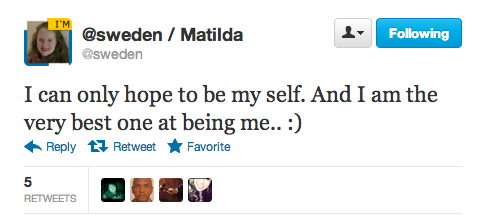 WHAT A BORE THIS ONE IS. This past few days have been nothing but rambling about her stupid cows, adding that unnecessarily uppity umlaut into all of her words, and tweeting about something called a "sandwich cake." Look at this picture and let us count the ways you have prevented yourself from puking all over the keyboard. Get it together, Matilda, you're not living up your predecessors. Tell me a horror story about Ikea's As Is section, or insult a Jew.
NOT TERRIBLE: Macklemore and Ryan Lewis perform on Ellen.
The Internet's favorite rappers performed in a "showstopping" manner on Ellen's talk show Monday. The Seattle-based rappers sang "Same Love," a song that has been dutifully verified by the experts at Rap Genius as about marriage equality. Ellen loved it, and if you're a good person, you will too.
TERRIBLE: Chief Meteorologist for Business Insider, Henry Blodget.
Business Insider editor and number one fan of the Jewish people, Henry Blodget, printed a "story" on Monday, writing that this whole Hurricane Sandy thing is sort of like the El Presidente Margarita at Chili's—e.g., it's not that bad.
"From a purely cloud perspective, to this non-meteorologist, it actually doesn't look that bad," penned Blodget, accompanied by a satellite image of Sandy's cloud trickling up the East Coast and covering basically half the country. Uh, the "cloud perspective" analysis is not something I am familiar with from either my one Media Law class or my marathon viewings of Storm Stories. On the other hand, the cloud's whiteness is so virginal and peaceful.
To Blodget's defense, and presumably after studying up on the patterns of cumulonimbus clouds, he admitted that another satellite picture of Sandy looks "much, much worse." That time he got it right. It was much, much, worse.
NOT TERRIBLE: This unverified satellite image captured by @cool_pond.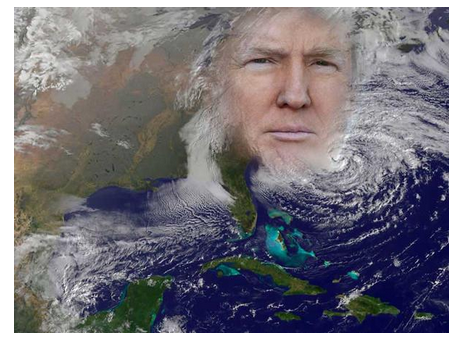 From a "cloud perspective," there is some dispute if this might be Photoshopped, but it's still desktop wallpaper-worthy. Accuracy aside, it feels like Donald Trump's blustery tweets and bodacious criticism brought on enough hot air and wind that this satellite image is an accurate representation of his ginger-infused ego.
Photo via @cool_pond/Twitter