TikTokers are reconsidering their feelings on killing bugs thanks to "Ten Legs, Eight Broken," a poem written from the perspective of a wounded spider.
Published in slideshow format by TikToker @user68519586 (aka "I, e"), this poem has racked up more than 6 million views over the past three weeks, inspiring reaction videos of TikTokers crying and promising to never kill another spider.
The poem begins with a human narrator addressing a dying spider, expressing fear and disgust at the spider trespassing in their home. Then the perspective shifts to the spider, who argues that it deserves more sympathy: "I'm sorry for scaring you,/but I didn't know being seen would cost me my life."
"if I was the same but looked different," implores the spider, "maybe you wouldn't hate me."
"i did not just cry to a spider poem thats crazy," reads a typical response in the comments section, with another commenter writing, "i don't think you understand how many spiders you've saved by making this."
"DO NOT READ TEN LEGS EIGHT BROKEN," warned one reaction TikTok with over a million views, showing a close-up of the TikToker crying. "JUST SKIP IT IF IT GOES ON YOUR FYP." She wasn't the only one, as other TikTokers alerted their followers that reading the poem was a recipe for heartbreak.
"Ten Legs, Eight Broken" arrived just a few days after another sympathetic bug poem, and @user68519586 wrote that they were inspired by TikToker @writerandweeper, who recently posted a similarly sentimental viral poem about mice, moths, and roadkill: "If I am killed for simply living, let death be kinder than man."
This seems to be a popular theme in the TikTok poetry community right now, with several commenters namechecking a phrase written by author Kayla Ancrum: "I pray nobody kills me for the crime of being small."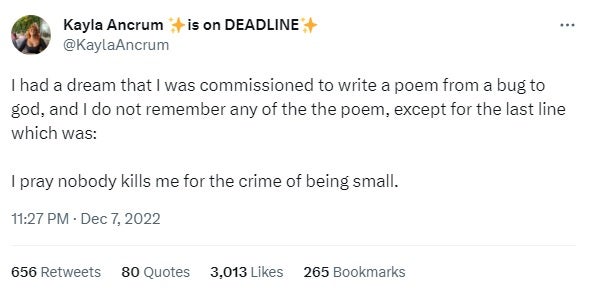 As the spider poem continued to spread, numerous TikTokers chimed in to say it made them cry, or forced them to think before killing bugs and spiders in their home.
"I'm so glad that "ten legs, eight broken" is reaching so many of y'all because these creatures are so genuinely beautiful & want to live just like any other animal & human" wrote one TikToker, posting a video of themselves holding a spider. "they mean no harm & are good for our environment."
Another simply wrote, "fck this poem" while showing themselves rescuing a bug from their house and releasing it outside.
To many TikTokers, "Ten Legs, Eight Broken" is so evocative that they now automatically associate it with the song @user68519586 used as background music: "Jacob and the Stone" from the Minari film score by Emile Mosseri.
"My brain everytime I hear this damn sound," reads the caption on a TikTok with almost 250,000 views, playing "Jacob and the Stone" before unveiling a screencap of the poem.
Needless to say, it's rare for a poem to achieve this level of viral fame on TikTok. Rarer still for it to be a poem by a little-known TikToker, rather than a quote from a famous work. But "Ten Legs, Eight Broken" clearly hit a lot of people where it hurts, encouraging them to see things from a spider's perspective – and rethink their own power over small creatures.
The Daily Dot has reached out to @user68519586 via TikTok comment.


We crawl the web so you don't have to.
Sign up for the Daily Dot newsletter to get the best and worst of the internet in your inbox every day.