Bad news for people who hold bikini porn fetishes: the two-piece "Teen Mom" Farrah Abraham wore during her now-infamous sex video with the porn star James Deen is no longer available on eBay. According to TMZ, the online auction house pulled the plug on the deal after bidding on the bikini had climbed to as much as $14,700, because of what eBay considers "health and hygiene concerns."
The crystal-encrusted bikini, worn at various points before, during, and after Abraham and James Deen had pretty gnarly sex on camera, first showed up on eBay Friday thanks to porn publishing house Vivid Entertainment. The two-piece came advertised "straight off her body and into your hands," and, according to TMZ, "show[ed] over signs of wear, including fake tan stains and glitter from Farrah's body lotion." 
The bidding began at $500. Surely then it was undervalued.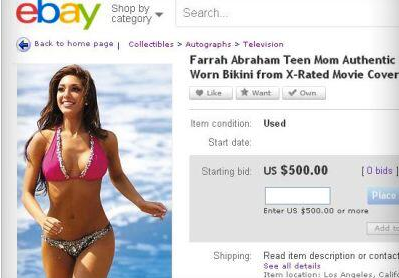 Throughout the weekend, fetishists who prey on bikinis that have been worn but not washed by D-level celebrities engaged in one of the great bathing suit battles of our time, but alas, no one would win. eBay supposedly sent Vivid an email on Sunday: "Our policy does not allow used clothing to be listed on the site unless the item has ben washed first."
We'll report back on any auctions as soon as Vivid throws that suit through the spin cycle.
H/T LAist | Photo via Farrah Abraham Official Fanpage/Facebook