Ted Lasso may be over, and it's been fascinating to see the enthusiasm around the Apple TV+ series flatline in season 3. Now a scene from this week's finale is being held up as an example of the show's decline.
The scene features the wedding of Coach Beard (Brendan Hunt) and Jane (Phoebe Walsh), at what appears to be Stonehenge, and the way it's lit is the first distressing part, giving it a flat MCU-greenscreen look.
"This is maybe the ugliest shot i've ever seen on any tv show ever am i being dramatic?" said writer @m1riamh, on a tweet that has more than 900 quote-tweets.
"Why are they photoshopped in so poorly. don't they have apple money," said one commenter.
"And roy kent being the only one looking normal because hes a cgi," said another, referencing a theory that actor Brett Goldstein isn't actually real.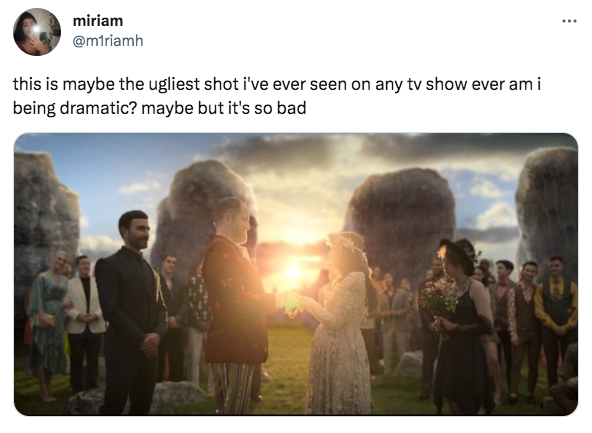 But once you start really looking at the scene, it gets worse. One viewer noticed that Keeley (Juno Temple) was inserted in a wider shot of the gathering, wearing an outfit from another episode. Also, Ted Lasso, the show's main character, isn't in the shot, which irked some viewers, though that's sort of explained in the final scene.
Continuity issues were pointed out elsewhere. Quite a few people also thought this looked like a scene from Once Upon a Time.
Some viewers read the wedding scene as a dream that Lasso's having, hence why he isn't there, but that doesn't explain why it looks so terrible. One commenter said that if the cast were "actually in hell," it would make more sense. When asked about the theory that Lasso is dreaming, cast member Hannah Waddingham told the Hollywood Reporter: "No, no, I hadn't thought of any of that. But I like that that's where you went."
This isn't the first time Ted Lasso, which initially received positive reviews as a feel-good Apple hit, got backlash in its delayed final season: A locker-room scene in episode 9, regarding the ethics of sharing nude photos without consent, was called out for its unrealistic dialogue and playing out like a "PSA."


We crawl the web so you don't have to.
Sign up for the Daily Dot newsletter to get the best and worst of the internet in your inbox every day.