The amateur sleuths on 4chan's infamous /b/ forum popped some Adderall and pulled an all-nighter, laying out photos of their suspect on a virtual corkboard, Homeland-style, with red lines connecting seemingly unrelated events and supporting players. Slowly, a narrative began to emerge. 
Taylor Swift, America's heartbroken country-pop girlfriend, is a /b/tard? It sure seems like it.
Click to expand: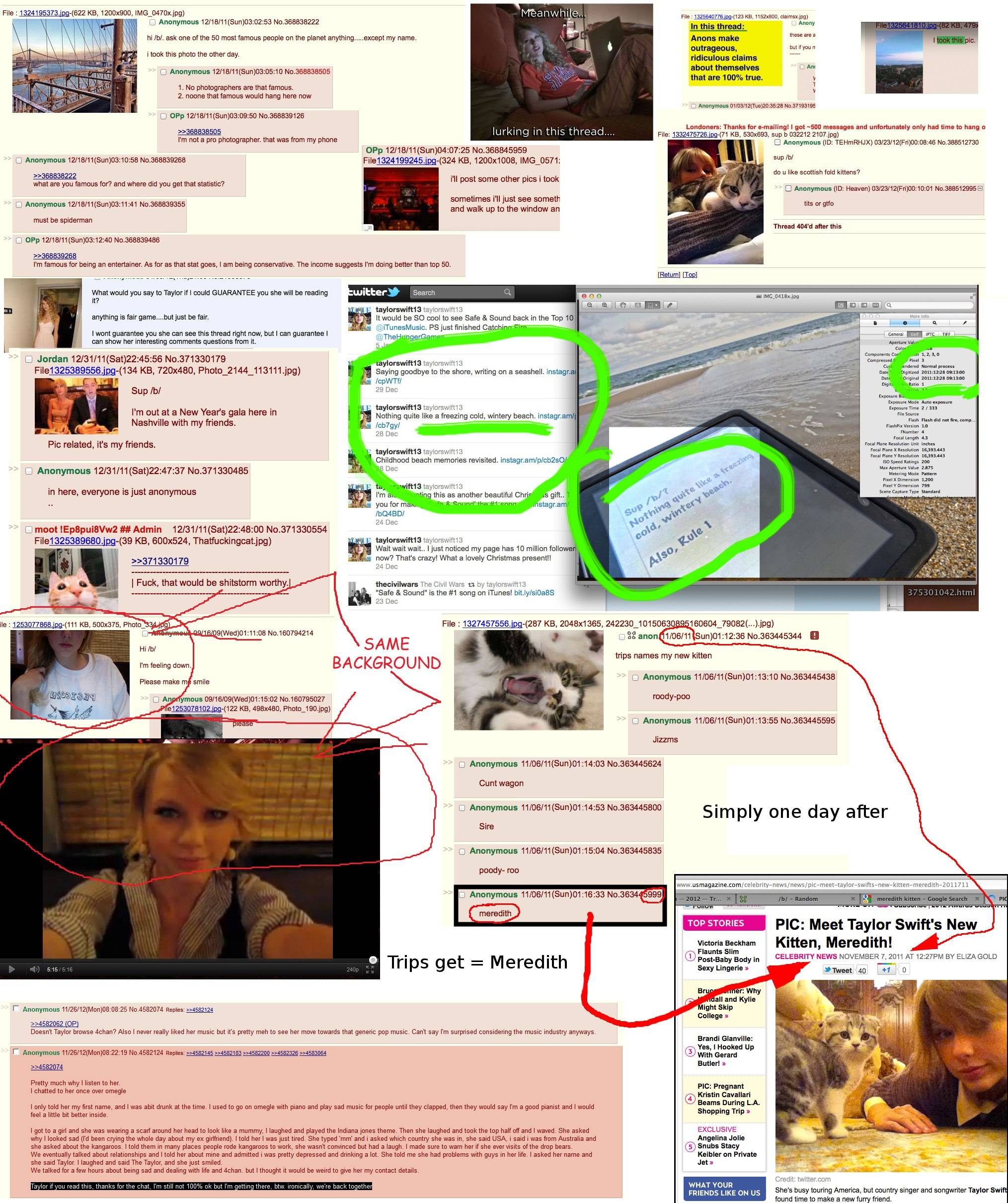 Here's a sample of the evidence: 
1) In November 2011, 4chan named an Anon's cat Meredith. A day later, Taylor Swift debuted her cat, Meredith. Since then, photos of Meredith have showed up on 4chan. 
2) Taylor Swift's face has also shown up on 4chan. "I'm feeling down. Please make me smile," one submitter, who does look a lot like Swift, wrote in 2009. Another submission shows the same background.
3) A /b/tard claims he once talked to a musician on videochat site Omegle. Her name was Taylor, and she was on 4chan.
4) A user asked /b/ what they'd say if they knew Taylor Swift would be reading it.
5) "One of the 50 most famous people on the planet" asking /b/ for questions.
6) Taylor Swift posted "Nothing quite like a freezing cold, wintery beach" to Twitter. The same day, a 4chan user posted the same thing.
None of these, on its own, is very compelling. It's more reasonable that a dedicated 4chan user has snatched images of Swift from her social media, done some minor Photoshopping, and slyly crafted the myth. It's all contributed to a vague kernel of an idea floating around the anarchic troll hub that übercelebrity Taylor Swift occasionally reads them, teases them with clues as to her identity, and postpones a big reveal. 4chan seems to appreciate the mystery, involving her in pranks of their own—like sending her to perform at a school for the deaf and rigging a contest so a "fat old creep" named Charles could smell her hair.
4chan's founder and overlord, Christopher Poole (a.k.a. moot), already told /b/ to shut up. He explains the photos can all be found online and that the screenshots are, in fact, Photoshopped, posted from an IP "that is definitely not her." He also tweeted that the user claiming to be him in the Swift diagram is an impostor.
Click to expand:

That won't stop 4chan fans on Reddit from speculating, though.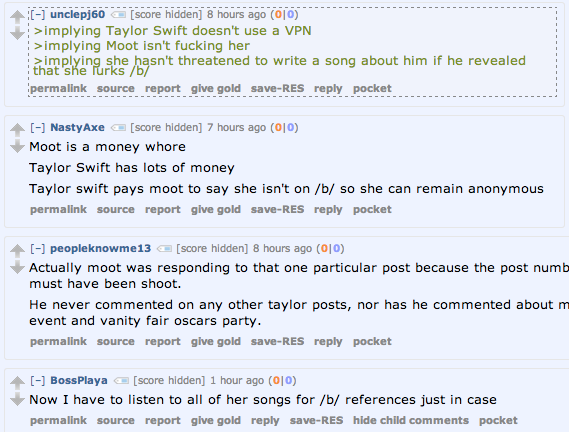 Photo via evarinaldiphotography/Flickr