A nurse in Switzerland is under fire for posting pictures of herself sitting next to a corpse, giving credence to the thought that Facebook has completely ruined human decency.
The nurse, whose identity has not been revealed, is accused of uploading the picture with herself next to the corpse of an old woman on Friday. The country's national nurse federation condemned the actions, saying it was "shocked and saddened."
Several pictures circulated on Facebook of the nurse in an elderly care center in St. Gallen, a small town near the Austrian border. City prosecutors are considering starting a criminal investigation regarding the incident. The specific location of the hospital was not released.
Splashed across a Swiss newspaper called 20 Minuten, the pictures were spotted by a reader who submitted them. The publication blurred out the faces of the corpse, the accused nurse, and Facebook users who commented on the album.
"Guess she is sleeping or dead…Hint I am soul taker," the caption read.
In another comment, the nurse added, "Yeah there time is up gonna send them to Hell where some belong the rest in the compost pit for fertilizers."
Some of her friends were shocked and dismayed at her posting, but she defended the album using a method that never seems to work.
"I can put up anything I want in my Facebook it's mine and people who doesn't want what I post they can juz fucked up and die," she wrote.
20 Minuten dug deeper into the nurse's Facebook profile, revealing that several of her other pictures showed her in Satanic garb and "cavorting in sado-masochist poses." One picture is of a wall full of BDSM toys, including leather whips.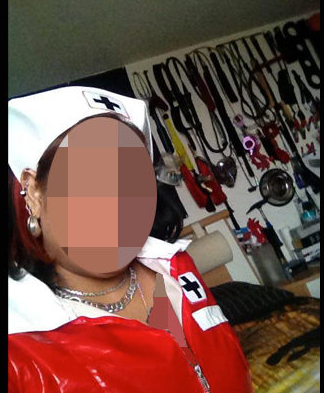 The Swiss nurse federation told ATS news agency the incident is a microcosm of the broader problems plaguing the country's health system.
"To be able to prevent the repeat of such a case, there is a desperate need for an active professional register and attractive working conditions to counteract the acute shortage of staff," the organization said.
"Whether this was a qualified nurse, a professional carer or a simple assistant, it is clear that people like this should not be in the health sector."
Photo via 20Minuten/Facebook