A DJ in Seattle spent two months of 2012 profiting off of the verbal genius of Kimberly "Sweet Brown" Wilkins and her legendary post-apartment fire interview by selling a mashup song containing snippets of the interview on iTunes.
But Sweet Brown "ain't got time for that," and she doesn't think it's fair that anybody made money off of the things that came out of her mouth. So Sweet Brown's suing Apple Inc., on the pretense that the worldwide tech company did not have permission to benefit from the musical mashup. And "Lord Jesus," Sweet Brown is hoping this is a lawsuit she'll win.
Wilkins' lawsuit, which she filed in conjunction with co-plaintiff Sparkell Adams, who court documents describe as Wilkins' business manager, accuses Apple Inc. of facilitating the sale of a Bob Rivers Show song that contains a number of snippets taken from the KFOR interview that first made Sweet Brown famous.
That interview, conducted in early April 2012 after a fire swept through her Oklahoma City apartment complex, found Wilkins offering such memorable musings as "I didn't grab no shoes or nothing," "I got bronchitis," and "Ain't nobody got time for that," an interview kicker that's helped the original YouTube video of the interview get seen more than 12 million times.
Members of KJR's Bob Rivers Show in Seattle spoke with Wilkins the day after her interview went hit the Internet. Two days later, they posted a song onto iTunes called "I Got Bronchitis," which allegedly sampled Wilkins' interview without her proper permission.
The song stayed for sale on the Apple-owned music store until June 29, when courts documents attest that it was removed, though the source of that removal is unclear. (A mirror copy that once existed on YouTube has since been deleted, as well.)
Initial reports claim that Wilkins and her co-plaintiff were originally seeking recompense in the range of $15 million, including a $7.5 million payment to recoup punitive damages, but that number's since changed, and the lawsuit's scope is currently unspecified.
The two have not currently set up a relationship with any attorneys, though their lawsuit reads clearly and quite matter of fact: "At no time did Sweet Brown consent or agree to have her name, likeness, voice, statements, photograph used in connection with any products, songs, video productions, merchandise, goods, advertisements, or solicitations for merchandise, goods or service," it reads, according to court documents.
To that argument, we'll see if the judge has got time for that.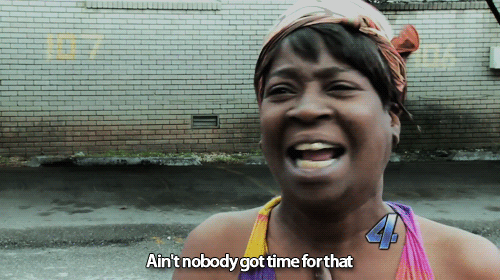 Photo via Lucas Marr/YouTube