Pro tip: If you're seeking drugs, don't solicit Twitter for help.
"Aspiring mechanic" Sunith Baheerathan, 20, was apparently looking for some pot to get him through the day at a Vaughn, Ontario, auto shop.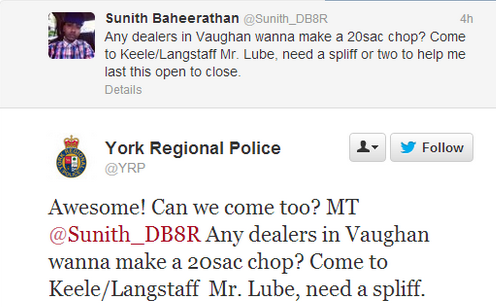 Screenshot via Imgur
Baheerathan, who's Twitter handle trended locally, tried to brush off the incident.
I just caused a huge outrage on Twitter over one tweet. Y'all really gotta stop taking tweets serious lmao

— Sunith Baheerathan (@Sunith_DB8R) August 13, 2013
It's not the first time York Regional Police have scolded Twitter users for drug use. YRP told off a Vaughn-area woman named Brittany last year. Oddly, she actually offered Baheerathan some words of wisdom.
@BRITTVNY I'm in fucking tears. I just caused a whole controversy over one a tweet. People really do take tweets serious

— Sunith Baheerathan (@Sunith_DB8R) August 13, 2013
@Sunith_DB8R they'll be gone in no longer than a week lmfao they're just busting your balls

— Bp (@BRITTVNY) August 13, 2013
Update: On Wednesday afternoon,  CBC News confirmed that Baheerathan was no longer employed by Mr. Lube. He's since deleted his Twitter account. 
H/T Canada.com | Photo via eBay