This Super Bowl Sunday, one particular group of redditors will be rallying the Baltimore Ravens with their unique battle cry: "Ca-Caw! Ca-Caw!"
For that, the Ravens can thank the 1,500-plus subscribers to r/birdteams, a subreddit devoted to the five NFL teams that use birds as their mascots. Since the community's October 2012 debut, the Ravens, Falcons, Cardinals, Seahawks, and Eagles haven't had to exclusively rely on support from, respectively, Baltimore, Atlanta, Arizona, Seattle, and Philadelphia.
Moderator albinobluesheep, a self-proclaimed Seattle Seahawks fan who created the subreddit, drew inspiration from fans of "bird teams" who were making their presence known elsewhere on the site.
"About halfway through the season, I started seeing fans with 'Bird team' flairs in the game threads of other bird teams jokingly throwing out, 'Go Bird team!' because they didn't have a team in the game but were watching it anyway," albinobluesheep explained to the Daily Dot.
"I decided to see if anyone had started a r/birdteams, and when no one had, I snatched it up, and decided to try my hand at making a community."
Attention to the subreddit skyrocketed when it was mentioned by fans of a similar community that was created a month later.
"It wasn't REALLY popular until r/CatTeamBrotherhood was created a little under a month later, and declared themselves our rivals, as birds and cats are in real life," albinobluesheep revealed.
r/CatTeamBrotherhood, a subreddit devoted to the NFL's cat mascots, enjoyed instant popularity upon creation. It didn't take long, however, for r/birdteams to match, and eventually outnumber, its subscribers.
Other mascot-based communities that were created in r/birdteams' image include r/ungulateteams, r/theplunderhood, and r/EvilLeagueofEvil. The latter community will be supporting the Ravens' Super Bowl XLVII opponents, the San Francisco 49ers.


Photo via Splanky222/imgur
While community members love all the bird teams, most appear to flock to the Seahawks in particular. An online poll conducted by albinobluesheep revealed that roughly 35% of members identified with the Seattle team, 18% favored the Eagles, Falcons, or Ravens, 7% simply favored "Other," and only 3% showed support for the Cardinals.
"The Cardinals fans stand out, because there are so few of them, so when they comment, it's a 'rare' sighting," albinobluesheep said.
Like any football community, r/birdteams diligently followed the 2012 NFL season. Weekly predictions and stats were shared, losses and dreadful records were mourned, and, of course, victories were celebrated. The subreddit even took a page from fantasy football's playbook and assembled "bird dream teams." However, one moment stands out from the rest as far as r/birdteams is concerned: Each time the mighty New England Patriots squared off against a bird team, they were handed a defeat.
"The fact that the common denominator in those 5 Patriot losses was the other team having a bird for a mascot would have been ignored any other year, but it's a point of pride instead," albinobluesheep said. "Even over in the Patriots community there was a post titled 'WHAT IS IT WITH BIRD TEAMS?!' or something like that."
Fellow moderator CoCo26 agreed.
"Pretty crazy that the Cardinals and Eagles managed to beat one of the top teams in the league, even if it was preseason," CoCo26 stated.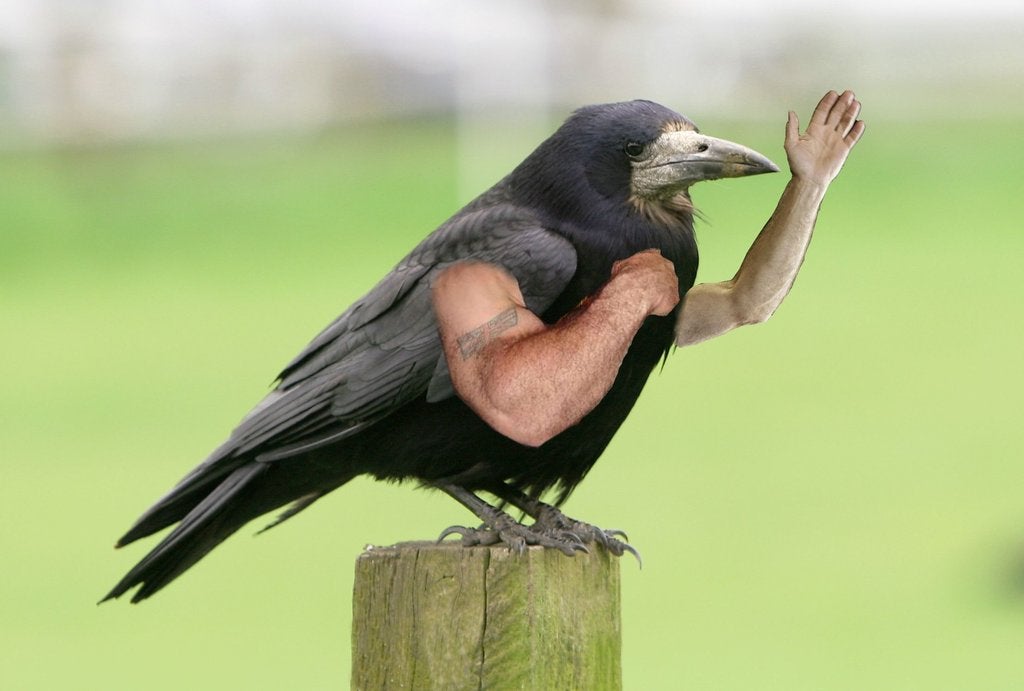 Photo via aquaknox/imgur
Obviously, anyone in r/birdteams will tell you that the Ravens will best the 49ers during the big Sunday showdown. But are there any official predictions from the community? Certainly not from albinobluesheep:
"Seeing as Nate Silver managed to mis-predict BOTH teams in the Super Bowl, I don't have a chance at getting the score right. Not even going to try and touch that."
Regardless of which team leaves Super Bowl XLVII toting the Vince Lombardi Trophy, r/birdteams already scored a touchdown by giving football fans something new and unique to cheer.
"I personally have really enjoyed having 4 new teams to root for this season, and I think that is what makes these 'Mascot based' communities fun; it gives (for me at least) you an excuse to enjoy watching more football," albinobluesheep said.
Finally, with the teams of the NFL expanding almost every year, what would r/birdteams like to see as the latest addition? Albinobluesheep's suggestion would place the new team right in the city hosting Super Bowl XLVII: New Orleans.
The NBA already took the name: the New Orleans Pelicans.
Photo via Keith Allison/Flickr