Rep. Steve King (R-Iowa) posted a political meme on his official Facebook page over the weekend that fantasized about a second Civil War taking place in the United States.
The meme shows a number of states arranged in a way that look like two people—one blue and the other red—fighting. The two sides are put together using states that traditionally vote for Democrats or Republicans.
"Folks keep talking about another Civil War," the meme reads. "One side has about 8 trillion bullets, while the other side doesn't know which bathroom to use."
In his post, King wrote: "I wonder who would win…." with a smirking emoji.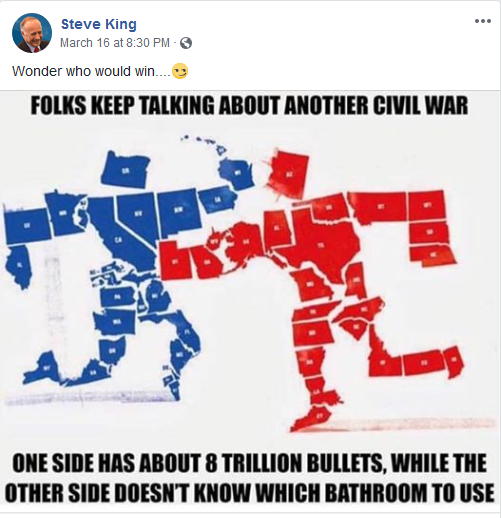 The meme clearly had a conservative bent, and the bathroom quip is about transgender bathroom use, something the representative has spoken out against in the past.
However, as people quickly pointed out, King's own state—Iowa—was part of the blue figure, so the representative's Facebook post was implying he would be rooting against his own state in this hypothetical Civil War.
When @SteveKingIA tries to threaten a Civil War with a meme but doesn't realize his own Iowa is on the blue side…….. pic.twitter.com/wGqH4a6wjx

— Seth Weitz (@sethaweitz) March 17, 2019
King, in June 2018, implied in a tweet that the U.S. was heading toward another Civil War.
Earlier this year the Iowa lawmaker was criticized after he appeared bewildered in a New York Times interview that the terms white nationalist and white supremacist "became offensive."
In response to his remarks to the Times, King was removed from his committee appointments in early January.
READ MORE: