A long, long time ago in a galaxy far, far away, the king found himself unable to escape the dangerous peril known as "checkmate."
At least, that's how things went down in one family car.
"Avisolo" stumbled upon a unique way to not only solve his son's boredom on long car rides, but also teach him the strategic skills from a classic game. Using figures from two of the LEGO Star Wars "Battle of Hoth" sets, he created a makeshift chessboard to teach his son the ins and outs of the time-honored game of chess.
"LEGO Star Wars Chess puts you in command of the Rebel Alliance or the evil Galactic Empire! As you craft your strategy at each step, you move your forces to go forth and do battle," avisolo wrote on LEGO Ideas, a board where LEGO enthusiasts submit ideas for new sets to the company for consideration.
On the Rebels side, Yoda and Princess Leia stand in place of the king and queen, with Rebel troopers acting as pawns. On the Empire side, Darth Vader and Juno Eclipse are the king and queen, while TIE Pilots act as pawns. Sadly, it doesn't look like the back line of the Rebel side will be flanked by Wookies instead of rooks (rookies?) as is show in the photo below. Instead, if Lego decides to adopt the project, Avisolo's plan is to have Chewbacca does stand in place of a knight.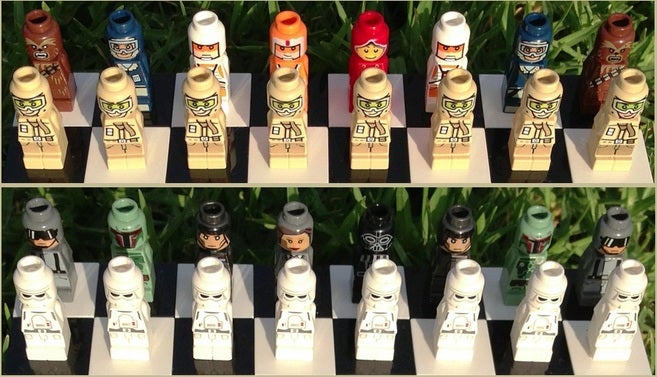 Image via LEGO Ideas
Avisolo would love to see the LEGO Star Wars chess expand beyond his own personal car.
"Let's make a LEGO Star Wars Travel Chess Set to get young minds excited about playing the royal game, at home and on the road!" he wrote.
So far, he has almost 2,500 people (out of a necessary 10,000) supporting the project, with close to a year remaining to gather the rest of the support.
But LEGO has already made an official comment on the page, which could certainly snap together the project's necessary pieces.
"A clever way to keep kids occupied in the car/plane trips while teaching them the 'royal game'! Great job finding all those LEGO Microfigures and testing the game out," the company wrote.
Until then, may the horse be with you.
Image via Julian Fong/Flickr