Killed off in the season premiere, T'Kuvma still looms large in Star Trek: Discovery. Even before he kickstarted the Klingon/Federation war, he played a pivotal role in the lives of Discovery's lead Klingons, Voq and L'Rell. In the show's first tie-in comic, we learn more about his backstory.
In "Battle at the Binary Stars," we saw a brief glimpse of T'Kuvma's childhood; an outcast among other young Klingons. After a brief and slightly clunky intro in the present day, this comic continues that story. Stumbling onto the wrecked Sarcophagus Ship of his ancestors, the young T'Kuvma meets his destiny.
Writer Mike Johnson and artist Tony Shasteen—a familiar team from IDW's other Star Trek comics—joined forces with Discovery screenwriter Kirsten Beyer, introducing a story steeped in Klingon lore. As a four-part miniseries, it's a lot shorter than the fleshed-out backstory we saw in Desperate Hours, Michael Burnham's first tie-in novel. But if you're into Klingons, this comic may fill the void while you wait for the show to return.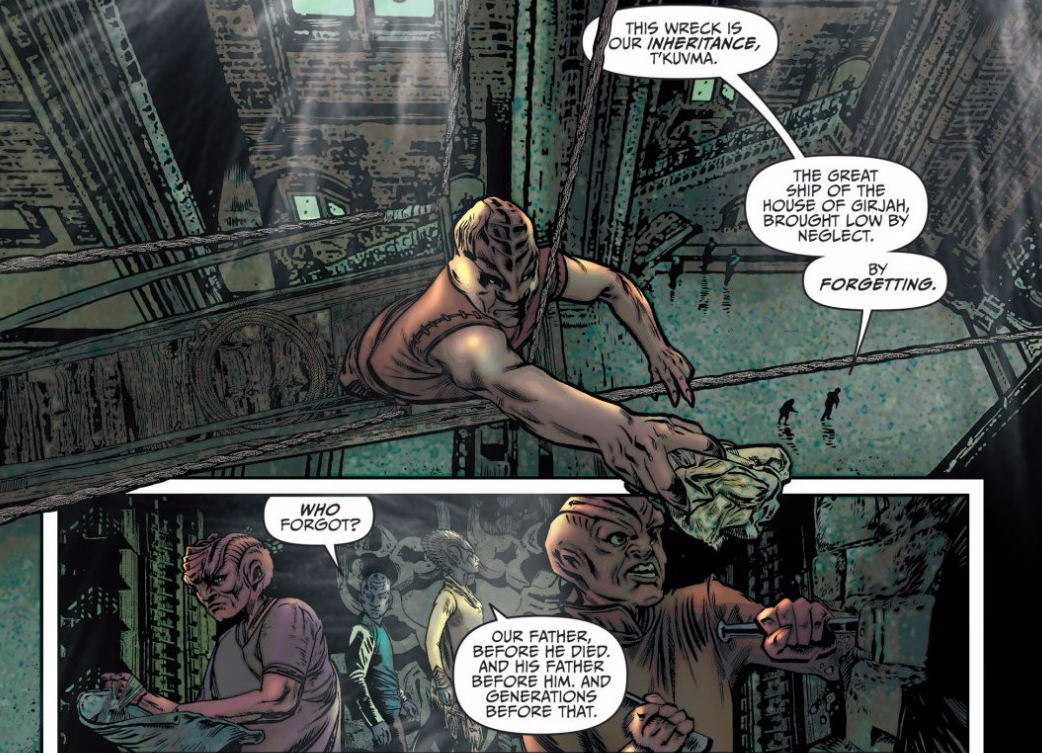 As an adult, T'Kuvma wanted to unite the Klingon ruling families into a single force, motivated by war and cultural pride. Subtitled The Light of Kahless, this comic explores his political origins as the son of a decaying House. As fans may infer from the title, it also ties into the Klingon myths we saw in earlier Star Trek shows.
While the story leans a little heavily on characters explaining things to T'Kuvma, that's not such a bad fit for Discovery's poetic Klingon dialogue. These characters are obsessed with history and tradition, and we can already deduce their differing attitudes to Klingon honor. T'Kuvma's father is materialistic and proud, but others look to the stars to determine their ancestral identity.
Alongside T'Kuvma and his more educated sister J'ula, the most important character is the Sarcophagus Ship, moldering on their family estate. It exists a metaphor for their family's storied past, and for Klingon culture as a whole. Beautiful but derelict, it's waiting for a true believer to arrive and fix it up. Issue #1 is just a prologue to that story, but it already feels like an interesting addition to Discovery's worldbuilding, adding more weight to the Klingon scenes in earlier episodes.
Issue #1 came out on Nov. 29, with new issues published monthly.