Star Trek: Discovery returns in January 2018 for the last six episodes of season 1. Or as CBS calls it, "Star Trek: Discovery Chapter 2."
The second chapter continues from the mid-season cliffhanger, with the U.S.S. Discovery jumping to an unknown location. Instead of arriving at a Starfleet base, the spore drive glitches (possibly thanks to some secret interference from Captain Lorca), and they wind up… somewhere else. But where? Here's everything you need to know about Star Trek: Discovery Chapter 2.
Where is the U.S.S. Discovery in Star Trek: Discovery Chapter 2?
Using the spore drive developed by Lt. Stamets, the ship can transport almost instantaneously across the galaxy. It may also be able to travel to other universes, an idea that Lorca suggested in the mid-season finale.
Thanks to the time-loop episode, we know that Stamets is becoming detached from everyone else's reality. The more he uses the spore drive, the more disoriented he becomes. That includes a couple of moments where he seemingly thinks he's in the future or another universe, mistakenly referring to Cadet Tilly as "Captain." And who could forget the scene with his creepy reflection in the mirror?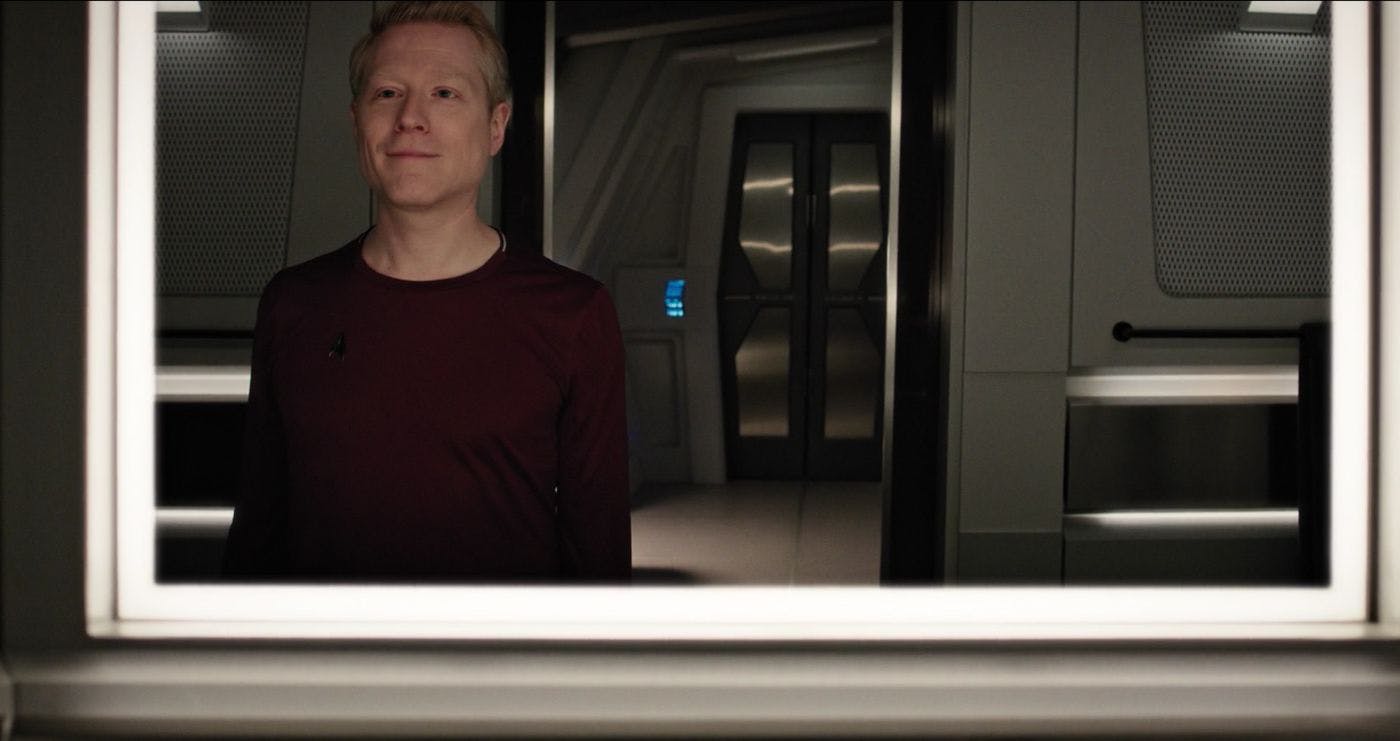 The ship could just be in an uncharted location, but the smart money's on an alternate reality. The most popular theory is the dystopian Mirror Universe, partly because it has an ongoing role in Star Trek canon, and partly because Discovery's creators kind of confirmed it already. At New York Comic Con, producer Alex Kurtzman said "we are going to be doing some episodes about the Mirror Universe," saying they would pay homage to "the original."
If you want to do a little background research, we recommend watching the Original Series episode "Mirror, Mirror," where this all began.
Wherever Chapter 2 takes place, it may mark the end of Discovery's Klingon War storyline. In the mid-season finale, we saw the Klingon Ship of the Dead destroyed with Kol onboard. So while the war continues for decades in the Star Trek timeline, they've concluded the conflict that began in the season premiere. The show could move on to an entirely different premise, exploring alternate universes with L'Rell onboard as an unexpected antagonist.
Star Trek: Discovery Chapter 2 cast
The main cast will return for Chapter 2, although we won't be surprised if someone gets killed off. Otherwise, we can expect more supporting cast announcements over the next month or so. The season finished filming in October, but CBS has remained characteristically secretive about any new members of the cast.
There's still a lot of speculation about Javid Iqbal, the actor who (allegedly) plays the Klingon zealot Voq. With Kol and T'Kuvma dead, Voq and L'Rell are our two main Klingon characters—and we haven't seen Voq in several episodes. Many fans believe that Voq is now disguised as the human Ash Tyler, and "Javid Iqbal" doesn't actually exist. It's possible that Shazad Latif plays both characters, and the crew are in for a nasty surprise about the charming Lieutenant Tyler.
Star Trek: Discovery Chapter 2 trailer
Episode 10 is titled "Despite Yourself," and the trailer is already here.
How to watch Star Trek: Discovery Chapter 2
The premiere of Star Trek: Discovery drove a record number of subscriber signups for CBS All Access, the network's streaming service, and let's be honest: The show is really the only reason why most people would consider using it—especially with a $5.99 per month price tag. CBS All Access will likely be the only way to watch in the U.S.
If you're in Canada, Star Trek: Discovery aired on the streaming service CraveTV, and on the sci-fi channels Space (in English) and Z (in French). For international viewers, you'll likely still be able to watch new episodes 24 hours after they air stateside on Netflix.

Star Trek: Discovery Chapter 2 premiere date
Star Trek: Discovery returns on Jan. 7, 2018.
While you wait for the first episode to arrive, you can find our recaps here: Episodes one and two, three, four, five, six, seven, eight, and nine.