In a new video, Steve-O shows that while he's got a lot going for him, he's still up to some of his older shenanigans.
While the Jackass star dealt with drug addiction and mental illness in the past, he appears to be in a good place. He recently bought a house, his friend Dave England is a father, and he's starring in a movie with Jessica Alba, Hailee Steinfeld, and Game of Thrones actress Sophie Turner.
Steve-O joined the cast at a recent screening of Barely Lethal, and for some reason, he had Turner kick him in the nuts. Despite all appearance of good fun, we can always have the headcanon that Sansa's getting some sort of revenge against Littlefinger or any of the people who wronged her in King's Landing.
No major harm—aside from the obvious—was done, and it looks like she doesn't regret doing it one bit.
@steveo this is my proudest moment!!

— Sophie Turner (@SophieT) October 16, 2014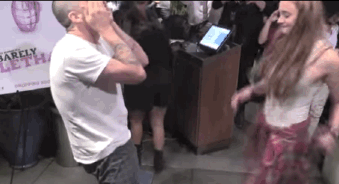 Screengrab via YouTube