"If you play this haunted Sonic game, you'll die."
It's not the tagline to an especially nerdy sequel for The Ring, but it is the idea behind an infamous internet creepypasta known as Sonic.exe.
Creepypasta is internet slang for any urban legend that originated from online sharing. It stems from "copypasta," which is a portmanteau of "copy/paste." Creepypastas are the spooky version of text copied and sent around the web, with Slenderman perhaps the most famous example.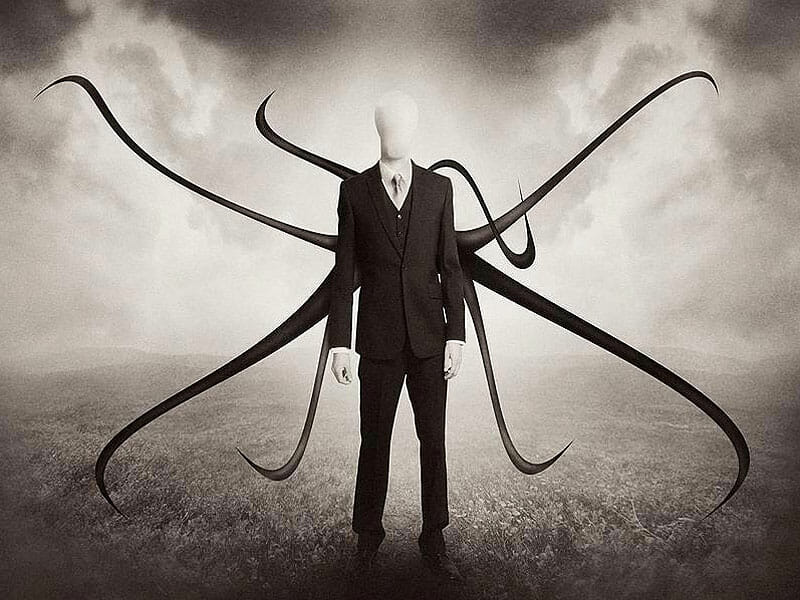 The story of Sonic.exe starts in 2011, when a web user by the name "JC the Hyena" posted a short story to the Creepypasta Wiki that described a disturbing and violent Sonic game his friend supposedly mailed him. It came with a warning that he should not play it.
But he does, of course, and the game quickly becomes harrowing:
The first thing I noticed that was out of place was when I pressed start, there's was a split second when I saw the title image turned into something much different, something that I now consider horrifying, before cutting to black.

I remember what the image looked like in that split second before the game cut to black; The sky had darkened, the title emblem was rusted and ruined, the SEGA 1991 was now instead SEGA 666, and the water had turned red, like blood, except it looked hyper-realistic.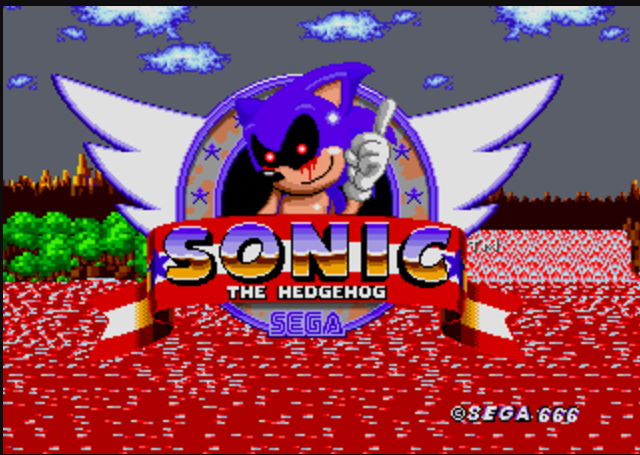 If you want to know the full story, all 4,149 words of JC the Hyena can be read here. The short version is that the author plays the game, titled "Sonic.exe," and finds three levels in which Tails, Knuckles, and Dr. Eggman are each hunted down and killed by a demonic version of Sonic the Hedgehog. At the end of the story, the author turns to find a Sonic plush toy staring at him from his bed, blood coming from its eyes.
The combination of "Sonic the Hedgehog" and a spooky story was too much for the internet to resist, and soon it began to find an audience. It inspired hundreds of illustrations of the demonic Sonic on DeviantArt, a place that's certainly no stranger to weird Sonic fan art.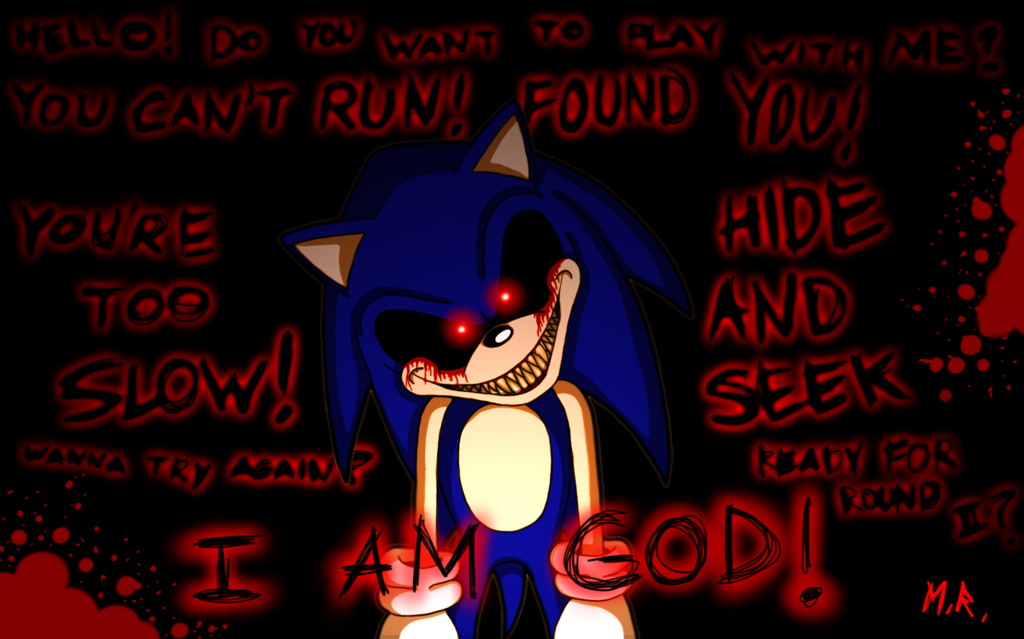 In 2012, Sonic.exe's popularity spiked when a user named "MY5TCrimson" released a playable game version of Sonic.exe on the indie-game developer site GameJolt, designed exactly as the story described it. A few months later, YouTube's most popular vlogger, PewDiePie, uploaded a walkthrough video of MY5TCrimson's game, introducing the creepypasta to millions of people.
As with anything that becomes popular, a backlash was inevitable.
That's where this story takes a tragically amusing turn. In January 2014, only a few months after Sonic.exe's PewDiePie introduction, the Creepypasta Wiki administrators decided to delete the story from their website, stating that it was "badly written" and "had too many cliches."
READ MORE:
Everyone's a critic, right?
But JC the Hyena had a taste of internet fame and wasn't quite ready to relinquish it. He published an angry blog post calling for all Sonic.exe fans to revolt.
His full rant can be read here, but here's a taste of his vitriol:
"As you can see I am FURIOUS with the fact that my masterpiece, which has won the hearts of millions and has made a massive impact on the internet, is being brought down by a bunch of jealous, arrogant, retarded FURRY-HATERS.

BUT.

That does not mean I am just going to sit down and take this lightly.

NOOOOOOPE NOPE NOPE NOPE.

They have been messing with the bull, and now they've called out the horns!

Listen everyone, I need your help with this. We are at WAR here. I want every Sonic.exe fan who is reading this to get the word out!"
Talk about a surprise twist. Turns out the author isn't merely a Sonic fanfic writer; he's also a furry. Maybe we should've seen that coming with his "JC the Hyena" handle.
The post was reinstated, and now Sonic.exe continues to live on both as the playable game version on GameJolt, and as a cautionary tale about not letting internet fame get to your head.
It's also now one big joke.
But if you are still spooked, go make sure your Sonic plush toys aren't really bleeding from the eyes.