Copywriter Matt Bull worked for Dallas ad agency the Richards Group for 16 years before he struck out on his own. His first solo commission was a billboard for a fairly new West Dallas restaurant called Chicken Scratch, which promptly went viral on Reddit last month. The accompanying art, by illustrator Elliott Park, gave Bull's matter-of-fact message a slightly menacing, cartoonish feel.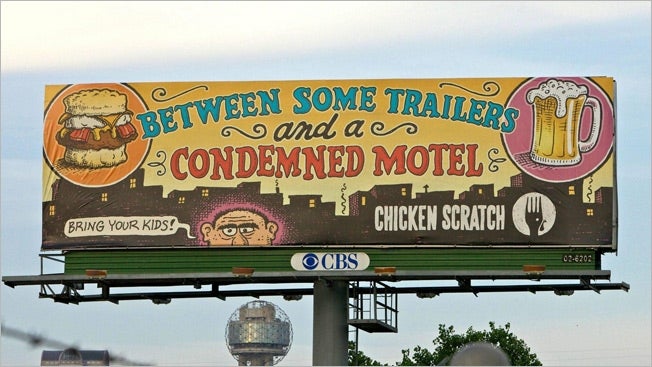 In the wake of this viral fame, corporate radio monolith Clear Channel offered Bull a month of free digital ad space, so he created the mysterious URL slothpunchclub.com, which can now be seen on billboards around Dallas. "I had literally 10 pages of apocalyptic sloth URLs, and that one just made [me and my friends] laugh the most," Bull says.
But wait, there's more. On his website, he goes on to explain that the mouthful of a URL could be yours, if you're creative enough. Bull is holding a contest to hand over the URL to whomever has the best idea for it: 
"It could be a online graphic novel, a flash game hub, a text-based MUD, a collection of skewed illustrated poems disguised as a children's picture books, a poorly written blog about second-tier sororities, an elaborate mythos for sloth-based fantasy neckbeards. Those are some free starter ideas. It would even make an excellent base for spreading malicious trojans. Not my business, frankly."
A week later, Bull says he's been getting about a dozen pitches a day. "I got a lot for web comics," he adds. "I got one for an interview site, but I don't think it has anything to do with sloths. As long as it entertains me, I'll consider it." (Note: Pitch does not necessarily have to be sloth-related.)
Bull will announce a winner around July 18, so if you want to be the owner of slothpunchclub.com, act now, and send him an email via the address on his page, preferably with a pitch under 100 words. As inspiration, here is one of Bull's online ads he did for Summer's Eve's new product launch in 2011 (possibly NSFW). Seems like a rallying cry we need in 2013, no?
Art via Elliott Park/departmentofpersuasion.com