As restaurants have begun to open back up across the country, diners should keep in mind that your servers are literally putting their lives on the line to wait on tables. Unfortunately, that message was lost—to put it as gently as possible—on a Texas couple who went out for Tex-Mex over the weekend, in what we can now call the great Shredded Cheese Incident of 2020.
On Saturday, June 27, a man named Jason S. Vicknair, who hosts something called the "Opinionated Much?" podcast (which ironically boasts a "huge passion for sports and topics that ruin family dinners") tweeted his displeasure with the service at a popular chain restaurant.
"[Mi Cocina Tex-Mex] My wife, date night after 3+ months locked up on quarantine. Waiting for shredded cheese as it's the only way she can eat fajitas," he wrote, along with a sad photo of said wife. "We've asked 4 people, going on 18 minutes now. Just unreal at Allen, TX location. We gotta quit blaming #COVID19 for crappy service."
Shredded cheese meme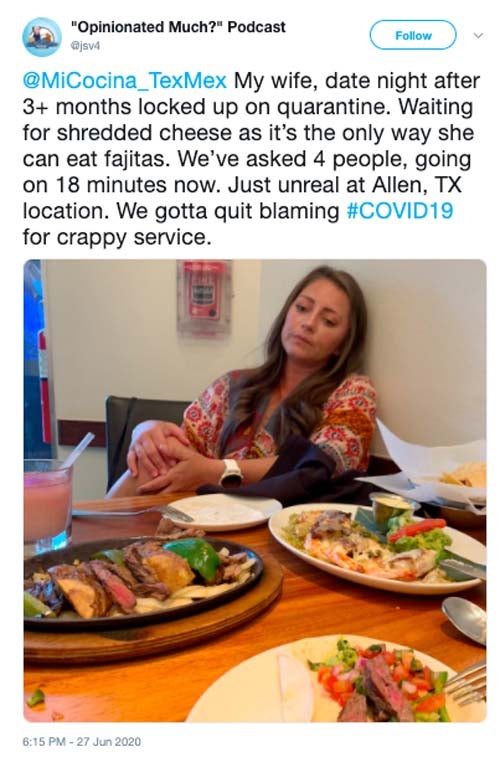 Now, first things first. It's pretty doubtful that his wife has some kind of rare, highly-specific medical condition that makes it impossible to digest a sizzling plate of steak, peppers, and onion on flour tortillas without the aid of shredded cheese. In fact, the only condition that comes to mind in this scenario is "literally being a toddler."
Aside from that, pouting over having to wait for an accompaniment that does not normally come with your meal (or at least, according to the Mi Cocina menu) is dubious at best, regardless of a global pandemic. But especially, in this case, it seems perfectly reasonable to blame a global pandemic for your "crappy" service.
So it should come as little surprise that Vicknair deleted his tweet after people began ridiculing it, but not before it went viral and became a full-blown meme as people began drawing absurd connections.
One person even painted the damn thing:
And, of course, the "Trump yelling at kid mowing the White House lawn" meme was evoked: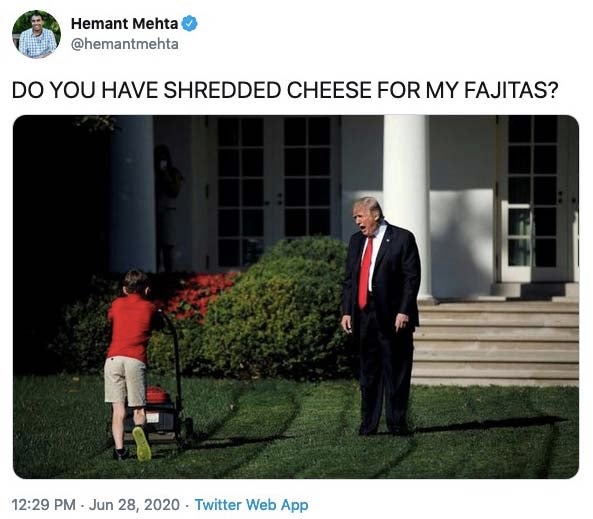 The meme also collided with the St. Louis couple pointing guns at protesters memes: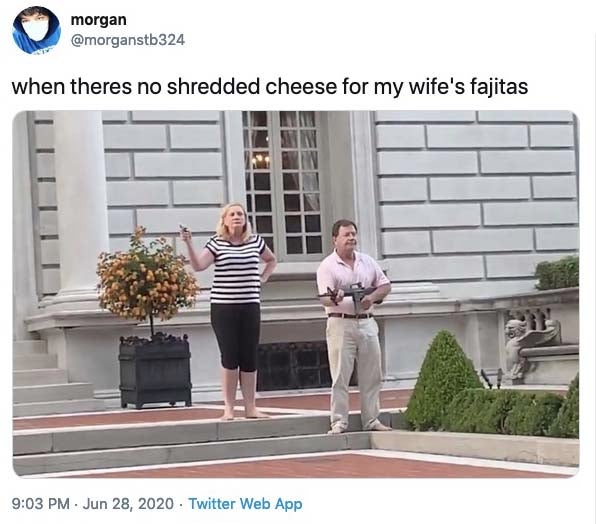 The meme got a bit too real for Twitter user Ryan Perry, who tweeted an image from the "nacho" sketch from Netflix's I Think You Should Leave with Tim Robinson, only to have people think it was actually his wife that didn't get her shredded cheese.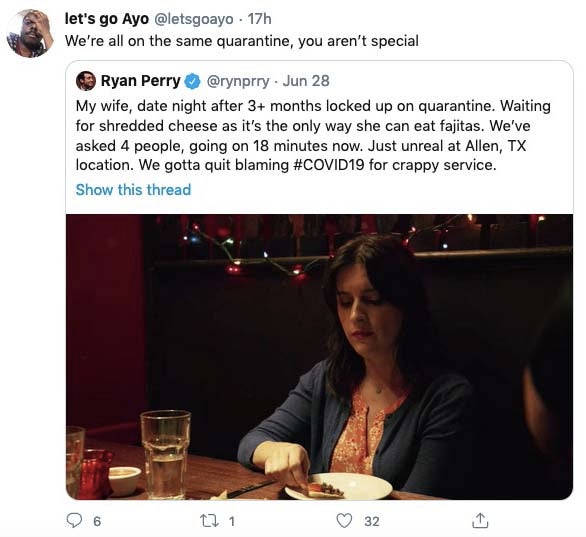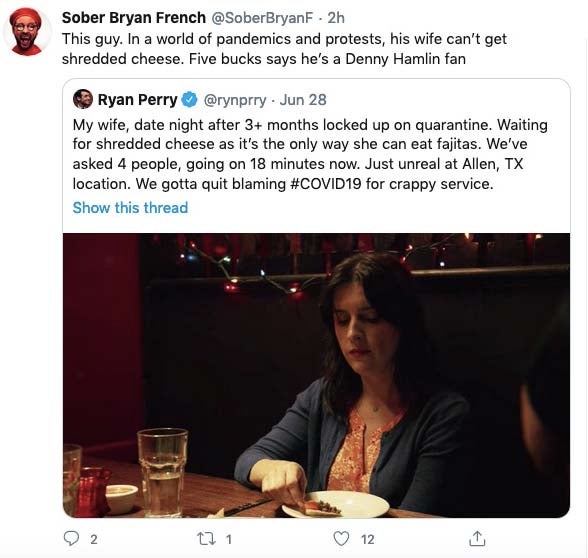 Even the actress in the sketch, Lily Sullivan, weighed in: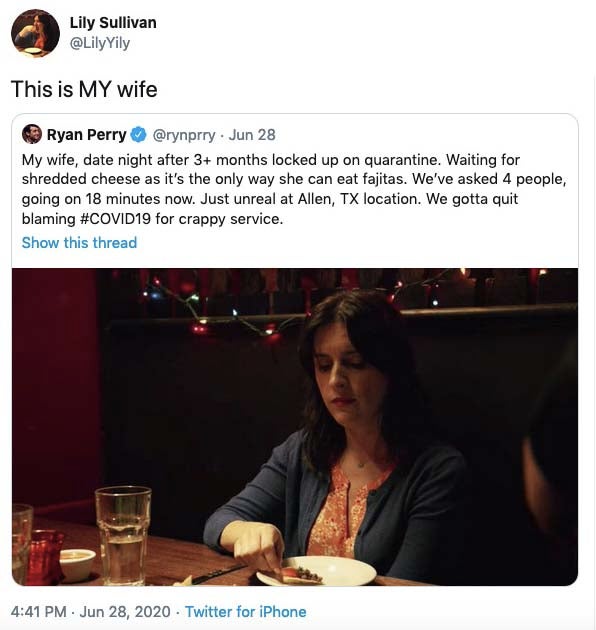 It could be a long time before science develops a vaccine to put an end to this thing, so in the meantime may we suggest keeping a personal bag of shredded cheese on you at all times. Your fajitas, and wife, will thank you!
READ MORE: