Warning: This story may not be safe for work or life.
The first time I ever sent someone some shit was when I was 19 years old and living in South Carolina. The victim was an acquaintance of mine, someone who'd gotten into a scuffle with one of my roommates that summer one night.
"Throw some shit on his car," I told the roommate, Danny, an altogether empathetic dude who graduated from college and now wears a suit to work each day. He pulled out a napkin, scraped some dog poop off the edge of the lawn, and spread it onto the windshield of the aggressor's Jeep Cherokee.
The second time I ever sent someone some shit—or tried to, at least—was two weeks ago, mid-April, for all sorts of other reasons.
This round I actually liked the guy; he's a coworker of mine here at the Daily Dot, Mike Fenn, an energetic writer who rarely backs down from a challenge. And the shit, while just as disgusting and stanky, was hardly picked up off the side of the street.
It was purchased on the Internet, for the plus-shipping-and-handling cost of $21.90.
I found ShitSenders.com a few weeks ago when an editor sent it my way as a gag, but the site's been running for years. (A second iteration exists as PoopSenders.) It's "the ultimate gag gift," the site's copy professes, "sweet revenge at its finest."
Just a few clicks and a quart of shit is off and running to whomever it is that you'd like to shower with poop: your wife, your boyfriend, your boss, your neighbor. "To the teacher that gave your son or daughter a D," ShitSenders suggests. Here you go, teacher. Go on and have yourself some shit.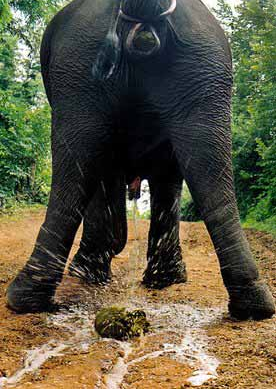 ShitSenders.com is a cut-and-dry website, one blessed with little more than an FAQ and an order form. "Guaranteed anonymous," it boasts. "We have several varieties of shit that we can send."
To that effect, ShitSenders actually ships three—cow dung, elephant crap, and link after link of brown gorilla shit. You can buy them in two sizes: by the quart or by the gallon. I wanted to send Mike a quart, and the elephant crap looked the best.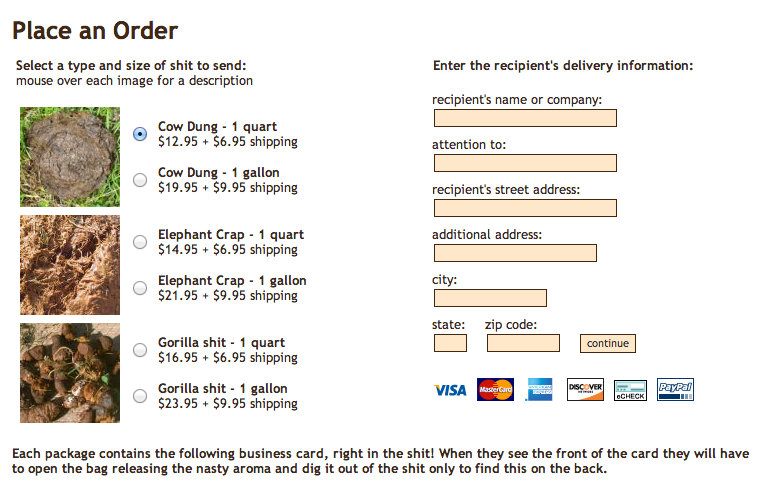 I purchased the shit sample through PayPal and was told to wait one week. "Mike, grab pictures," I pleaded. A pile of shit in your mailbox! I was excited. We all were excited.
But on the eighth day, ShitSenders' shit had not shown up.
Another week passed. I contacted ShitSenders via its Contact page, let the site know about the delay. "I want my money back," I wrote. I couldn't tell them that they ran a shit business. They do run a shit business. That's part of the point. I never heard back from them, anyway.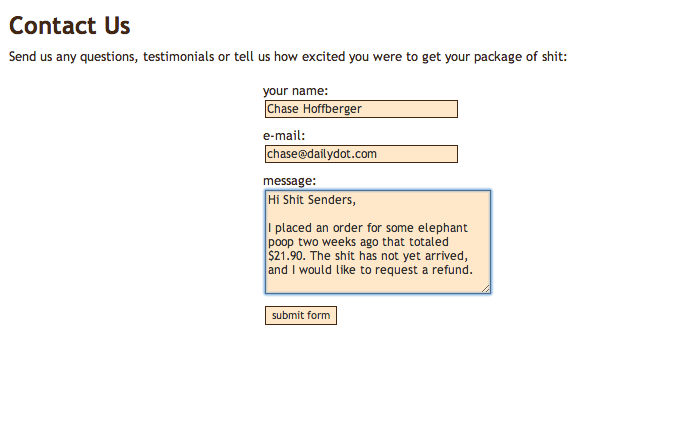 ShitSenders.com offers very little in the way of information concerning how you'd actually get in touch with these people beyond the aforementioned Contact form, which is both lame and misleading, especially if you're not going to go forward and actually send the shit.
Fortunately, I remembered to look back at my PayPal receipt, which listed the official limited liability corporation under which ShitSenders ran: JD Infinity, LLC., a business that BusinessProfiles.com lists as operating out of a residential neighborhood in Gibsonia, Penn.
Which leads me to my next story about shit: The third time I send it will be to a house on a cul-de-sac in quiet, little Gibsonia, Penn. It will be a heaping pile of poop, and I will make sure to smear it all over their windshield.
"Sweet revenge at its finest?" That last laugh will be mine.
Update: Oh, shit! It appears as though we wrote our story too soon. Writer Mike Fenn returned home from work Thursday evening to find a big bag of elephant poop perched on the stoop outside his front door, nearly two weeks after the intended arrival date. Evidently the shit-shipping business operates on island time. You can read Mike Fenn's full account, plus see pictures, here.
Illustration by Fernando Alfonso III